Universal Entertainment Says It Sued Wynn in Tokyo Court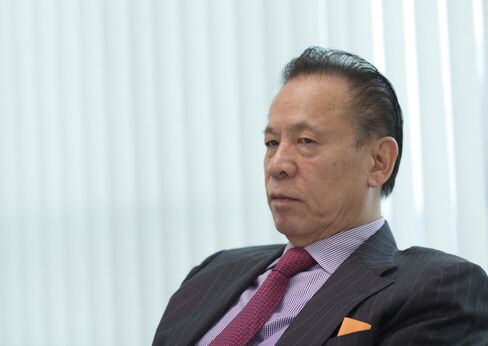 Universal Entertainment Corp., controlled by Japanese billionaire Kazuo Okada, said it sued Wynn Resorts Ltd. and 12 officials including Chief Executive Officer Stephen Wynn for defamation.
The pachinko-machine maker seeks 11.2 billion yen ($143 million) in damages through a lawsuit filed in Tokyo District Court on Aug. 28, it said in a statement yesterday.
The damages result from a suit Wynn Resorts filed Feb. 19 against Okada, a board member at the Las Vegas-based casino operator, saying he made improper payments to Philippine gambling regulators, according to Universal's statement. The legal filing in Tokyo adds to the companies' courtroom battles that include a suit by Okada in Nevada seeking access to Wynn Resorts documents including those related to a $130 million pledge it made to the University of Macau last year.
Wynn Resorts hasn't seen any documents related to a filing by Okada in Japan, Deanna Pettit, a company spokeswoman, said in an e-mail. "However, we assume this is another attempt to distract from the real issues," she said.
Okada held the largest single stake in Wynn Resorts through Universal Entertainment until February, when his 20 percent holding was forcibly redeemed after the casino operator said he was unsuitable as a board member.
Big Award
Okada has also been removed from the board of Wynn Macau Ltd., a unit of the U.S. company. Wynn Resorts needs shareholder approval to remove Okada.
The defamation award Okada seeks in Tokyo District Court is large by Japanese standards, said Yoichiro Hamabe, author of "Watch What You Say: Defamation in Japan." Typical cases where a company's reputation is harmed yield awards of as much as 50 million yen, he said. Hamabe is also a member of the law faculty at Aoyama Gakuin University in Tokyo.
There also may be grounds to dispute whether the Tokyo District Court has jurisdiction over something Wynn stated in U.S. court filings, Hamabe said by telephone in Tokyo.
Wynn Resorts fell 0.2 percent to close at $105.23 yesterday in New York. The shares have lost 4.8 percent this year. Wynn Macau declined 0.3 percent to HK$18.72 as of 1:13 p.m. in Hong Kong, while Universal Entertainment gained 0.6 percent to 1,668 yen at the close of Tokyo trading.
The Tokyo filing couldn't be immediately confirmed in court records.
Pachinko is a form of vertical pinball in which winners receive pea-sized steel balls that can be traded for cash and prizes.
Nevada Suit
Clark County District Judge Elizabeth Gonzalez in Las Vegas scheduled a hearing for Oct. 2 on arguments whether Okada's request for documents, including ones regarding Wynn Resorts' dealings with Macau officials going back as far as 2000 and the company's use of $120 million he invested in 2002, is reasonable.
Okada will appear Sept. 18 in Las Vegas for a deposition by Wynn Resorts' lawyers, according to an Aug. 24 notice filed by the casino operator's lawyers. Wynn Resorts will have 10 days after they question Okada to supplement their opposition to his request, according to the filing.
Before it's here, it's on the Bloomberg Terminal.
LEARN MORE