Portman Says Presidential Debates Will Help Romney With Voters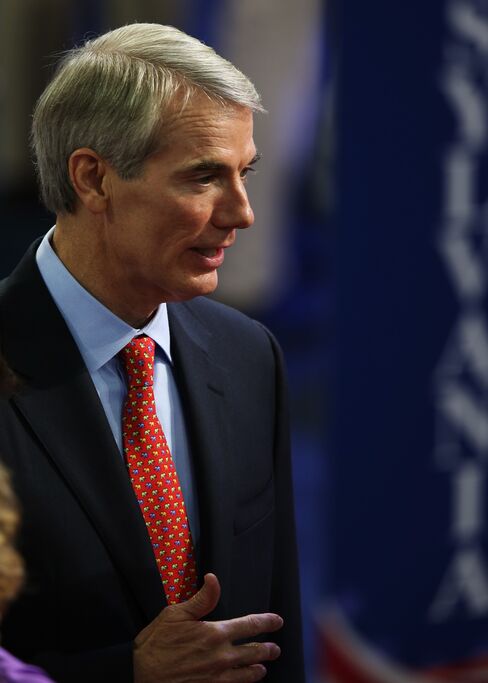 Ohio Senator Rob Portman said the U.S. presidential debates will help Republican Mitt Romney close a likability gap with President Barack Obama.
"It's true that the president is more likable at this stage," Portman said at a Bloomberg-Washington Post breakfast at the Republican National Convention in Tampa. Portman said a "barrage of negative ads" has driven down the Republican presidential candidate's favorability ratings.
"It's a great opportunity for Mitt Romney," he said. It's a chance for people to "see who he is, to show his character."
Portman, who plans to stand in as Obama during Romney's debate preparations, played the role of Obama in Republican presidential candidate John McCain's debate practice four years ago.
"The person who shows up this year at the three debates is going to be a different person than the one who showed up four years ago," Portman said.
Portman, a former budget director in President George W. Bush's administration, said Democrats and Republicans need to consider eliminating some tax preferences as part of simplifying the U.S. tax code, such as deductions for mortgages on second homes.
Romney has proposed a plan to lower U.S. tax rates, without indicating which tax preferences he would end to offset those rate reductions.
'Tough Issues'
"At the end of the day you've gotta deal with some of these tough issues," Portman said.
Votes in Portman's home state of Ohio are among the most coveted by both presidential candidates. With 18 electoral votes, Ohio has backed the winner in every presidential election since 1964, and no Republican has won the White House without carrying the state.
"He'll win Ohio," Portman said of Romney, while predicting the election will be "close" there.
Portman said Romney's path to winning Ohio depends on the former Massachusetts governor "over-performing" in rural areas, small towns and suburbs in the state. Romney's strong support of the coal industry will help him there, he said.
Portman insisted the Democratic Party's negative television advertising hasn't "had the effect that they'd hope to have, which would have been to really make Governor Romney ineligible even before the general election began and like they did to Bob Dole back in 1996, never let him get up off the mat."
Before it's here, it's on the Bloomberg Terminal.
LEARN MORE