Hurricane Isaac Whips Storm Surge on Path to New Orleans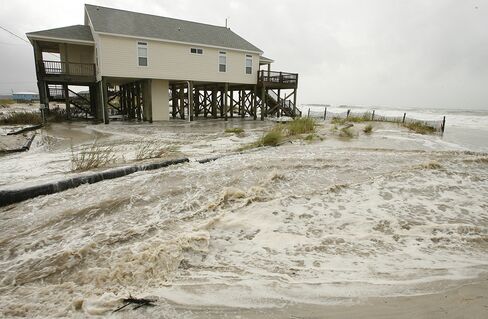 Hurricane Isaac unleashed a storm surge of as much as 12 feet (3.7 meters) and strong winds as it pushes water over a levee on its path to New Orleans.
The storm was 20 miles (30 kilometers) southeast of Houma, Louisiana, and 50 miles south-southwest of New Orleans, the National Hurricane Center said in a report published on its website at 6:56 a.m. New York time. Isaac will probably cause "significant damage" to New Orleans, according to National Weather Service Chief Meteorologist Ken Graham.
"Isaac is skirting the coast and is half-inland, half-offshore, and as a result, has not weakened," Graham said in a telephone interview today. "We're going to have strong tropical-storm force winds with hurricane gusts almost all day today in some areas. You're going to start losing trees, having more power outages and more flooding."
The hurricane's maximum sustained winds were 80 miles per hour, making it a Category 1 hurricane, the center said. Gusts of as much as 66 miles per hour have begun to hit Lakefront Airport in New Orleans and Boothville, Louisiana. The levee was overrun with water in Plaquemines Parish, Louisiana. New Orleans was hit by Hurricane Katrina on Aug. 29, 2005 when levees protecting the city failed, killing 1,800 people.
Plaquemines is experiencing 10-12 feet of water, Parish President Billy Nungesser told WWL Radio in an interview, according to its website. It is unknown if all residents will be able to evacuate the Braithwaite area, he said.
Entergy Corp. said 409,000 customers in Louisiana were without power at 5 a.m. local time because of Hurricane Isaac.
The National Ocean Service reported a storm surge of 11 feet at Shell Beach, Louisiana, NHC said. Another 6.9-foot surge was reported in Waveland, Mississippi. Storm surges have reached 12 feet, according to Graham.
"We're trying to get people to focus on the wind too," he said. "There are major water issues, but also a lot of wind problems."
Oil Production
Isaac has halted 93 percent of U.S. oil production in the Gulf of Mexico and 67 percent of natural-gas output, and forced evacuations from 503 production platforms and 49 rigs, the Bureau of Safety and Environmental Enforcement said today. Six Louisiana refineries were shut and three were running at reduced rates, idling 6.7 percent of U.S. capacity, according to data compiled by Bloomberg.
Oil for October delivery fell as much as 0.9 percent to $95.44 a barrel before trading at $95.59 in electronic trading on the New York Mercantile Exchange. Gasoline for September delivery declined 1.2 percent to $3.09 a gallon.
The Gulf region is home to 23 percent of U.S. oil output, 7 percent of natural gas and 44 percent of refining capacity.
'A lot of Rain'
"The deepest water will occur along the immediate coast in areas of onshore winds," the advisory said. A hurricane spins counterclockwise, so the onshore winds will hit the east.
Rain may fall at a rate of 2 inches (5 centimeters) to 4 inches an hour, said John Feerick, a senior meteorologist at AccuWeather Inc. in State College, Pennsylvania.
"If the storm stays over an area for 12 hours, we're talking a lot of rain," he said by telephone.
From 7 to 14 inches of rain may fall and some areas may receive as much as 20 inches, the NHC said.
As that rain spreads north into farmland in Louisiana and Mississippi, that may mean trouble for some crops. Beans, cotton and rice throughout the region wait to be harvested.
"The biggest problem may be with cotton," David Streit, an agriculture meteorologist for Commodity Weather Group LLC in Bethesda, Maryland, said by telephone. "Almost two-thirds of the cotton is open boll at this point and none of it has been harvested."
Heavy rain can damage the quality of the cotton crop or knock the bolls off the plants, Streit said.
Drought Relief
Isaac's rains may help in the long term to alleviate some of the drought across the Midwest, said Tom Downs, a meteorologist with Weather 2000 in New York. While it may come too late for this summer's crops, the moisture may be enough to prepare the ground for winter planting, he said.
"It will definitely help moving forward and help to prevent this from becoming a multiyear thing," Downs said. "This is where people got into trouble in the '30s and the '50s when it was back to back to back."
A wind gust of 67 mph was reported at Lakefront airport on the south shore of Lake Pontchartrain near New Orleans, the hurricane center said at the advisory at midnight. Winds affecting the upper floors of high-rise buildings will be significantly stronger than those near ground level and could be one Saffir-Simpson category stronger at 30th floor than the ground, it said.
President Barack Obama declared an emergency for Louisiana, authorizing agencies to coordinate relief efforts. He urged residents today not to "tempt fate."
A hurricane warning is in effect from Morgan City, Louisiana, to the Mississippi-Alabama line, including New Orleans.
Tropical Storm Kirk, the 11th named Atlantic weather system this year, is 1,220 miles east northeast of the Northern Leeward Islands and is no threat to land, the National Hurricane Center said in a separate advisory on its website at 3:31 a.m. New York time. It has maximum sustained winds of 45 miles per hour and is moving at 9 miles per hour, NHC said.
Before it's here, it's on the Bloomberg Terminal.
LEARN MORE