Isaac Nears Gulf Coast as Residents Look to Levee Protection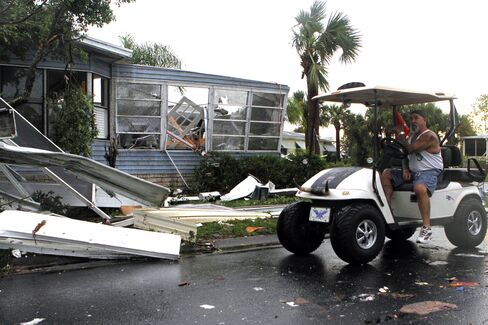 With Tropical Storm Isaac forecast to reach hurricane strength today, New Orleans residents said they are concerned about flooding even with improvements to levees after a collapse during Katrina in 2005.
"I hope the good Lord will see fit to bypass this situation and let the levees and all this new protection stand up," said Antoine Davis, who was stocking up gas for a generator yesterday in New Orleans's Lower Ninth Ward.
Officials are expressing confidence the levee system will hold. Isaac, which is closing oil and natural-gas production sites and threatening Louisiana, Mississippi, Alabama and Florida, is set to strike the Louisiana coast as early as tonight. Tomorrow is the seven-year anniversary of Hurricane Katrina, which killed more than 1,800 people and displaced 250,000.
Isaac's center was about 80 miles (129 kilometers) south-southeast of the mouth of the Mississippi River with top winds of 70 miles per hour, the National Hurricane Center said in an advisory at 11 a.m. New York time. That's 4 mph less than hurricane strength. The storm was moving northwest at 10 mph.
Louisiana Governor Bobby Jindal, a Republican, urged residents not protected by levees to leave. Traffic on Interstate 10, the main thoroughfare out of New Orleans, was at a standstill yesterday afternoon and was moving again today.
Hurricane Warning
A hurricane warning was in effect from east of Morgan City, Louisiana, to the Mississippi-Alabama state border, including metropolitan New Orleans, the National Hurricane Center in Miami said.
President Barack Obama declared a state of emergency in Louisiana, making federal support available to save lives, protect public safety and preserve property. He said federal response teams are ready and urged residents to heed evacuation warnings.
"We're dealing with a big storm, and there could be significant flooding and other damage across a large area," Obama said in a televised statement today from the White House. "Now is not the time to tempt fate. Now is not the time to dismiss official warnings."
Companies including BP Plc, ConocoPhillips and Murphy Oil Corp. were evacuating personnel or halting production at offshore rigs and platforms.
The Republican National Convention is scheduled to resume today in Tampa after suspending its program yesterday with the approaching storm.
Flood Waters
Water pushed ashore by the hurricane, known as a storm surge, may cause flood waters to reach as much as 12 feet deep in normally dry parts of southeast Louisiana and Mississippi if the peak occurs at high tide, meteorologists said. Depths could reach as much as 8 feet in Alabama and 6 feet in south-central Louisiana and the Florida Panhandle, forecasters said.
Rainfall could reach as much as 14 inches, with 20 inches in isolated areas, in southeastern Louisiana, southern Mississippi and Alabama, and extreme western Florida, according to the hurricane center.
Hurricane Katrina flooded 80 percent of New Orleans after levees protecting the city failed.
After Katrina, a $14.5 billion Greater New Orleans Hurricane and Storm Damage Risk Reduction System was built with strengthened and improved levees, floodwalls, pump stations and surge barriers, according to the U.S. Army Corps of Engineers.
'More Resilient'
The new system "is stronger and more resilient than it has ever been in the area's history," capable of defending against a 100-year level storm, the Corps said.
"There's no comparison between what we have now with what we had before Katrina," Susan Maclay, president of the board of the directors of the Southeast Louisiana Flood Protection Authority West, told the Times-Picayune in New Orleans.
Still, there's potential for significant damage outside the hurricane protection levees, Bob Turner, director of the Southeast Louisiana Flood Protection Authority-East, told the newspaper.
In the Lower Ninth Ward in New Orleans, much of the neighborhood never recovered from the storm seven years ago. There is no grocery store there. Homes are empty, unkempt lots with grass and a tangle of weeds that reach about four feet high. Abandoned, decrepit homes and buildings dot the landscape, and some roads are barely navigable due to potholes and extensive damage.
Helen Scott was 82 when Katrina and its floodwaters collapsed her house in the Lower Ninth Ward. Now, as Isaac approaches, she said she's worried her house will again be wiped away.
"I lost my whole life savings before," Scott, now 89, said yesterday. "I had to start all over. I don't know if I could do it again."
Before it's here, it's on the Bloomberg Terminal.
LEARN MORE