Investors Vote for Three Swing States Obama Won: BGOV Barometer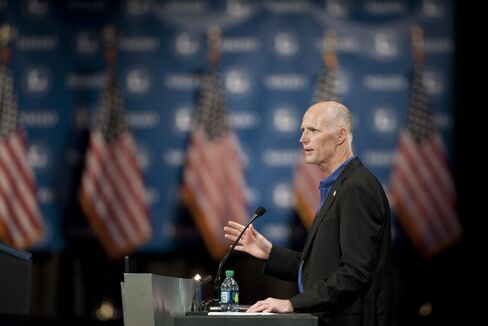 Investors have gained confidence since 2009 in three of the biggest must-win states for this year's presidential candidates. The question is whom will get the credit: the Democratic president that the states supported in 2008, or the Republican Party their governors belong to.
The BGOV Barometer shows buyers of bonds issued in Florida, Ohio and Virginia have reduced the extra yield they demand relative to top-grade debt to the least since 2009, the year Barack Obama became president. Pennsylvania and Wisconsin, also among the five most-populous swing states, have seen spreads widen from last year.
The investor view of the health of local economies is one way to answer the election-year "are you better off" question in the five states. All have Republican governors and all were won by Obama in 2008.
"Ultimately on the economy as a whole, the president is going to receive the rewards or the punishment more so than governors," said Chris Borick, director of the Muhlenberg College Institute of Public Opinion in Allentown, Pennsylvania. Even so, "anyone who's an incumbent receives some benefits" from a growing economy, he said in a telephone interview.
That dynamic poses a dilemma for Mitt Romney's presidential campaign, which asked Florida Governor Rick Scott in June to tone down statements about improvements in the state's economy. Republican governors in other swing states have also boasted of economic gains within their jurisdictions.
Tax Collections
State tax collections have risen for 10 consecutive quarters, according to the Nelson A. Rockefeller Institute of Government in Albany, New York. They now exceed levels from before the recession that started in December 2007. Meanwhile, first-time local defaults have declined to the lowest since 2009, according to Municipal Market Advisors.
In Florida, the unemployment rate has declined from 9.9 percent at the end of 2011 to 8.8 percent in July, according to the U.S. Department of Labor. Over the same period, Ohio's dropped 0.7 percentage point.
Meanwhile, the nation's unemployment rate declined 0.2 percentage point to 8.3 percent since the start of the year, Labor Department data show. Only one president since World War II, Ronald Reagan, has stayed in office with a jobless rate above 6 percent.
"It may be early to attribute something to governors who have been in office for a year or two," said Sean Snaith, an economics professor at the University of Central Florida. "It's also hard to say there's been some sweeping policy that's bolstered the U.S. economy and, by proxy, the states."
Low Premiums
Investors in 2012 have demanded an average premium of 0.58 percentage point to own general-obligation debt from Florida issuers compared with top-grade bonds, according to Bloomberg Fair Value index data. That's the least since the premium was 0.53 percentage point in 2009.
In Ohio, the extra yield demanded for bonds issued in the state has fallen to 0.34 percentage point this year from 0.45 percentage point in 2010, Bloomberg data show. In 2009, the premium was about 0.22 percentage point. Virginia municipalities averaged a lower yield than the top-grade index in 2009, and their spread has narrowed to 0.04 percentage point.
For issuers in Pennsylvania and Wisconsin, the yield penalty on debt issued in the state has increased by about 0.06 percentage point relative to top-rated bonds, Bloomberg data show. Pennsylvania's general-obligation bond rating was cut one level by Moody's Investors Service in July to Aa2, its third-highest grade.
"Spreads are indicative that the fundamentals are still strong for most of these states," said Julius Williams, a senior portfolio manager at Invesco Ltd., which manages about $21 billion in munis. State governments "are making tough calls on their budgets, and things are getting more manageable."
Before it's here, it's on the Bloomberg Terminal.
LEARN MORE