Hollande Loses Bond Market Love as Growth Stalls: Euro Credit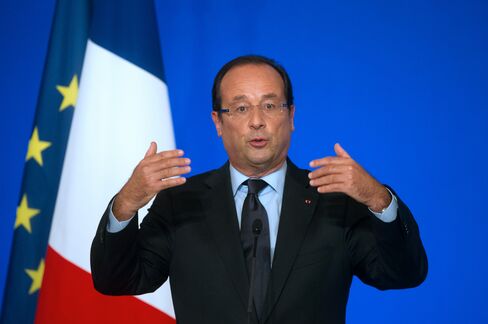 French President Francois Hollande's honeymoon with bond investors may be ending as economic reality bites.
Hollande, who returned from a 15-day summer break last week, faces an economy that hasn't grown in three quarters, rising joblessness, a ballooning trade deficit and the task of coming up with a plan in the next few weeks to plug a budget hole of more than 30 billion euros ($37 billion) for next year.
The challenges ahead may undermine the rally in French bonds that has allowed the country to sell bills at negative yields for the first time. During Hollande's first 100 days in office, the premium demanded to hold French 10-year debt rather than comparable German securities fell to the lowest in more than a year. That trend may be reversing.
"France's fundamentals -- rising unemployment, widening current account deficit and budget deficit -- would not support its bonds," said Jamie Stuttard, head of international bond investments at Fidelity Investments in London, which has $1.6 trillion under management. "The more expensive French bonds go, the harder the case becomes for French government debt."
The French 10-year yield is at 2.07 percent, near the record-low of 2 percent reached on Aug. 3 and down from 2.89 percent on the last trading day before Hollande's election on May 6. The premium France pays over Germany to borrow for a decade, which fell below 60 basis points for the first time in more than a year on Aug. 15, rose to 73 basis points today.
Safe Haven
French government securities returned 0.34 percent this month after earning investors 3.98 percent in July, trailing bonds from Belgium, Ireland and Portugal, according to Bank of America Merrill Lynch data.
Sovereign debt from France, which was stripped of its AAA rating by Standard & Poor's in January, got more expensive throughout 2012 -- notably since Hollande's victory. The rally came as the European Central Bank cut its main interest rate to a record low and reduced its deposit rate to zero as the euro area teetered on the verge of recession and Spanish and Italian 10-year bond yields climbed above 6 percent.
Investors were lured by France's stability relative to Europe's so-called periphery and by Hollande's consistent reiteration of his goal to cut the budget deficit to 4.5 percent of gross domestic product this year and 3 percent next year from 5.2 percent in 2011.
'Significantly Overvalued'
French debt "is significantly overvalued," John Gilbert, chief investment officer of General Re-New England Asset Management Inc., a unit of Warren Buffett's Berkshire Hathaway Inc., wrote in a newsletter on the unit's website.
The country should be paying 4.5 percent to 5 percent yields on 10-year bonds based on its risks, closer to Italy and Spain's rates than what Germany pays, he said.
French debt is "rich relative to fundamentals," said Padhraic Garvey, head of developed markets debt strategy at ING Bank NV in Amsterdam. "The spread is vulnerable if we have a re-ignition of peripheral scares in coming weeks or months."
Hollande wants to counter that possibility by moving quickly to bolster Europe's crisis-fighting toolbox. Meeting with Chancellor Angela Merkel in Berlin Aug. 23, he said he wants euro nations to move as fast as possible to implement the terms of a June agreement on a banking union and the use of bailout funds to restore confidence and bolster growth.
Deteriorating Economy
Whether or not European leaders manage to reassure investors, Hollande also knows he has an uphill task ahead at home. According to the national auditor, he will have to find about 33 billion euros in new tax revenue or savings by the time his government sets out its 2013 budget on Sept. 24.
The budget hole will be larger if the finance ministry is forced to lower its 2013 growth forecast of 1.2 percent. That's looking likely after France posted a third consecutive quarter without expansion in the three months through June.
French jobless claims rose to the highest in 13 years in July as stalling growth prompted companies to trim payrolls, a Labor Ministry report yesterday showed.
Prime Minister Jean-Marc Ayrault declined to repeat next year's growth forecast in a radio interview on Aug. 22.
"I don't think anyone bought French bonds without being aware of the risks and challenges France is facing," said David Schnautz, a fixed-income strategist at Commerzbank AG in New York. "But because the country's fundamentals are deteriorating, the biggest risk is that it may not be too difficult to find a trigger that would make investors feel the need to re-price French bonds."
Losing Confidence
Reviving growth means that Hollande also has to tackle labor costs that are among the highest in the euro area, leading to a record trade deficit last year and tens of thousands of job cuts at companies ranging from PSA Peugeot Citroen SA to drug maker Sanofi SA and Air France-KLM Group.
For the first time since Hollande took office on May 15, a majority of French voters lack confidence in his ability to run France, pollster CSA said Aug. 23.
Only 49 percent of the French said Hollande has the capabilities to steer the country, down from 58 percent in May, according to the CSA poll for Les Echos newspaper carried out Aug. 21 and 22. His predecessor Nicolas Sarkozy had a rating of 55 percent at the three-month mark in 2007.
For bond investors, the biggest concern is that with French borrowing costs still among Europe's lowest, Hollande may put off a much-needed overhaul of the country's economy in the face of popular discontent.
Hollande "needs to prepare the ground," said Nicholas Spiro of Spiro Sovereign Strategy in London. "The problem is that he's boxed himself in politically. The only force that will compel him to carry out meaningful reforms is market pressure."