Australia New-Home Sales Near Low as Sentiment Weakens: Economy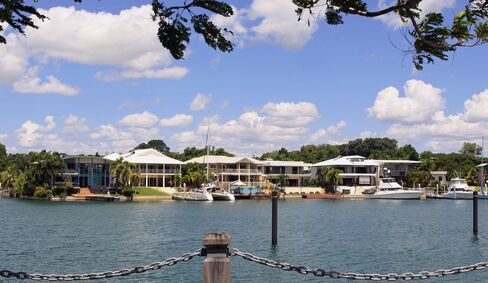 Australian sales of newly built homes dropped to the second-lowest level on record in July, undermining the central bank's view that interest-rate cuts were helping stabilize the housing market.
Sales fell 5.6 percent to 5,682 last month from June, when they gained 2.8 percent, the Housing Industry Association said in Canberra, citing a survey of the nation's largest builders. Detached house sales decreased 5.5 percent to the lowest level since 2000, while apartments weakened 6.4 percent, it showed.
"New home building is the weakest sector of the Australian economy," Harley Dale, HIA chief economist, said in a statement. "Interest rates are lower, it's a very competitive market, and there is less pressure on skilled labor availability. However, consistently weak consumer and business confidence is weighing very heavily on new housing investment."
Australia's residential construction slump is accompanying signs that a mining-investment boom is nearing a peak, auguring for slower growth in the second half. Treasurer Wayne Swan today reiterated the government's pledge to deliver the first budget surplus in five years even as the price of iron ore, the nation's biggest commodity export, slumps.
The local currency declined for a fourth straight trading day, buying $1.0356 at 1:27 p.m. in Sydney. Earlier the so-called Aussie fetched $1.0345, its weakest level in a month. The MSCI Asia Pacific Index of stocks touched 119.26, its lowest since Aug. 7.
Rate Cuts
The Reserve Bank of Australia cut the benchmark borrowing cost by 50 basis points late last year and a further 75 points in May and June as inflation remained contained and the savings rate stayed above 9 percent. At 3.5 percent, the overnight cash rate target is still the highest among major developed economies.
The RBA, which is scheduled to meet Sept. 4, indicated this month that there were early signs that the rate cuts were starting to revive demand.
"There were tentative signs that housing market conditions and residential building activity were starting to pick up after being weak for some time," according to minutes of the Aug. 7 meeting of RBA policy makers.
The price of iron ore dropped to a 2 1/2-year low in August after China, the world's biggest buyer, scaled back purchases. Prices for Australian raw-materials exports slid in July to the lowest level since 2010, and the commodity price index has fallen 10.8 percent in Australian dollar terms over the past year, the RBA said this month.
Commodity Slump
The fall in commodity export income threatens the government's pledge to eliminate the budget deficit in the 12 months ending June 30 as it prepares for an election due late next year. Swan, announcing today that Sydney would host a meeting of Group of 20 finance ministers and central bank governors in 2014, reaffirmed the commitment to balance the books.
"Our budget will be returned to surplus, as forecast, on time, as promised," Swan said. "Iron ore prices are down, and they're down more than people would've expected, but you can't then draw a conclusion that that's where they'll stay for the next three months, six months or nine months."
Elsewhere in the region, Japan's government downgraded its assessment of the economy for the first time in 10 months, citing risks including a "further slowing down of overseas economies and sharp fluctuations in the financial and capital markets." The Cabinet Office cut its view on personal consumption, home-building, exports, imports and industrial production, while raising its assessment of the labor market in a monthly report released in Tokyo today.
Regional Data
The Philippines reported imports rose 13.3 percent in June from a year earlier. Thailand is forecast to report that an industrial production index fell 4.25 percent in July from a year earlier, according to a Bloomberg News survey. Hong Kong may say exports slid 3.9 percent last month from a year earlier, according to a separate survey.
In the euro area, the rate of growth in M3 money supply, which the European Central Bank uses as a gauge of future inflation, held at 3.2 percent in July from a year earlier, according to a Bloomberg News survey.
Confidence among U.S. consumers probably rose, with the Conference Board's index increasing to 66 this month from 65.9 in July, according to the median forecast in a Bloomberg News survey. The S&P/Case-Shiller index of housing prices in 20 U.S. cities was probably little changed in June from a year earlier, the first time since September 2010 that it hasn't shown a significant decline, according to a separate survey.
In Australia, consumer confidence fell by the most in five months in August as households bristled at indications the central bank will maintain its pause in rate reductions, a private report showed on Aug. 15. The sentiment index declined 2.5 percent to 96.6, the Westpac Banking Corp. and Melbourne Institute survey taken Aug. 6-10 of 1,200 consumers showed.
Before it's here, it's on the Bloomberg Terminal.
LEARN MORE