A Day In The Life: Owner of La Tour d'Argent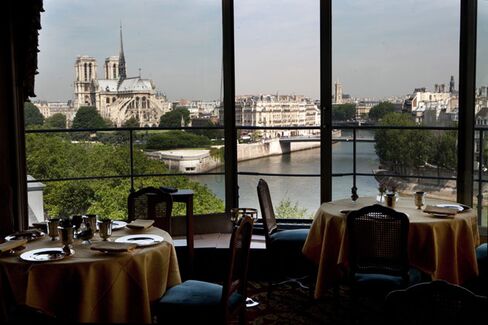 "A Day In The Life" is an ongoing series that highlights popular post-MBA job functions, as seen through the eyes of the recent grads in the positions.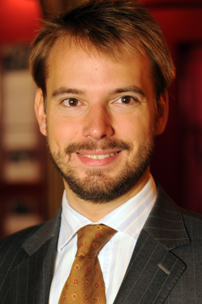 What does the owner of one of Paris's best-known restaurants do with his time? To find out,
Bloomberg Businessweek'
s Victoria Black spoke to Andre Terrail, a 2011 INSEAD MBA, who owns the Parisian landmark, La Tour d'Argent. The Terrail family has run La Tour d'Argent for three generations since 1911, when Andre's grandfather acquired the restaurant.
Before enrolling at INSEAD, Terrail served as La Tour d'Argent's secretary general. In 2006 he succeeded his father as owner and chief executive officer. Terrail grew up in Paris—in the same building as his restaurant—and holds an undergraduate degree from Babson College. Here's a look into Terrail's daily routine at La Tour d'Argent, in his own words. (Some quotes have been edited for space and clarity.)
7:45 a.m. I wake up, shower, and spend a little time choosing the suit and tie I'm going to wear. It's really important for me to dress according to the day. I'm the face of the brand, and it's important that I look all right.
8:30 a.m. I check the news and begin looking at the numbers from my restaurants, La Tour d'Argent and La Rotisserie. I check the numbers for our store as well; we have a store across the street, which sells a range of wines and other products. These are the three units of which I am in charge.
9:30 a.m. I have a meeting with my HR director and financial administrative director. The restaurant industry is HR-intensive, meaning the quality of people, incentives, and atmosphere are all very important for us. We usually have long meetings because we open up the discussion to things like costs and wage expenses.
11:30 a.m. We have our daily meeting with the executive chef, communications manager, financial administrative director, and dining room manager. We go over numbers, feedback from the guests, any problems we might have had the previous day, and any special requests for specific guests. Even the smallest things can blow out of proportion, so we have to be careful and make sure we follow up. We go over any media interviews that might be coming up, as well as social media, specifically our Facebook page and a newsletter we send out to 30,000 people. It's important to keep our guests connected.
12:00 p.m. I meet the chef and the dining room manager at La Rotisserie just before lunch service. Sometimes they have something for me to taste. I also might visit the manager at the boutique. Human contact is important in this job. I can't write memos and expect people to read them. Good ideas can come up in a relaxed atmosphere, and there's always a constant flow of information.
12:15 p.m. I go back to La Tour d'Argent for a more formal tasting. The menu changes every six to seven weeks, and while the classics remain, the chef adds quite a few recipes. I insist on tasting everything. I have the dish waiting for me in the kitchen and I taste it with the chef, the dining room manager, and the sommelier. Last week, I tasted a new recipe—the first one that features my father's name. It's thin slices of cold duckling covered with foie gras and jelly.
12:45 p.m. I consider this my break. I go down to the coffee machine and hang around a bit. It's important to be available. I drink more coffee as a means to talk to my staff and make sure I know them and they know me.
1:30 p.m. I go to the restaurant and get an update from my dining room manager on who has arrived and if there are any changes, comments, or particular expectations from my guests. Then I go around and greet each table. It's a fantastic way to meet the customers, share the story of this beautiful establishment, and maintain a relationship with regulars.
5:00 p.m. I leave the office, but my day is not over. I try to keep regular hours for the first part of my day. I go home and read, watch a movie, or go shopping. Maybe I'll meet some friends or go to the gym.
7:15 p.m. I rest for a bit and then get dressed again. I choose a dark suit for the evening and get ready to head back to the office. I love the evening. I come back to the office refreshed.
9:30 p.m. At the restaurant, I get an update on the arriving customers and I greet the guests. The evening is more formal. We require our guests to wear a jacket, but it's relaxed in the sense that people spend more time with us. It's a three hour experience, and I always hear wonderful stories. As the owner it is my duty to make sure I am available to greet the customers as often as possible.
11:00 p.m. I head home. The advantage of resting for half an hour in the evening gives me some energy, so I eat some supper with friends or I'll stay home and watch a movie, read a book, or cook myself some dinner with a glass of red wine and relax.
1:00 a.m. I recap the day and reread a few e-mails before heading to bed.
Before it's here, it's on the Bloomberg Terminal.
LEARN MORE