Storm Imperils Romney's Moment With Split-Screen TV Shots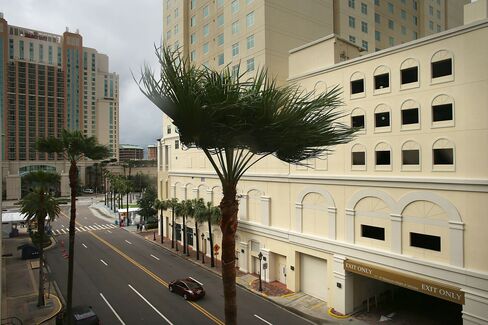 Tropical Storm Isaac, which is menacing the U.S. Gulf Coast, is threatening to drown out the Republican National Convention and eclipse Mitt Romney's debut as his party's nominee.
That would be especially true if Isaac gathers strength and makes a devastating landfall by destroying homes and threatening lives, both of which could afford President Barack Obama the opportunity to assume the mantle of first-responder and consoler-in-chief.
It would also cut into Romney's time before the television cameras. Fox News anchor Shepard Smith left Tampa yesterday for New Orleans, where Isaac might make landfall on Aug. 29.
"When you see the storm hitting in the Gulf right as you're nominating your candidate for president, rightly, it's going to draw the nation's attention away, and so it's going to be very hard to compete with that," Republican strategist Alex Castellanos said in an interview.
"If the nation is hurting, it can be a bit unseemly to be celebrating a political accomplishment of picking a nominee," he said.
The day after Republican Party officials announced they would scrap Monday's official schedule because of Isaac, they joined Romney campaign advisers in downplaying the chances that the storm could dilute the narrative they plan to present on the stage at the Tampa Bay Times Forum.
Safety First
"Our primary concern is not just the safety of the folks here but the folks around the country. But, that said, there are millions of Americans that are tuning in because they want to hear from and about Mitt Romney," said Sean Spicer, the party's communications director. "They're looking forward to this and so are we."
Russ Schriefer, a senior Romney strategist, told reporters on a conference call yesterday that despite the weather, the key messages will still come through, including today's planned theme of, "President Obama's failed leadership, not serving the American people."
Romney is spending the day in New Hampshire, practicing his convention address. He expressed concern today for those affected by the storm.
"Our thoughts are with the people that are in the storm's path and hope that they're spared any major destruction," Romney said, as he walked into Brewster Academy, a private high school with a 500-seat stadium.
When asked if he would consider canceling the convention, Romney left little doubt that the event would continue: "Got a great convention ahead," he said.
Just Tuning In
Still, the storm is threatening to eat into the already limited hours of free television time dedicated to Romney's elevation at a moment when many Americans traditionally are just tuning in to the presidential contest. Instead of three solid nights of convention coverage, viewers may be treated to a steady stream of images of wind-lashed palm trees, torrential rains and rising waters.
Sam Feist, the Washington bureau chief for CNN, said while the cable network hasn't shifted any staff covering the convention out of Tampa for storm coverage, it plans to juxtapose the weather story with the political one.
"You'll see us mixing both stories together, because they're both connected, and you'll see us covering both," Feist said in an interview. "We certainly can walk and chew gum at the same time."
Other television networks may redeploy reporters from the party in Tampa to potential strikes in Louisiana and Mississippi.
Fox was planning to position five reporters along the Gulf Coast, including at least one who was assigned to convention coverage in Tampa, according to a network spokeswoman.
'Moment-by-Moment'
NBC was considering moving reporters away from the convention to better cover the storm. "It's a moment-by-moment decision," said spokeswoman Erika Masonhall.
Messages on Twitter about the tropical storm were outnumbering Republican National Convention-related missives 20-to-1 yesterday, said Adam Sharp, the social networking service's Washington-based manager of government and political partnerships who has set up shop at the convention site.
There were some power outages in South Florida, where Florida Keys residents were bracing for winds of up to 65 mph, Florida Division of Emergency Management Director Bryan Koon said.
Florida Governor Rick Scott urged delegates staying along the beach in Tampa Bay to remain in their hotels today because of potential bridge closures and roads flooding. Tampa was expected to get about six inches of rain today, winds of about 40 mph and storm surges of about three feet, Koon said.
Obama returned from Camp David yesterday and had no public events scheduled for today, though he was set to begin a two-day college tour on Tuesday in Iowa and Colorado reaching out to younger voters.
White House
Even as aides cautioned they weren't looking to politicize Isaac, the White House managed to work a mention of the rained-on party into its official readout of Obama's storm briefing today. Obama, according to the briefing, told Scott, "to let him know if there are any unmet needs or additional resources the administration could provide, including in support of efforts to ensure the safety of those visiting the state for the Republican National Convention."
Democratic strategists said there was an opportunity to showcase presidential leadership and provide a contrast with Romney.
"While this does not seem to be a crisis yet, the lesson of Katrina is not lost on anyone," said Steve Elmendorf, a strategist for the party. "Natural disasters are an important time for any political leader to take charge and show concern and action."
2008 Cancellation
It's not the first time Republicans have had to reshuffle their convention plans because nature intervened. Four years ago, the first night of the party convention in St. Paul, Minnesota, was canceled by Republican officials worried that a gathering storm, Hurricane Gustav, might remind voters of the botched response to Hurricane Katrina three years before.
The 2008 convention "worked out very well and, frankly, I think the same thing will happen here," said Steve Duprey, a New Hampshire Republican national committeeman who advised Senator John McCain of Arizona, who accepted the nomination at the Minnesota convention. "They'll have to condense the message, so some of your outlying speakers may get canceled."
It's been 40 years since Republicans held a national convention in Florida, and some now wonder how long it will be before the party returns.
While many delegates are still planning to head to Tampa, Gulf Coast governors can't all say the same: Scott canceled three days of his convention activities; Louisiana's Bobby Jindal is reconsidering his plans; and Mississippi's Phil Bryant stayed home.
Before it's here, it's on the Bloomberg Terminal.
LEARN MORE