Samsung Shares Fall After Apple Wins $1 Billion Verdict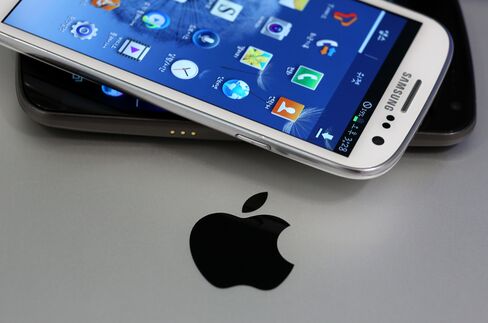 Samsung Electronics Co. fell the most in almost four years in Seoul trading after a U.S. jury found the mobile-phone maker infringed Apple Inc.'s patents and ordered the South Korean company to pay more than $1 billion.
Samsung dropped as much as 6.9 percent, the biggest drop since October 2008, to 1,187,000 won before trading at 1,188,000 won as of 9:05 a.m. on the Korea Exchange, while the benchmark Kospi index declined 0.6 percent.
The nine-member panel in San Jose, California, on Aug. 24 found Samsung infringed six of seven patents for mobile devices in the first lawsuit between the dominant global smartphone competitors to go before a U.S. jury. Samsung's patent counterclaims against Apple and its request for damages were rejected by the jury, while a Seoul court ruled hours earlier that the companies infringed on each other's patents.
"The decline in Samsung shares appears inevitable in the short term because damages are higher than previously anticipated, and as Apple could raise patents issues with more Samsung products," Ahn Seong Ho, an analyst with Hanwha Securities Co., wrote in a report yesterday. "Pending court cases in other regions are also increasing uncertainties over the company."
Samsung, which called the U.S. verdict a loss for the American consumer, said it will file post-verdict motions to overturn the decision and will appeal if the filing is unsuccessful.
Design, Software
Apple sued Samsung in April 2011, and the Korean company countersued as part of a battle being waged on four continents over a smartphone market valued at $219.1 billion according to Bloomberg Industries. The world's two largest makers of high-end handheld devices that blend the functionality of a phone and a computer have accused each other of copying products, design and technology.
In the U.S. trial, Apple sought $2.5 billion to $2.75 billion for its claims that Samsung infringed four design patents and three software patents in copying the iPhone and iPad. Samsung's demand for as much as $421.8 million in royalties was based on claims that Apple infringed five patents.
The allegations over intellectual property contrast with the commercial ties that bind the two companies.
Apple's reliance on Samsung chips for its best-selling phones and tablets will be worth as much as $7.5 billion to Samsung this year, a 60 percent jump from 2011, according to estimates from industry researcher Gartner Inc. Apple accounts for about 9 percent of Samsung's revenue, making it the company's largest customer, according to a Bloomberg supply-chain analysis.