Obama Outpaces Romney in Small-Dollar Donations: BGOV Barometer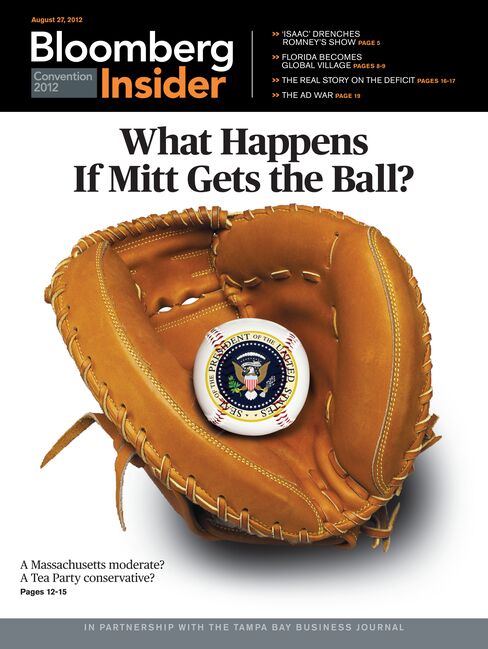 Small-dollar donations remain the backbone of President Barack Obama's fundraising prowess while presumptive Republican nominee Mitt Romney tries to catch up.
The BGOV Barometer shows that 37 percent of the money Obama raised through July 31 for the pre-convention period came in amounts of $200 or less, according to the Campaign Finance Institute, a Washington-based research group that analyzes donations. For Romney, it was 17 percent.
"It's a significant commitment of energy to develop the infrastructure you need to run a campaign based on small-donor and volunteer mobilization," said Michael Malbin, executive director of the Campaign Finance Institute. "The Romney campaign showed little interest in developing that kind of capability."
The advantage of small-dollar donors is that a campaign can go back to them again and again for money, unlike contributors who have given the maximum $2,500. For Romney, 51 percent of his donors have maxed-out, compared with just 16 percent of Obama's.
In addition, the small contributors are more likely to be willing to make phone calls, hand out literature or volunteer to do other tasks for their candidate.
That was the secret of Obama's success in 2008 and key to his re-election campaign.
Grassroots Support
"The small donors' significance is not just because of the checks they write but the grassroots support they demonstrate," said Robert Zimmerman, who has raised between $200,000 and $500,000 for Obama's re-election campaign. "These Internet donors are also organizing house parties in their communities and going door-to-door in their neighborhoods."
Romney is attracting more small-dollar donations than he did before being assured of being the party's standard bearer in November. In July, he brought in $11.8 million in contributions of $200 or less, his best month yet and more than the $6.5 million he received in April and May combined.
Even so, he hasn't built the small-donor networks that his rivals for the Republican nomination did. Representative Ron Paul of Texas brought in more than one-third of his money in chunks of $200 or less; former House Speaker Newt Gingrich of Georgia and former U.S. Senator Rick Santorum of Pennsylvania got more than 40 percent of their funds that way, and Representative Michele Bachmann of Minnesota raised 59 percent of her funds from small donors.
Dinner Raffles
Both Romney and Obama have used contests to attract small-dollar donors to their campaigns. The Obama campaign raised as much as $9 million by raffling off chances to attend a fundraising dinner in May at the home of actor George Clooney. In the weeks leading up to Romney's choice of U.S. Representative Paul Ryan as his vice-presidential candidate, his campaign chose one donor of at least $3 each week to meet Romney and his running mate.
What Romney relied on during the primaries was the support of an aligned super-political action committee, Restore Our Future, which spent $54 million to help him win the nomination.
Such super-PACs change the fundraising dynamic; no longer is a donor who has given the maximum contribution to a campaign relegated to the sidelines. That donor can write even larger checks to a super-PAC run by a candidate's former associates.
"Your former staff people can go back to these donors over and over again," Malbin said. "The rules that were in play when you had contribution limits have changed. You can't do it directly, but your former staff person can do it."
Million-Dollar Donors
The PACs themselves are relying on a handful of major contributors. While 8,601 individuals, organizations and companies have given $334 million to the super-PACs for the 2012 elections, just the top 1 percent accounts for 59 percent of that total, $205 million, according to the Center for Responsive Politics, a Washington-based research group that tracks campaign donations.
The biggest contributors to the super-PACs are Las Vegas Sands Corp. chairman Sheldon Adelson and his wife, Miriam, who have donated $40.8 million, all to Republican-leaning groups. Harold Simmons, chairman of Dallas-based Contran Corp., has given $15.7 million and Houston homebuilder Bob Perry has contributed $13.9 million.
"With apologies to Winston Churchill, rarely, if ever, have so few contributed so much, to so few," said the center's executive director, Sheila Krumholz. "These wealthy individuals and organizations really are the 'elite of the elite' of U.S. political influence."
Before it's here, it's on the Bloomberg Terminal.
LEARN MORE