Florida's Global Village Testing Ground for Romney Trade Policy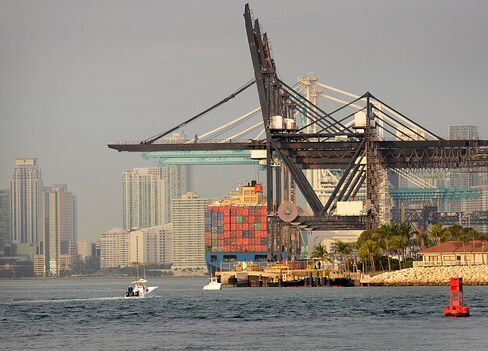 Swiveling his chair in a Port of Miami conference room, Bill Johnson smacks his hand on a wall-mounted image that shows planned upgrades. Here, a new highway tunnel. There, a refurbished rail link.
The $2 billion makeover, positioning the port for an anticipated surge in cargo, is the centerpiece of an ambitious bid to overhaul Florida's economy. What's happening in the Sunshine State, long reliant upon real estate and tourism, symbolizes a national rebalancing toward an economy with greater global links.
"Florida is in the forefront," says Johnson, the port's director.
Yet Republicans meeting this week in Tampa will nominate for president a candidate, former Massachusetts Governor Mitt Romney, whose policies may slow that transformation.
Though an avowed advocate of expanded trade, Romney has struggled to find a balance on the cross-border movement of goods and people that economists say will define the post-crisis economy. The objective -- in Florida and the nation -- is a sounder model than the debt-financed consumption machine that collapsed in 2008.
Conflicting Statements
Romney has made conflicting statements on the dollar. His support for legal immigration has been overshadowed by a furor over those who arrived in the U.S. without authorization. And his vow to "clamp down on cheaters like China" is doubted by Republican luminaries such as former Secretary of State Henry Kissinger.
On China, Romney threatens to levy duties on Chinese imports unless the yuan is allowed to rise against the dollar, making American products less expensive for Chinese customers, and attacks President Barack Obama for not doing more to open foreign markets. Yet he simultaneously calls for a "strong, stable dollar" and has criticized Federal Reserve Chairman Ben S. Bernanke for weakening the U.S. currency.
"I can't make sense of it," says Tony Fratto, former White House and Treasury Department spokesman in the George W. Bush administration. "It's an intellectual inconsistency."
Foreign trade, foreign cash and foreign people already are helping fuel Florida's post-crisis convalescence. About 26 percent of U.S. commerce with Latin America transits the state. Inward investment, especially from Brazil, is buoying the real-estate market following a roughly 50 percent price decline. And Florida's demographics mirror the nation's emerging non-white majority.
China Threat
Should Romney win in November, resolving those contradictions would represent an early test for his administration.
"If Romney were to actually implement everything he says with regard to China, you'd probably provoke a trade war," said Daniel Drezner, a former Treasury Department economist and now a professor of international politics at Tufts University's Fletcher School of Law and Diplomacy in Medford, Massachusetts. "At the same time, I don't think he means it."
Romney's inconsistencies reflect voters' own ambivalence, says Matthew Dowd, a consultant who has advised both Democrats and Republicans, including Bush.
People 'Afraid'
"People are afraid," said Dowd, a Bloomberg political analyst. "There's a sense that, yes, we want to be part of the global economy, and a fear: Will this change our standard of living?"
Romney honed his business skills, the chief rationale for his candidacy, in the 1980s and 1990s during a less globalized era. Rectifying the bubble-era's lingering imbalances will mean increasing trade's share of the economy, which has doubled to 30 percent since the 1992 signing of the North American Free Trade Agreement.
The former Massachusetts governor's immigration stance also has been in flux. His tough primary-season talk on illegal immigration conflicts with sentiment in Florida, where 66 percent of respondents in a July poll by Mason-Dixon Polling and Research supported letting those in the country without authorization apply for legal status.
With almost one of every four Floridians a Hispanic, Romney should emphasize his plan to boost the economy by favoring skilled immigrants and foreign-born graduates of U.S. universities, Fratto says.
In Florida, the housing boom of the 2000s spread complacency along with prosperity. As consumers tapped rising home values to fund shopping sprees, some communities became blasé about job creation, says Alice Ancona, senior vice president for government affairs at the Greater Miami Chamber of Commerce.
Target Spurned
From 2002 to 2005, Ocala in central Florida, for example, turned aside separate proposals from Target Corp., Sysco Corp. and Wal-Mart Stores Inc. to establish distribution centers. Miami's port, the state's largest container facility, handled fewer containers in 2006 than in 2002.
Today, diversification is more urgent. Florida's unemployment rate has exceeded the national average for more than four years. In July, 8.8 percent of the state's labor force was without work compared with 8.3 percent nationally. To have the same share of the population employed as in March 2007, Florida needs 1 million new jobs, says the state's Office of Economic and Demographic Research.
Population Growth
State forecasters expect the annual rate of population growth, a traditional economic accelerant, to be less than one-third its historic average through 2014. The housing market, though stabilizing, is unlikely to revisit the heady days of 1999-2006 when prices rose by 143 percent. Almost 12 percent of all Florida homes with a mortgage were in foreclosure in June, the nation's highest rate, says CoreLogic Inc., a Santa Ana, California-based research firm.
The housing crash vaporized almost 400,000 construction industry jobs since 2006, halving the sector's importance. Fewer Floridians work in construction today than at any time in the past 22 years, according to the Bureau of Labor Statistics, while the trade and transportation industries have slightly increased their share of employment.
"Things have changed," said Anthony Villamil, dean of the business school at St. Thomas University in Miami Gardens and a Commerce Department official in the administration of President George H.W. Bush. "We need to get to a more globalized, knowledge-based economy."
$2 Billion Makeover
Johnson, 58, a former high school football player who describes himself as a "pit bull" and converses at a volume most men reserve for hailing a cab, said the Miami port makeover will create tens of thousands of trade-related jobs.
"If you can't move your people or goods," he said, "you're not going to grow."
A $915 million four-lane tunnel expected to open in two years will link the docks to the interstate highway network. A rail line damaged by a 2005 hurricane is expected back on line by the end of next year.
The upgrades are timed so that Miami can capitalize on the expansion of the Panama Canal, which starting in 2014 will open to vessels capable of carrying 10,000 shipping containers. Miami is spending $150 million dredging its channel to the 50-foot depths needed to accommodate the larger ships, expected to create 33,000 jobs statewide.
Longstanding Ambition
State leaders' longstanding ambition to develop industries beyond tourism and construction is showing signs of progress. Florida's $64.8 billion in exports last year represented a 17 percent gain from 2010, outpacing the nation's 15.8 percent increase.
That's been good news for Miami International Freight Solutions, a freight-forwarding and customs clearance specialist in Miami Lakes. Its 200,000-square-foot warehouse is jammed with Ironman treadmills for Guatemala, Epson printers for Venezuela and El Salvadoran apparel bound for L.L. Bean in Freeport, Maine. One shelf is lined with enormous boxes from Harley-Davidson Inc. intended for Buenos Aires emblazoned: "Your Hog Has Arrived."
MIFS, which opened three months before Lehman Brothers Holdings Inc.'s bankruptcy chilled global trade and now has 75 workers, has thrived thanks to Latin America, says Jose Aguirre, MIFS chief operating officer. The economy in Brazil, the company's top market, is 44 percent larger today than a decade ago, according to data compiled by Bloomberg.
Free Spending
Republicans and Democrats agree there's no going back to the free-spending 2000s. Yet consumption today accounts for about 71 percent of the economy, about the same as right before the 2008 credit crunch.
"We need to be saving more and actually depending more on investments in net exports," economist Glenn Hubbard, a Romney adviser, wrote in the 2010 book, "Seeds of Destruction."
Rebalancing the U.S. economy ultimately requires a mirror-image change in nations such as China, which exports more than it imports. Yet, expanding U.S. exports won't be easy with Europe sinking into recession and China's economy slowing, says economist Desmond Lachman of the Washington-based American Enterprise Institute.
"We need more American jobs," says exporter Luis Arguello Jr., vice president of surgical sutures maker DemeTech Corp. "And the only way to get them is to make more U.S. product and export it."
Before it's here, it's on the Bloomberg Terminal.
LEARN MORE