Spain Deficit Pain Bites Consumers as Rajoy Steps Up Cuts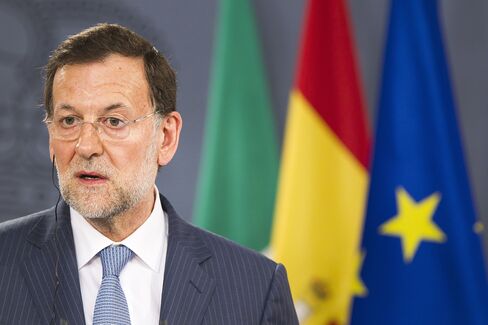 Spanish Prime Minister Mariano Rajoy's austerity drive will intensify this week as a sales-tax increase tightens the squeeze on consumers whose spending is already plummeting.
The move to raise the value-added tax on Sept. 1 will follow a flurry of data showing pressure building on household finances in the euro area's fourth-biggest economy, home to a third of its unemployed. A report today showed mortgages fell 25.2 percent from a year ago in June after a 30.5 percent drop in May. Meanwhile, the Health Ministry today said spending on prescription drugs fell 23.9 percent from a year ago in July, the steepest drop since the series started in 1999, after the government last month increased the share patients pay for pharmaceuticals.
A breakdown of second-quarter gross domestic product is due tomorrow and inflation on Aug. 30. Retail and current-account data are due Aug. 31 as well as public finance figures.
The data will illustrate the extent of Rajoy's challenge as he tries to curb the euro region's third-largest budget deficit and considers whether to seek further international aid. Consumers have already endured a recession lasting three quarters as a prelude to his tax increase due this week and an annual cut in public wages for the month of December.
'Dramatic' Weakening
"I expect a fairly dramatic weakening of GDP in the third and fourth quarters and further ahead as all components of domestic demand fall," Ebrahim Rahbari, a London-based Citigroup Inc. economist, said by telephone. "Fiscal tightening will hurt substantially in Spain, and most of its effects are still to come."
Rajoy last month abandoned his forecast for a return to growth in 2013 as he unveiled spending cuts and tax increases through 2014 that will triple his planned austerity effort to a total of 15 percent of annual gross domestic product. New measures starting in September will add 102 billion euros to the 48 billion-euro adjustment initially planned for this year, which began taking effect in the second quarter.
The yield on Spain's 10-year benchmark bond fell 3 basis points to 6.39 percent at 5:16 p.m. in Madrid, compared with a euro-era intraday record of 7.75 percent on July 25. Spain aims to cut its deficit to 6.3 percent of GDP this year and reach the European Union limit of 3 percent of GDP in 2014.
Forecast Optimistic
Rajoy's forecast for a 0.5 percent economic contraction next year is still optimistic, according to Ricardo Santos, a London-based economist at BNP Paribas SA, who sees it being three times as deep. He says tax revenue will miss government estimates while unemployment increases, raising the cost of welfare.
"The Greek example shows there is a risk of a downward spiral that can leave the economy stuck in a depression," said Christian Schulz, an economist at Berenberg Bank in London.
GDP data tomorrow may show how consumer spending already suffered during the second quarter. The report from the national statistics institute, INE, follows a July 30 estimate showing Spain's recession worsened with a 0.4 percent contraction. The government forecasts domestic demand will fall 4 percent this year, more than twice last year's drop. July retail statistics is expected to signal the weakness in household finances on Aug. 31, after a 5.2 percent annual decline in June.
Tax Increase
Adding to pressure on consumers is the VAT increase, the second since 2010, which will raise the levy to 21 percent from 18 percent. It's the first item to take effect as part of Rajoy's fourth budget-tightening exercise in eight months. Along with a one-month wage cut for civil servants and a reduction in jobless pay, it will account for most of the extra measures he has sought to curb the deficit this year.
Higher sales tax risks "exacerbating" the slump in domestic consumption and sparking a spiral in which prices feed wages, said London-based economist Andrew Benito at Goldman Sachs Group Inc., a former Bank of England specialist on consumer spending.
Consumer-price gains are already accelerating. The inflation rate rose to 2.2 percent in July because of higher costs of drugs and increases in local taxes, and probably reached an eight-month high of 2.3 percent this month, according to the median forecast of 10 economists in a Bloomberg News survey.
Regional Deficits
More tax increases may follow this year as the 17 semi-autonomous regions and over 8,000 municipalities add the cost of a higher sales tax to the adjustments they've been assigned that represent 73 percent of the nation's budget-cutting effort this year. The Madrid subway will raise prices again after increasing its 10-trip ticket 29 percent last May to 12 euros ($15).
The cost of bailing out regions and town halls, along with a backlog of unpaid health-care bills and lower tax receipts, already pushed Spain's central government to exceed in June its deficit limit for the whole year. The Budget Ministry will release the central government's balance through July on Aug. 31, before regional second-quarter data is provided in September.
"The data we already have, more than halfway through the year, show it'll be difficult to meet targets," said Jose Antonio Herce, a public administrations consultant with Madrid-based firm Analistas Financieros Internacionales. "There is no time to lose to implement all the adjustment measures we can."
Before it's here, it's on the Bloomberg Terminal.
LEARN MORE