Moscow Court Finds Ex-World Chess Champion Kasparov Innocent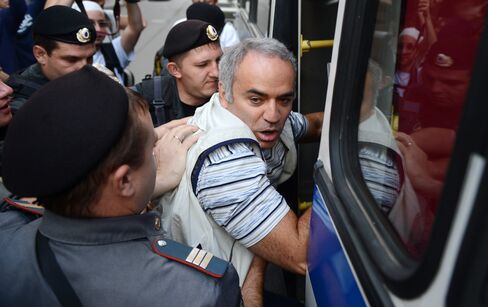 A Moscow court found Garry Kasparov, a former world chess champion and a leader of Russia's Solidarity opposition group, innocent of alleged participation in an unlawful rally, according to a statement published on Kasparov's website.
Kasparov was detained outside a Moscow court during the reading of the verdict in the trial of three members of Pussy Riot, an all-female punk band, on Aug. 17.
"It is hard to imagine a situation where a Russian court finds a member of the opposition innocent," Kasparov said in the website statement.
A Moscow court on Aug. 17 found performers of the Pussy Riot punk band guilty of hooliganism and inciting religious hatred and sentenced the members to two years in prison for performing a "punk prayer" urging the removal of President Vladimir Putin in the country's main Christian Orthodox cathedral.
More than 50 people were detained outside the court during the verdict announcement, the state news service RIA Novosti reported.
'Absurd' Accusations
U.S. and European Union officials criticized the Pussy Riot trial's outcome as "disproportionate," while pop stars such as Madonna, Sting and Paul McCartney, whom Putin invited to the Kremlin in 2003 before a Red Square concert, have backed the band members.
"The accusations were absurd, this is a chess grandmaster we're talking about," Lyudmila Alexeyeva, head of the Moscow Helsinki Group, said by phone. "The Russian authorities realized that after Pussy Riot they didn't need another scandalous trial."
One of the police officers who detained Kasparov on Aug. 17 has accused the former chess champion of allegedly biting him and has submitted a request for inquiry to Russia's Investigative Committee, RIA Novosti reported Aug. 20, citing the Moscow police department's press service.
Kasparov said he will file a lawsuit against the police officers who detained and allegedly beat him on Aug. 17, according to his website statement.
"Today's decision shows that a Russian judge can act independently from the government," Dmitry Simes, president of the Washington-based Center for the National Interest, said by phone. "Many Russian judges and members of the political elite realize that the presidential administration doesn't want to go too far and use repressive measures."
Approval Ratings
Putin's and Prime Minister Dmitry Medvedev's approval ratings slumped this month to the lowest levels since mass protests erupted in December, when tens of thousands took to the streets to denounce Putin and alleged fraud in parliamentary elections. A crackdown on demonstrators has since ensued, including embezzlement charges that could see protest leader Alexey Navalny jailed for 10 years.
Putin, 59, who handed the presidency to Medvedev, 46, in 2008 after serving the constitutional maximum of two consecutive terms, took back the reins from his protégé in May.
Before it's here, it's on the Bloomberg Terminal.
LEARN MORE