Angela Merkel Backs Samaras on Greece's Euro-Zone Future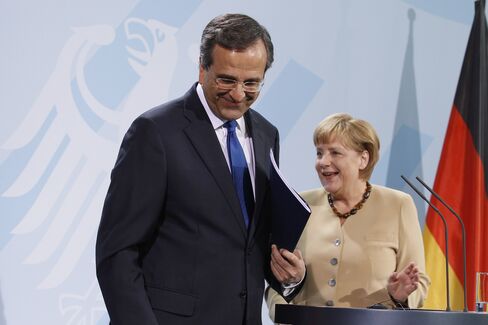 Chancellor Angela Merkel said that Germany will stand behind the Greek government as it struggles to overhaul the economy, rebuffing European critics who advocate Greece's exit from the euro.
Merkel, speaking at a joint press conference with Greek Prime Minister Antonis Samaras in Berlin today, said the conditions for Greece's international bailouts remain in force and she is "deeply convinced" he will make every effort to solve the country's problems. The goal of austerity measures is to help Greece reach "the light at the end of the tunnel."
"I want Greece to stay in the euro zone and that's what I'm working for," Merkel said after meeting Samaras on his first official visit to Berlin since he took power in June. "Fulfilling commitments and expectations will lead to a return of confidence in the euro zone."
Merkel's backing for Samaras and comments lamenting a rift between Germany and Greece are the strongest attempt yet to restart relations between the two main actors in the sovereign-debt crisis that is now nearly three years old. They're also a rebuke to members of her own coalition and others who question Greece's willingness to reform and call for the country to be kicked out of the 17-nation euro bloc.
'Cacophony'
Samaras, asked about critical comments made by a senior member of Merkel's party, said the "cacophony" of talk and speculation about Greece leaving the currency union must stop because it deters investors, undermining the task of sticking to the bailout terms.
Such "toxic statements, from wherever they come, can only do damage," he said. "Is there any businessman who will make an investment in euros to get it back in drachmas? The recovery of the economy is of critical importance if we are to achieve our goals."
Greeks blame Germany for painful austerity and Greece's difficulty in meeting pledges to change its economy triggers "impatience" among Germans, Merkel said.
"What I want is to bring the two realities that have emerged back together into one reality," Merkel said. "Now it's the task of those who have political responsibility in Europe to bridge that gap."
On to Paris
Merkel said she and French President Francois Hollande agree on their approach to Greece, which includes waiting for a report by Greece's international creditors due next month before making decisions on Greek requests for more time to meet economic targets. Merkel and Hollande, the leaders of Europe's two biggest economies, met yesterday for a working dinner in Berlin to coordinate stances. Samaras is due in Paris tomorrow.
German 10-year bonds extended the biggest weekly advance in almost two months amid signs of slowing growth in the euro region. Spain's 10-year yield rose 16 basis points to 6.39 percent at 3:24 p.m., while Italian 10-year yields rose 13 basis points to 5.76 percent. The euro fell 0.5 percent to $1.2501.
With Greece in a fifth year of recession and Samaras saying today that the country needs "deep breaths to keep going," Merkel didn't say whether the terms of the country's $240 billion international financial lifeline will be eased.
Options raised in Germany in recent days include front-loading aid payments to Greece to help it over liquidity hurdles; lowering the interest rate or extending maturities on loans; and pushing for a second debt writedown, this time focusing on bonds held by public institutions, notably the European Central Bank.
Stave Off Crisis
Samaras has used interviews this week with German and French newspapers to call for more time to meet program targets as European officials look for ways to stave off an immediate crisis after the report by the so-called troika of the ECB, the European Commission and the International Monetary Fund. Greece is dependent on outside funds to remain in the 17-nation euro area, where the debt crisis has led nations including Spain to seek bailouts.
"I am deeply convinced that the new government under the leadership of Prime Minister Samaras will do what it takes to solve the problem in Greece," Merkel said. "This is a difficult path and Germany has always said it will support Greece on this path."
A Greek exit would "not be a problem for the euro" because the region's financial backstops can help prevent contagion, Volker Kauder, the parliamentary caucus leader of Merkel's Christian Democratic Union, said on ZDF television.
Merkel rebutted that comment, saying that "it's the goal of the entire German government that Greece is part of the euro zone."
"It's clear from today's talks that Mrs. Merkel will accommodate Mr. Samaras and the Greeks," Joachim Poss, the deputy parliamentary leader of the Social Democrats, Germany's largest opposition party, said in an e-mailed statement.
Before it's here, it's on the Bloomberg Terminal.
LEARN MORE