Bernanke Sees More Scope for Easing to Spur U.S. Economy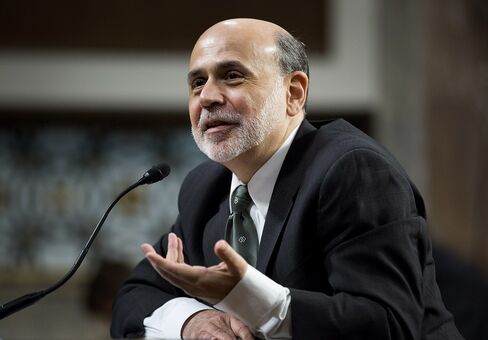 Federal Reserve Chairman Ben S. Bernanke said the central bank has the ability to take additional steps to boost the economy.
"There is scope for further action by the Federal Reserve to ease financial conditions and strengthen the recovery," Bernanke said in a letter dated Aug. 22 to California Republican Darrell Issa, the chairman of the House Oversight and Government Reform Committee.
Bernanke repeated the statement from the Federal Open Market Committee's Aug. 1 meeting that the Fed will provide "additional accommodation as needed." He has an opportunity to expand on his views in an Aug. 31 speech at the Kansas City Fed's annual economic symposium in Jackson Hole, Wyoming.
U.S. stocks rose, paring the Standard & Poor's 500 Index's first weekly decline in almost two months, on speculation the central bank will act to boost economic growth. The S&P 500 added 0.7 percent to 1,411.13 at the close of trading in New York.
Bernanke in the letter reiterated remarks to Congress that monetary policy "is not a panacea" and that other government policy makers should "examine" steps they could take to foster growth.
Bernanke's letter was in response to a 10-page, Aug. 1 letter from Issa asking 22 questions about monetary policy.
'Normalize' Stance
Asked if political pressure would limit the Fed's ability to raise interest rates, Bernanke said the central bank will be "steadfast in its adherence" to promoting stable prices and maximum employment and that he is "confident" the Fed has the "tools to normalize the stance of policy at the appropriate time as the strength of the recovery improves."
The Fed chief said previous stimulus -- including the two rounds of quantitative easing in which the Fed purchased $2.3 trillion of securities -- have "helped to promote a stronger recovery than otherwise would have occurred, and to forestall the possibility of a slide into deflation."
The central bank's most recent balance-sheet program, known as Operation Twist, is "still working its way through the economic system," Bernanke said. Under the program, the Fed is swapping $667 billion of short-term securities for longer-term debt.
"Monetary policy changes typically take several quarters to achieve their full effect on economic activity," he said.
Before it's here, it's on the Bloomberg Terminal.
LEARN MORE