Supervalu Said to Seek Takeover Bids Amid Spotty Interest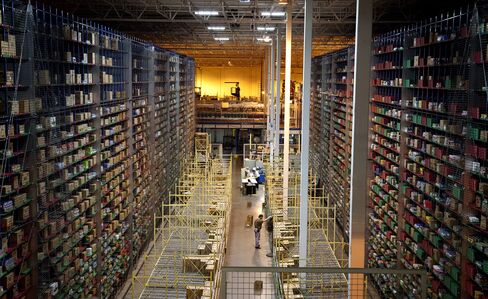 Supervalu Inc.'s advisers are asking potential buyers to bid for the entire business even as several suitors have inquired about individual parts of the grocery company, according to people with knowledge of the matter.
Cerberus Capital Management LP is examining a possible deal involving the Albertsons unit, said another person, who asked not to be identified because the talks are private. Royal Ahold NV, the Amsterdam-based parent of Giant Food Stores LLC, is interested in the Shoppers chain, which operates in Maryland, Virginia and Washington, one person said. Supervalu said in July it hired Goldman Sachs Group Inc. and Greenhill & Co. to find a buyer.
While Eden Prairie, Minnesota-based Supervalu's valuation is cheaper than its peers, it may prove difficult to find one purchaser for the company's 11 far-flung regional grocery chains, said two of the people.
"It's going to be very difficult to sell Supervalu as a whole," Charles Cerankosky, a Cleveland-based analyst at Northcoast Research Holdings LLC, said in an interview. "The most likely scenario, as opposed to what the board or management would like to do, is the company ends up being broken into pieces."
Mike Siemienas, a spokesman for Supervalu, declined to comment on the sale process. Peter Duda, a spokesman for Cerberus, declined to comment. Jochem van de Laarschot, a spokesman for Ahold, said the company doesn't comment on rumors. Michael Duvally, a spokesman for Goldman Sachs, also declined to comment.
Selling Pieces
One possible outcome is that a private-equity buyer will acquire the entire company, keep some of the chains and sell other pieces, one of the people said. There are interested bidders who would be willing to do the breakup work, this person said. Such bids would take longer to put together because the company would have to find interested parties for pieces of the retailer before approaching the company about a bid while respecting Supervalu's confidentiality requirements.
Supervalu was valued at 3.82 times earnings before interest, taxes, depreciation and amortization as of yesterday, while Cincinnati-based Kroger Co. was valued at 6.64 times Ebitda. While it is less expensive than peers, one element that makes the sale of the whole business difficult is that Supervalu's chains are very different from each other, Cerankosky said.
Save-A-Lot
"Jewel in Chicago is very different than Save-A-Lot, which is very different than Albertsons in southern California," he said. "What all of the operating units have together is poor performance, which makes it difficult to go to a single buyer and say: 'This is a growth story' or 'This is easy to fix.'"
The stock, which has tumbled 71 percent this year, rose 11 percent to $2.35 at the close in New York today. The Standard & Poor's 500 Index has gained 12 percent this year.
Winston and Newell, the former parent of Supervalu, was formed more than 80 years ago in Minneapolis as a grocery-store distributor. The company, which changed its name to Supervalu in 1954, expanded in the Midwest by acquiring regional wholesalers and by 1988 was supplying more than 3,100 stores in 32 states. Now Supervalu has more than 2,400 retail food stores, including 935 licensed Save-A-Lot locations, and its wholesale business has about 2,660 customers.
Too Expensive
Supervalu charges more than its competitors, according to a Bloomberg Industries Philadelphia pricing study from June. Supervalu's Acme brand was more expensive than Delhaize Group SA's Bottom Dollar, Wal-Mart Stores Inc., ShopRite and Ahold's Giant for a total basket of food and household goods, the report shows.
"The No. 1 problem is, everything in Supervalu costs too much" and is more expensive than Kroger and the discounters, said David Dietze, president and chief investment strategist at Summit, New Jersey-based Point View Wealth Management, whose clients own Supervalu shares. "Customers are saying, 'I can't afford to pay those prices, I'm going to drive out of town and stock up the minivan to save.'"
Supermarkets are fighting for share as Americans eat out more and grocer sales stagnate. Industry revenue is projected to grow less than 1 percent to about $491 billion this year, according to a June report from researcher IBISWorld Inc. Supervalu controls about 6.2 percent of the U.S. supermarket and grocery-store market, while Kroger is the biggest with 19 percent and Safeway Inc. has 8.3 percent.
Cost Cuts
A buyer of Supervalu in its totality, which had a market capitalization of about $453 million yesterday compared with more than $10 billion five years ago, would be saddled with $6.14 billion in net debt and $1.05 billion in pension obligations. It would be much easier to garner interest from potential acquirers who want to "cherry pick" from Supervalu's brands, Dietze said.
The company has been focused on cutting costs, trimming $165 million in expenses in fiscal 2012, and has announced another $325 million in planned cuts over the next two years.
Revenue at Supervalu is projected to drop 4.4 percent to $34.5 billion in the year ending in February, marking the fourth straight year of sales declines, according to data compiled by Bloomberg.
Save-A-Lot, which prices its food 40 percent less than traditional grocers, may be the most valuable of Supervalu's assets and may fetch as much as $1.94 billion, Deborah Weinswig, an analyst at Citigroup Inc., said in an Aug. 17 note. The grocer's distribution business may get about $817 million from a buyer, she said.
'Right Business'
Still, identical-store sales at Save-A-Lot declined 3.4 percent in the quarter ended June 16, which may give some buyers pause, Cerankosky said.
"It's intuitively the right business for these times, but when you look at the numbers, you have to step back and say, something didn't go right there either," he said.
Chief Executive Officer Wayne Sales, who took the helm after Craig Herkert was ousted last month, has said that Supervalu will focus on expanding Save-A-Lot.
"We will strengthen our engagement with our Save-A-Lot licensees" and "grow a nationwide network of hard discount stores," he wrote in an e-mail to the company's 130,000 employees on July 30 after being named CEO.
Foreign Buyer?
Sales at Supervalu's distribution business, which account for about 23 percent of revenue, fell 5 percent to $8.19 billion in the company's fiscal 2012, according to a regulatory filing. The company's distribution unit, which consists of 22 facilities, may attract interest from an overseas buyer, Dietze said.
"I wouldn't rule out a foreign buyer like a Delhaize" or other European retailer that wants to diversify to North America, he said. Brussels-based Delhaize operates about 1,540 stores in the U.S. under banners including Food Lion and Bottom Dollar Food.
Christy Phillips-Brown, a spokeswoman for Delhaize, declined to comment on market speculation.
Before it's here, it's on the Bloomberg Terminal.
LEARN MORE