Borg Tells Exporters Strong Krona Is Here to Stay: Nordic Credit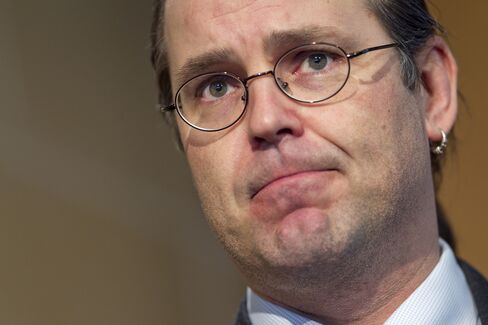 Sweden's Finance Minister Anders Borg is putting pressure on exporters to adjust their business models after warning the krona is likely to stay strong and hamper competitiveness in the largest Nordic economy.
The government, together with the central bank, has signaled it prefers a hands-off approach toward the exchange rate, putting most of the adjustment burden on corporate Sweden. The krona reached a 12-year high this month against the euro and has gained 8 percent this year, making it the best-performing major currency after the Mexican peso. It rose 0.3 percent to 8.2420 per euro and climbed 0.4 percent to 6.5800 per dollar as of 11:34 a.m. in Stockholm.
"It's hard for the government to do anything directly to affect the krona," Carl Hammer, chief foreign-exchange strategist at SEB AB in Stockholm, said in an interview. SEB is betting the krona will strengthen to about 8 per euro "during the autumn," he said.
The currency's ascent was one of the reasons why the government lowered its 2013 economic forecast last week as exporters struggle to sell their wares to euro nations engulfed by the debt crisis. While offering no measures that target the exchange rate, Borg said he will push for a cut in the corporate tax rate from its current level of 26.3 percent to help ensure Swedish industry becomes more competitive.
'Most Important'
The developments in the euro area, and their fallout on Swedish exports, are driving monetary policy at the Riksbank, First Deputy Governor Kerstin af Jochnick said last week. She estimates the single currency bloc won't emerge from its turmoil until some time next year.
"The development in Europe perhaps is the most important, since the Swedish export market to a large extent is in Europe," af Jochnick said in an Aug. 23 interview.
Sweden's gross domestic product will expand 2.7 percent in 2013, compared with a July forecast for 3 percent, the Finance Ministry said Aug. 24. GDP will grow 1.6 percent in 2012, it said. The economy grew 3.9 percent last year.
"Turbulence in Europe is contributing to weak international demand, which has hindered growth in Sweden," the Finance Ministry said last week. "The Swedish labor market will develop weakly during the remainder of 2012, before gradually improving going forward."
Industry Plea
Industry groups are blaming monetary policy for the strong krona, which they say is forcing them to cut jobs. The Riksbank should lower the repo rate by at least a quarter of a percentage point to 1.25 percent at its meeting next week, according to Sweden's trade council and executives at industrial companies including Svenska Cellulosa AB, Holmen AB and Setra Group AB. That would still leave the Riksbank's main rate half a point higher than the European Central Bank's benchmark rate, which was kept at 0.75 percent this month.
A krona exchange rate stronger than 8.3 to the euro and 6.7 to the dollar will result in the loss of about 75,000 Swedish jobs over the next two years, according to Mauro Gozzo, chief economist at the Swedish Trade Council.
The krona will probably continue to strengthen as foreign investors target the safest bonds, Thomas Olofsson, head of debt management at the Swedish National Debt Office, told Svenska Dagbladet in an interview published on Aug. 24.
Sweden shipped 71 percent of its 1.21 trillion kronor in exports to Europe last year, government figures show. Half of Swedish output is derived from exports.
Stimulus Spending
Companies can't "count on a krona that's permanently undervalued the way we experienced in the 1990s," Borg said, after delivering the revised outlook. The government has "to closely monitor the exchange rate," he said. "I'm a little bit worried that we have an exchange rate which slightly puts the breaks on the export side of things, and I think that supports investing in the future."
Borg said on Aug. 24 he will have room to add spending initiatives of 23 billion kronor next year and 27 billion kronor in 2014.
The krona has soared after investors fleeing the euro area turned to markets backed by fiscal discipline and low debt levels. The government has reduced its debt relative to GDP every year since 2009. Swedish debt will be equivalent to 34.2 percent of GDP next year, compared with an average of 92.6 percent in the 17-member euro area, the European Commission estimates.
Yield Spreads
Sweden only pays about five basis points more than Germany, Europe's biggest economy, to borrow for 10 years. The yield on Sweden's 3.5 percent note due June 2022 eased two basis points on Aug. 24 to 1.405 percent, compared with 1.355 percent on similar-maturity German bunds.
That compares with a yield of 6.419 percent on Spain's benchmark 10-year note and 5.714 percent on same-maturity Italian debt.
Sweden will post a 0.3 percent budget deficit of GDP this year, widening to 0.5 percent in 2013, the government said last week after promising increased spending. That's still well within the European Union's 3 percent threshold.
The Swedish economy accelerated in the first half of the year and expanded a faster-than-estimated 2.3 percent from a year earlier in the second quarter. A report today indicated consumers are continuing to support growth, with retail sales rising 2.4 percent in July from a year earlier.
The Riksbank left its benchmark repo rate unchanged at its July meeting and scaled back tightening plans as the debt crisis in Europe drags on. The bank will probably need to lower its main rate from 1.5 percent next year, according to a Riksbank survey of money market participants published Aug. 15.
Still, the central bank may be unable to dent the krona's ascent even if policy makers do decide to cut rates.
"Riksbank monetary policy meanwhile is not regarded as an important factor behind the krona rally," according to a survey of market participants conducted by SEB and published Aug. 24. "We expect the current re-pricing of the krona to a 'less pro-cyclical currency' to be lasting."