Florida Orders Brain-Injury Center to Move Some Patients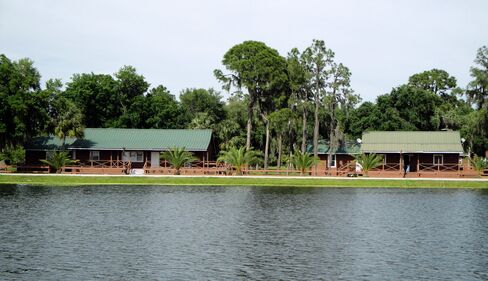 Aug. 23 (Bloomberg) -- A Florida brain-injury center facing allegations of abuse has been ordered to move dozens of its patients to other facilities, according to a state report released today.
The Florida Institute for Neurologic Rehabilitation, one of the largest facilities of its kind in the country, is treating patients without brain injuries -- a breach of its license, say Florida regulators.
During a surprise inspection earlier this month, state officials say they found that 50 of 98 patients whose records were reviewed did not meet the licensing criteria for treatment at the center's main facility near Wauchula, about 50 miles Southeast of Tampa.
The state said the institute, commonly called FINR, must submit a plan to relocate those patients to a facility "that is appropriate to meet their needs."
The Florida Agency for Health Care Administration also found that FINR was keeping patients too long, another violation of its "transitional living facility" license. It ordered the center to develop a new protocol for discharging patients.
Wayne J. Miller, an attorney representing FINR, didn't immediately return messages seeking comment.
Surprise Inspection
Investigators from three state agencies conducted a surprise inspection on Aug. 2 and 3 following a Bloomberg News report of dozens of cases of alleged abuse and neglect at the facility. FINR, a for-profit company, treats patients from across the country.
Patients' families or state agencies have alleged abuse or care lapses in at least five residents' deaths since 1998, two of them in the last two years. Three former employees face criminal charges of abusing FINR patients -- one of whom was allegedly hit repeatedly for two hours in a TV room last September.
Florida's Department of Children and Families has received 514 allegations of abuse or neglect at FINR since 2005, including 37 that were "verified" by its investigations, according to records released by the agency. Investigators are still reviewing 23 of the claims.
Amid the heightened regulatory scrutiny, 10 lobbyists from four different firms registered with Florida officials this month with the state to represent FINR, according to state records.
No Reports
The institute cited advice from its legal counsel in refusing regulators' request for internal incident reports covering the past year, according to the state inspection report released today. The state on Aug. 10 issued a subpoena for those records. As of Wednesday, they hadn't been provided, according to the inspection report.
State inspectors also found that an employee with a criminal background was working on the residential staff and therefore was "not eligible" for employment. The report didn't include the employee's name.
According to the state report, some FINR residents objected to being physically restrained by staff, echoing the complaints of patients interviewed by Bloomberg News. The state asked the facility to provide details on how it uses a procedure called Brief Assisted Required Relaxation and explain how patients are protected when restrained.
The information released Thursday was an "initial report" and additional reviews of several other items continue, Michelle Dahnke, a spokeswoman for the Florida health-care agency, said in an e-mail.
Potential Loss
The potential loss of 50 patients or more would represent a substantial loss of revenue for the company. Individuals covered by the transitional living license are typically charged as much as $1,000 a day for their care, according to copies of bills reviewed by Bloomberg News.
The Connecticut Department of Developmental Services said earlier this month that it is removing four of its 10 patients from the Florida facility. Miller, FINR's lawyer, said at the time that the patients "vastly improved" during their time in Florida and were well enough to return to their home state.
FINR operates under three different types of licenses in Florida. The main one, for a transitional living facility, covers 143 of its 196 licensed beds. The others, which were not part of the state report released Thursday, cover several small group homes and a 25-bed nursing home license for patients requiring more intense medical care.
Tougher Standards
Disability Rights Florida, a federally-funded agency charged with investigating complaints of abuse against people with brain injuries and other disabilities, is pushing for tougher regulatory standards for FINR.
Current rules governing the facility are "too limited to ensure resident health, safety and prevention and detection of abuse, neglect and rights violations," the organization wrote in an Aug. 15 letter to AHCA Secretary Elizabeth Dudek. The disability rights group said there is no federal monitoring of the facility.
FINR's Miller has previously said the institute is subject to intensive oversight and is regularly visited by police, state agencies, guardians, accrediting agencies and others.
To contact the reporter on this story: David Armstrong in Boston at darmstrong16@bloomberg.net
To contact the editor responsible for this story: Gary Putka at or gputka@bloomberg.net