Fed Signals Readiness to Ease Without U.S. Growth Pickup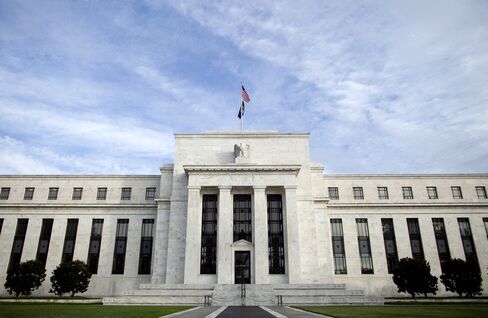 Federal Reserve policy makers signaled readiness to boost record stimulus unless they are convinced the economy is poised to rebound. Recent signs of strength may not be enough to satisfy them.
Many members of the policy-setting Federal Open Market Committee said further action would probably be needed "fairly soon" without evidence of "substantial and sustainable" improvement in the recovery, according to minutes of the July 31-Aug. 1 meeting released yesterday in Washington.
"The burden of proof is to see a sustained pickup in growth and I don't think we're going to get that," said Eric Green, a former economist at the Federal Reserve Bank of New York who is now global head of rates and foreign exchange research at TD Securities Inc. in New York.
U.S. stocks reversed losses yesterday and gold rose to a 16-week high on expectations of further easing by the central bank. Attention now turns to Fed Chairman Ben S. Bernanke's Aug. 31 speech in Jackson Hole, Wyoming, where he may clarify his thinking on the need for stimulus in view of recent reports showing gains in retail sales and housing.
Many participants at the Fed's meeting said a new large-scale asset-purchase program "could provide additional support for the economic recovery," according to the minutes. Policy makers said in a statement after the meeting that they will step up record stimulus if needed to spur growth and cut a jobless rate stuck above 8 percent since February 2009.
Yield Tumbles
The Standard & Poor's 500 Index slumped 0.4 percent to 1,407.56 as of 10:36 a.m. in New York, while the yield on the 10-year Treasury decreased for a fifth day, falling 2 basis points to 1.67 percent.
"They're closer to doing QE3 than I would have guessed," said John Silvia, chief economist at Wells Fargo Securities LLC in Charlotte, North Carolina, referring to a third round of bond purchases known as quantitative easing. Fed officials next meet on Sept. 12-13.
Policy makers around the world are confronted with the choice of adding stimulus measures now as global growth slows, or holding fire should Europe's crisis deepen. Chicago Fed President Charles Evans told reporters today in Beijing that he would "applaud anybody who takes action in order to strengthen their economies" around the world, including China.
Global Uncertainty
"There's an awful lot of uncertainty when I talk to business people about the global economy, European situation, the fiscal-cliff risk," Evans said at the U.S. embassy in Beijing. Fiscal cliff is a term for higher taxes and spending cuts in the U.S. that will take effect at year-end unless Congress and the president approve a new deficit-reduction plan.
Some U.S. economic reports have exceeded expectations since the last FOMC meeting, with retail sales increasing 0.8 percent in July and companies hiring 163,000 workers in the same month, the most in five months. That's helped push the S&P 500 to six straight weekly gains and to almost a four-year high.
Purchases of new U.S. homes rose 3.6 percent last month to a 372,000 annual pace, more than economists projected, the Commerce Department said today. Sales of existing homes climbed from an eight-month low, according to data yesterday from the National Association of Realtors, showing the cheapest mortgage rates on record are helping to boost the housing market.
Some economists said the reports give policy makers reason to hold off from additional stimulus.
'Some Incentive'
"The Fed has some incentive to stay on the sidelines," said Michael Dueker, a former St. Louis Fed economist who is now chief economist at Russell Investments, which oversees $152 billion in Seattle. "I wouldn't be expecting a third round of quantitative easing until December or early 2013 given what we are seeing in the economy."
While some data has improved, the unemployment rate in July climbed back to the same level as February. It rose to 8.3 percent and hasn't fallen below 8 percent since February 2009. Initial jobless claims rose by 4,000 for a second week to reach a one-month high of 372,000 in the period ended Aug. 18, the Labor Department said today.
Policy makers, who said in their Aug. 1 statement that economic conditions "warrant exceptionally low levels for the federal funds rate at least through late 2014," discussed extending the duration for how long they will keep the main interest rate low, the minutes showed.
"It was noted that such an extension might be particularly effective if done in conjunction with a statement indicating that a highly accommodative stance of monetary policy was likely to be maintained even as the recovery progressed," according to the minutes. The Fed has kept the rate at almost zero since December 2008.
Stocks Soared
Bernanke is set to deliver a speech on monetary policy to the Kansas City Fed's annual symposium of central bankers and economists at Jackson Hole. Global stocks and commodities soared after the Fed chief signaled a second round of bond buying on Aug. 27, 2010. The Fed decided in November 2010 to buy $600 billion of Treasuries through June 2011.
The 2010 speech drove up the S&P 500 26 percent through the end of June 2011, while the MSCI All-Country World Index jumped 23 percent during the same period.
The U.S. economy will probably expand at a 1.8 percent annual rate in the third quarter and 2.1 percent in the fourth, according to the median of 75 estimates in a Bloomberg survey. Gross domestic product slowed to a 1.5 percent pace in second quarter from 2 percent in the first three months of the year.
The improving data since the last FOMC meeting probably aren't enough to indicate a substantial strengthening of the economic recovery, according to Jeremy Lawson, a senior U.S. economist at BNP Paribas SA in New York.
"You'd need to see a further improvement to dissuade the committee members that further accommodation isn't necessary," Lawson said. "Everything is consistent with a move to quantitative easing in the near term. The question is when and whether the chairman is ready to pull the trigger."
Before it's here, it's on the Bloomberg Terminal.
LEARN MORE