FAA Falling Behind in Battle to Protect Planes From Birds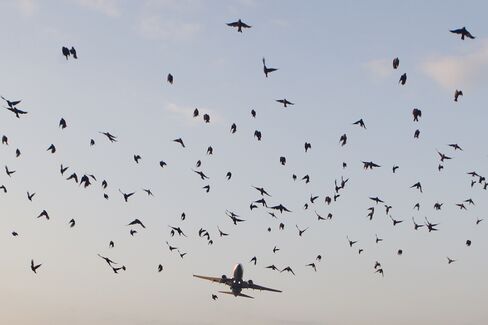 U.S. airline regulators lack the enforcement, expertise and record keeping capabilities to fight the growing threat of bird strikes, such as one that brought down a US Airways flight in New York's Hudson River, a report found.
The Federal Aviation Administration failed to act against eight randomly-selected airports violating agency bird-strike prevention policies on 25 occasions between 2009 and 2011, the U.S. Transportation Department's inspector general said in a report.
"FAA's oversight remains limited due to its inadequate inspection practices," Assistant Inspector General Jeffrey Guzzetti wrote.
Population growth of Canada geese, brown pelicans, sandhill cranes and wild turkeys poses a risk to airliners because birds can get sucked into jet engines and cause catastrophic failures, Guzzetti wrote. Wildlife strikes rose to 9,840 in 2011, more than a fivefold increase from 1,770 in 1990.
US Airways Captain Chesley B. "Sully" Sullenberger III was forced to land an Airbus SAS A320 jet on the Hudson River in New York in 2009 after four Canada geese, weighing 8 pounds on average, crashed into both engines less than two minutes after takeoff from LaGuardia Airport, robbing them of almost all thrust. All 155 people on board survived what authorities called the "Miracle on the Hudson."
Records Holes
FAA inspectors mostly relied on interviews with airport executives, not records checks, to monitor compliance with wildlife-risk plans, the inspector general found. Inspectors at 21 of 40 airports randomly selected by Guzzetti didn't know whether airport plans for combating wildlife threats had been reviewed by the FAA.
Some airports don't report all wildlife strikes to FAA because they aren't required to, Guzzetti found. The FAA lacks policies to determine if an airport is making progress in reducing bird hazards.
The FAA has already adopted most of Guzzetti's recommendations and "will continue to make improvements," the agency said in a statement. Wildlife-strike reporting has increased in recent years due to FAA efforts such as online tracking, the agency said.
The FAA told Guzzetti in a memo included in the report that "significant strikes" with damage or multiple hits dropped to 9 percent of total incidents in 2010 from 20 percent in 1990.