Diageo Profit Rises as Emerging Markets Bolster Revenue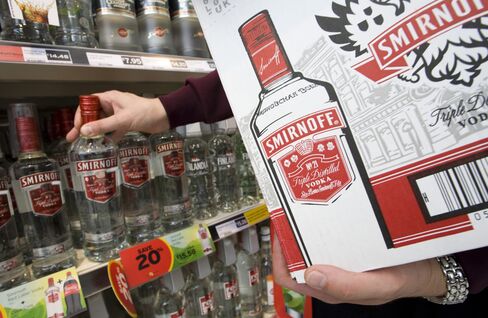 Diageo Plc, the world's biggest distiller, reported increased annual revenue and profit as a recovery in demand for spirits in the U.S. and sales in emerging markets help offset tough European conditions.
Earnings before interest and tax, excluding some items, rose to 3.2 billion pounds ($5.1 billion) from 2.9 billion pounds a year earlier, the London-based maker of Johnnie Walker whisky said today in a statement. On a so-called organic basis, earnings increased 9 percent, compared with an 8.6 percent median estimate of 12 analysts surveyed by Bloomberg.
"Diageo has delivered on its promises today," Martin Deboo, an analyst at Investec Securities, said in a note. "The 8 percent increase in dividend reads encouragingly, and chimes with CEO Paul Walsh's confidence that the business is very much on track to deliver against medium-term guidance."
Diageo, which sells brands including Guinness stout and Smirnoff vodka, is seeking to boost sales and profit by tapping growth in emerging markets and selling consumers more expensive variants of its brands. The company bought Brazilian cachaca brand Ypioca in May and won regulatory approval in March to buy a Chinese maker of white spirits.
The distiller's shares rose 0.6 percent to 1,690 pence as of 8:26 a.m. in London trading. The stock has gained 20 percent this year, compared with advances of 22 percent by SABMiller Plc and 38 percent at Anheuser-Busch InBev NV.
Sales Growth
Revenue on an organic basis increased 6 percent in the 12 months to June 30. Analysts had anticipated growth of 6.3 percent. Net sales on a reported basis rose 8 percent to 10.8 billion pounds. Organic measures exclude the effect of acquisitions, disposals and currency fluctuations. The company raised its dividend to 43.5 pence from 40.4 pence.
"Diageo is a strong business, getting stronger," Chief Executive Officer Walsh said in the statement. "We have continued to invest to ensure this business is well-positioned for the future," and the drinkmaker is "firmly on track" to meet medium-term forecasts.
Diageo said in August 2011 that it was seeking to increase organic sales by 6 percent in the "medium term" and widen its operating margin by 2 percentage points in the next three years.
Organic operating profit grew in all regions, the company said, even as sales and volume slid 1 percent in Europe. Earnings increased 6 percent in North America, the company's biggest region, as drinkers bought more Ciroc vodka, and as Captain Morgan rum and Smirnoff vodka "regained momentum."
Emerging Markets
Sales and profit rose faster than volume growth in Africa, Latin America and the Asia Pacific region as consumers chose pricier drinks.
"Performance of emerging markets was a key driver of our growth," Chief Financial Officer Deirdre Mahlan said today on a conference call. "Western Europe continues to be very challenging."
The dividend increase underscores "management's confidence for the coming years," Laetitia Delaye, an analyst at Kepler Capital Markets in Paris, wrote today.
Diageo has hired banks for advice on gaining control of tequila maker Jose Cuervo, a family-owned liquor brand that Diageo holds distribution rights for until 2013, people with knowledge of the matter said in April. The Sunday Times newspaper reported Aug. 19 that Diageo was close to agreeing to buy the Mexican brand, without saying where it got the information. Mahlan said today that talks are continuing with the Mexican company.
Before it's here, it's on the Bloomberg Terminal.
LEARN MORE