Brocade Seen Delivering 32% Deal Gain After CEO Departure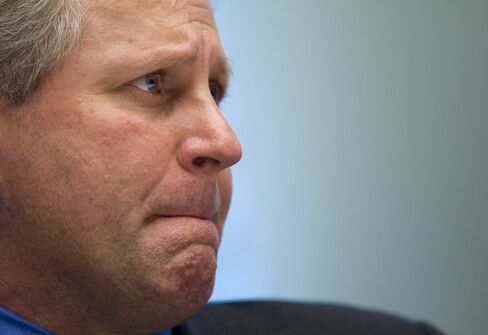 Brocade Communications Systems Inc., which has been trying to sell itself for more than two years, is a step closer to unlocking a 32 percent gain for shareholders now that its chief executive officer is on his way out.
The maker of computer switches for data-storage networks said last week that Michael Klayko will step down after more than seven years as head of Brocade, which has disappointed investors as it struggled to integrate an Ethernet business it acquired in 2008. Brocade's stock fell this month to the lowest price relative to free cash flow in three years, and yesterday the shares were still cheaper than 90 percent of similar-sized computer-storage firms, according to data compiled by Bloomberg.
Even after working with Frank Quattrone's Qatalyst Partners to find a buyer, Klayko failed to come to terms on a deal, and ZK Research said the CEO's departure might help smooth negotiations with suitors. Private-equity firms could be attracted to the cash flow generated by the $2.7 billion company's main storage business, according to Robert W. Baird & Co., while JMP Group Inc. said Dell Inc. also may be among suitors. Wunderlich Securities Inc. said Brocade could fetch $7.75 a share, 32 percent more than yesterday's closing price.
"At the end of the day, Mike probably wanted a role for himself and a very high price, and on both those counts I suspect that the hurdle has been lowered," Ben Nahum, a New York-based fund manager for Neuberger Berman Group LLC, which oversees $194 billion including 3.3 million Brocade shares, said in a telephone interview. "People could tell you that it's been shopped and nobody wants it, but I don't buy that."
John Noh, a spokesman for Brocade, said he couldn't comment when asked about the prospects for a sale of the company.
Storage Networks
Founded in 1995, Brocade makes switches that connect servers to so-called storage-area networks. Its competitors include Cisco Systems Inc. and Juniper Networks Inc.
The company, which specializes in switches using a technology called Fibre Channel, acquired Foundry Networks Inc. for $2.6 billion in December 2008 to enter the market for Ethernet switches that are gaining popularity in data centers. After profit fell 57 percent last year, Brocade is projected to more than triple net income in its fiscal year ending in October, according to analysts' estimates compiled by Bloomberg.
Brocade had been looking for potential buyers with Qatalyst's assistance since 2009, a person familiar with the matter said last year. During that time, Dell bought competitor Force10 Networks Inc.
Sally Palmer, a spokeswoman at San Francisco-based Qatalyst, didn't return phone and e-mail messages seeking comment on the firm's work with Brocade.
'Not Them'
"It's an interesting story," Tony Trzcinka, a Portsmouth, New Hampshire-based fund manager at Pax World Management LLC, which oversees $2.6 billion including Brocade shares, said in a phone interview. "They've been up for sale for three years and there have been other purchases within this space, but still not them. My hope is that somebody could unlock the value of the businesses."
In February, Blackstone Group LP, the world's largest private-equity firm, ended talks to buy Brocade because the price was too high for a leveraged buyout, a person with knowledge of the situation who declined to be identified because the matter was private, said at the time.
Brocade announced last week that Klayko, who has worked at the company for almost a decade in top sales and marketing roles, plans to resign and will stay on until a successor is identified. His departure may revive takeover interest, said Zeus Kerravala, an independent analyst for ZK Research in Westminster, Massachusetts.
In Play
"Klayko really thought they were the next big thing, and when they were not I don't think he was going to let that company go" without demanding a high price, Kerravala said in a phone interview. "Having him leave brings them back into play as an acquisition target, and I certainly think there are companies out there that could use them."
Private-equity shoppers may be lured by the cash flow that Brocade's storage business generates, according to Jayson Noland, a San Francisco-based analyst for Baird.
With a free-cash-flow yield of about 19 percent, Brocade produces almost twice as much cash from its operations, after deducting capital expenses, relative to its stock price than the median of computer-storage companies with more than $500 million in market value, data compiled by Bloomberg show.
A private-equity firm could divest the Ethernet business, Noland said. To help pay down debt used to take Brocade private, it also could sell Brocade's headquarters and rent the space back through a sale-leaseback arrangement, he said.
Net Cash
"The storage side of Brocade generates a really high level of free cash," he said in a phone interview. "They own their own building in the Silicon Valley and it's a really nice building. That's unlocked value right there, too."
Analysts also project that Brocade will end fiscal 2012 with more cash than debt on its balance sheet, according to estimates compiled by Bloomberg. The company hasn't had a net cash position since 2008, before the acquisition of Foundry Networks, the data show.
Brocade's stock, which closed yesterday at $5.85, trades at 5.3 times free cash flow, less than the median multiple of 9.6 times for its peers, data compiled Bloomberg show.
"It's a very inexpensive stock, especially in terms of cash flow metrics," Matt Robison, a San Francisco-based analyst at Wunderlich, said in a phone interview. "You could have what you would consider a very normal private-equity valuation with quite a change-of-control premium."
Today, Brocade shares gained 0.5 percent to $5.88.
Good Fit
The company's product line and market position could make it a good fit for companies such as Oracle or Hewlett-Packard, as well as non-U.S. suitors, said Erik Suppiger, a San Francisco-based analyst at JMP.
"I wouldn't rule out strategic buyers," Suppiger said in a phone interview. "The footprint that Brocade has with its fiber capacities could be pretty attractive to players that are trying to come into the U.S."
Deborah Hellinger, a spokeswoman for Oracle, wouldn't comment on whether the Redwood City, California-based company was interested in Brocade. Michael Thacker, a spokesman for Palo Alto, California-based Hewlett-Packard, also declined to comment on the possibility of a Brocade takeover.
Still, Joanna Makris, a New York-based analyst with Mizuho Securities USA Inc. said Brocade may have lost its window of opportunity for finding a buyer after potential acquirers such as Dell chose other targets instead.
Different Signal
Even so, Brocade could be complementary to Dell after the Force10 acquisition, Wunderlich's Robison said.
David Frink, a spokesman for Round Rock, Texas-based Dell, said the company doesn't comment on speculation about potential acquisition activity.
Bill Choi, an analyst at Janney Montgomery Scott LLC in New York, said Klayko's departure could signal that Brocade may be looking to refocus its efforts on improving its existing business under a new leader, rather than seek a sale.
"To me it shows a change in direction in the opposite way," he said. "They've been trying to sell the company and now they're not. The shift is more toward execution now."
Elliott Management Corp., the hedge fund that pushed Novell Inc. to sell itself in 2010, amassed a stake in Brocade a year ago and is now the company's second-biggest shareholder.
The investor could persuade the company to be more flexible in price negotiations with a potential acquirer, Wunderlich's Robison said. Peter Truell, a spokesman for New York-based Elliott, said the company wouldn't comment on the investment.
The presence of the activist investor probably contributed to Klayko's departure, JMP's Suppiger said.
"The conventional wisdom is that his departure is a signal that the auction is coming again," Robison said. "There are still some potential buyers out there."
Before it's here, it's on the Bloomberg Terminal.
LEARN MORE