Michelin-Starred Chef Jason Atherton Picks Egg Sandwiches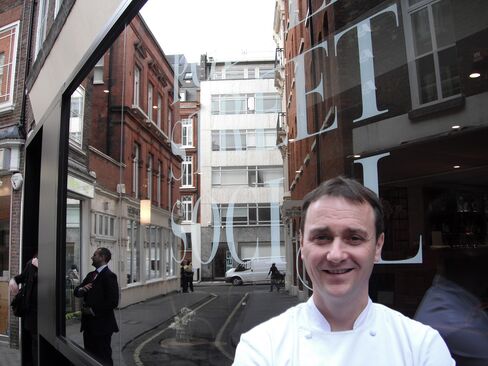 Chef Jason Atherton created Maze for Gordon Ramsay before parting company with his mentor to open restaurants in China, Singapore and London.
Atherton, 40, was born and raised in the north of England and has worked with some of the world's best chefs, including completing a stage with Ferran Adria at El Bulli. What does he make of the British sandwich? He tried six in a blind tasting.
"I like most sandwiches, so long as they're made properly," Atherton said. "There's two types of food for me. There's good food and there's bad food."
Here's what he had to say during the tasting at his London restaurant, Pollen Street Social, which won a Michelin star within months of opening last year.
EAT Simple Free Range Egg Mayo & Cress: 1.49 pounds ($2.35)
"This looks like it's been in a packet. It looks a little bit squashed. It smells OK. The bread's quite nice. It's got zero seasoning. For me, as a chef, I like sea salt. And salt's a good thing. It's OK. Would I buy it? I'm a tight northerner. If I was hungry enough, I'd probably part with a couple of quid for it but I wouldn't part with much more." 6/10
Marks & Spencer Free Range Egg Mayonnaise: 1.25 pounds
"You can tell straight away the bread's a little bit softer because it hasn't got as many seeds and grains in it. The flour's a bit more refined, and I prefer unrefined flour in my bread. It's got better seasoning. It's got nice egg, I like that it's got a nice eggy flavor. They've not put as much mayonnaise in this so it tastes quite good. I might buy that." 7/10.
Pret a Manger Free Range Egg Mayo: 1.60 pounds
"It's a little bit squashed, feeling a little bit sorry for itself. It's got a few more seeds in it and stuff. Where the flour's been refined, it dries out really quickly. Too much cress. I find it quite powerful. The seasoning's OK. I don't think I'll be buying it." 5/10.
Starbucks Free Range Egg Mayo: 1.95 pounds
"It's a different shape. That's a start. It's a more traditional looking sandwich. I quite like the color of the bread but, once again, it seems to have gone quite dry. I like the smell of the bread. It smells a bit sourdoughy, and for my sourdough is the best bread you can get. No seasoning, no salt. People are just scared of it. They feel that if people want it, they can add it themselves. For me, food needs enhancing by salt. It needs more mayonnaise or some sort of salad cream because there's not much flavor. It's a boiled egg. The cress is OK, there's the right amount of cress in it. It's OK." 6/10.
Tesco Egg & Cress (Triple): 1.60 pounds (equals 1.07 pounds for two)
"It looks like a sandwich probably your auntie would make for you when you went round her house. There's not too much going on there. The eggs have been chopped down nicely. Not much filling in it. It just tastes of nothing, really. The bread's very bland and the boring cress is nondescript and there's no seasoning. Not enough filling. It's a shame really because I quite like its simplicity." 5/10.
Waitrose Gluten Free Egg Salad: 2.80 pounds
"The bread is a little bit sourdough. I quite like that. You can see that sourdough's been made properly from the texture of the bread. It looks quite nice. It's got a bit of fresh salad in there, which goes a long way with me. The bread's nice. I like the fact they've got some salad cream in there. I love the salad in there because it helps cut the egg. If it was made to order, I'd pay good money for that. I'd pay 2, 3, 4 quid for that. Why not? I think you've made it." 8/10.
(Richard Vines is the chief food critic for Muse, the arts and leisure section of Bloomberg News. He is U.K. and Ireland chairman of the World's 50 Best Restaurants awards. Opinions expressed are his own.)
Muse highlights include Rich Jaroslovsky on technology.
Before it's here, it's on the Bloomberg Terminal.
LEARN MORE