Lebanese Premier Warns of Syria Spillover as Gunfights Flare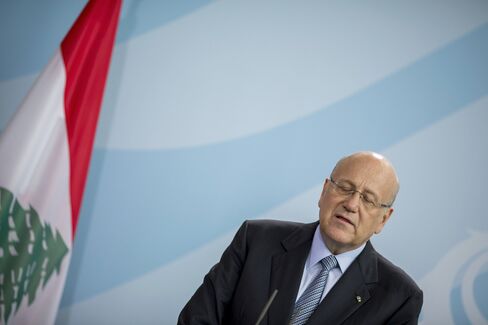 Lebanon's Prime Minister Najib Mikati urged national unity to insulate the country from "the burning fires all around it," after gun battles in his hometown of Tripoli.
Mikati expressed concern over "attempts to involve Lebanon more and more" in the conflict in Syria, according to his website. All parties should consider themselves responsible for the "bloody events in Tripoli" and the "consequences resulting from killing, destruction and bloodshed that will not only impact the city but Lebanon as a whole," he said.
The remarks came a day after seven people were killed and more than 70 wounded in the northern city of Tripoli in fighting between supporters and opponents of Syrian President Bashar al-Assad, the latest sign that the violence in Syria is spilling into its neighbor.
The official National News Agency said that a cease-fire agreement in Tripoli was reached after a meeting of clerics, lawmakers and leaders of armed groups, and will go into effect at 5 p.m.
Lebanon's army urged the country's leaders to refrain from "inflaming" the differences among the parties and using the "tense regional situation to settle internal scores." Seven soldiers were injured in yesterday's clashes, it said in a statement carried by the official agency.
The deteriorating security situation caused Gulf states to order their citizens to leave Lebanon last week after kidnapping threats linked to the conflict in Syria.
The U.S. Embassy in Lebanon warned on Aug. 17 of "an increased possibility of attacks."
Assad's troops clashed with rebels in several provinces across Syria today, leaving at least 54 people dead, the Syrian Observatory for Human Rights said by e-mail.
-- Editors: Francis Harris, Louis Meixler, Ben Holland.
Before it's here, it's on the Bloomberg Terminal.
LEARN MORE