Japan Swings to Trade Deficit as Exports Sink on Europe: Economy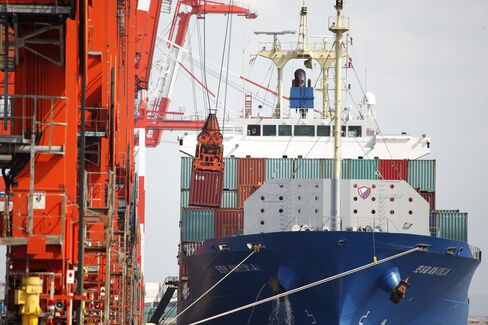 Japan had a wider-than-estimated trade deficit in July as Europe's sovereign-debt crisis and a slowdown in China dragged down exports and nuclear shutdowns boosted energy imports.
The shortfall was 517.4 billion yen ($6.5 billion), after a revised 60.3 billion yen surplus in June, the Finance Ministry said in Tokyo today. The median forecast in a Bloomberg News survey of 28 analysts was for a 270 billion yen deficit. Exports fell 8.1 percent from a year earlier, compared with an estimated 2.9 percent drop. Imports rose 2.1 percent.
Strength in the yen and faltering global growth threaten to restrain exports in coming months, undermining Japan's recovery from an earthquake, tsunami and economic contraction in 2011. Today's report adds pressure for government spending or monetary easing to support the world's third-biggest economy by bolstering domestic demand.
"Japan needs more monetary stimulus to sustain the recovery," said Hiroaki Muto, a senior economist at Sumitomo Mitsui Asset Management Co. in Tokyo. "Sentiment among manufacturers is deteriorating globally, triggered by Europe's fiscal problems, and that's adversely affecting Asian economies."
The yen traded at 79.30 per dollar as of 3:30 p.m. in Tokyo, up more than 5 percent since mid-March. A stronger currency erodes export sales and profits. Today's level compares with a post-World War II high of 75.35 in October.
Europe, China
Shipments to the European Union fell 25 percent in July from a year earlier, the biggest decline since October 2009, while those to China slipped 12 percent, the ministry said. The trade deficit was the biggest for any July in data going back to 1979, it said.
Federal Reserve Bank of Chicago President Charles Evans said the weakening in global trade is "awful." The U.S. central bank will consider circumstances around the economy and financial stability in deciding whether it needs to step up monetary easing, Evans said to reporters today in Beijing.
Today's report adds to signs of weakness across Asia after growth in China's overseas shipments collapsed in July and that nation's economy grew at the slowest pace since 2009 in the second quarter. Japan's gross domestic product advanced an annualized 1.4 percent in the three months through June, down from 5.5 percent in the first quarter.
Hiroshi Watanabe, a senior economist at SMBC Nikko Securities Inc. in Tokyo, said Aug. 13 that a supplementary government budget for Japan is "already a done deal." The central bank, meanwhile, is due to make its next policy decision Sept. 19.
Losing Steam
"It's unavoidable that Japan's economic growth will lose steam this quarter," said Kohei Okazaki, an economist at Nomura Securities Co. in Tokyo. "Global demand is looking stagnant as China's economy is slowing while the advanced nations' economies remain weak."
Taiwan reported today the island's unemployment rate rose to 4.25 percent in July. Sri Lanka is due to release June export data this week, after overseas sales fell 15 percent in May. China's exports grew 1 percent in July from a year earlier, down from a 20 percent gain in the same month in 2011.
China has plenty of resources to stimulate economic growth if needed because of a high savings rate, the central government's fiscal flexibility and a demand for infrastructure, Kim Eng Tan, a Singapore-based credit analyst at Standard & Poor's, said in a report dated yesterday.
The world's second-largest economy is likely to expand "close to" 8 percent this year and 8.2 percent in 2013, given the government's "focus on ensuring near-term social stability," S&P said.
Saving Bullets
"Rather than running out of bullets, China may just be saving them for even trickier economic battles," Tan wrote. At the same time, "poorly planned" stimulus spending can increase the risks of a sharper deceleration later in the economy, he said.
In Japan, "today's report indicated the downside risks to exports have grown," said Mitsumaru Kumagai, chief economist at Daiwa Institute of Research in Tokyo. "The economy in the European Union area is stalling and the emerging economies such as China are slowing, so the uncertainty over the global economy is heightening."
Japan's ninth trade deficit in 12 months underscores the country's reliance on energy imports after atomic plants were shut down following last year's earthquake and nuclear disaster.
Sony Forecast
Sony Corp., Japan's biggest consumer electronics exporter, cut its full-year profit forecast on Aug. 2. Sharp Corp., the nation's largest maker of liquid-crystal display panels, announced the same day it would eliminate 5,000 jobs worldwide in its first cuts since 1950.
Reports today will give the latest readings for economies across Europe.
Norway's unemployment rate probably rose in June, according to a Bloomberg News survey. Hungary may report slowing wage growth, a separate survey showed. Denmark will release July retail sales data, Russia's weekly inflation report is due and Iceland's central bank will decide on the seven-day collateral lending rate.
In the U.S., the National Association of Realtors will release existing home sales data for July. Purchases increased 3.2 percent to a 4.51 million annual rate, following a 4.37 million pace in June, according to the Bloomberg survey median.
Before it's here, it's on the Bloomberg Terminal.
LEARN MORE