Gold to Rally as Central Banks, Investors Buy, Coutts Says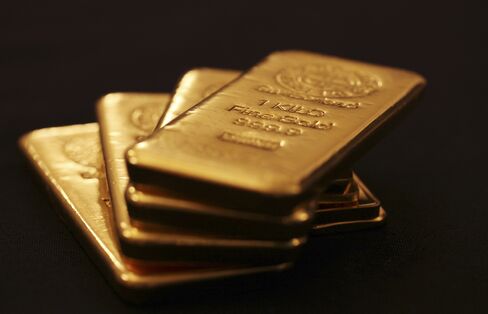 Gold will extend a bull run as emerging-market central banks and investors accumulate the metal to protect against weakening currencies, according to Coutts & Co., the private-banking division of Royal Bank of Scotland Plc.
"The reason we're positive on gold is that major currencies around the world lack credibility," Gary Dugan, chief investment officer for Asia and the Middle East, said in an interview in Singapore today, without giving a price forecast.
Investment holdings expanded to an all-time high this week amid concern that fresh stimulus from central banks including the U.S. Federal Reserve will weaken currencies and may reignite inflation. Billionaire investors George Soros and John Paulson increased their stakes in the SPDR Gold Trust, the biggest gold-backed exchange-traded product, in the second quarter.
"The natural buyers of today are emerging-market central banks, and over and above that, it's going to be further investment demand," said Dugan. "People continue to naturally gravitate to gold."
Gold for immediate delivery, which traded at $1,640.75 an ounce at 6:57 p.m. in Singapore, has rallied for 11 years and reached a record $1,921.15 on Sept. 6. Holdings in ETPs including the SPDR jumped to a record 2,437.495 metric tons yesterday, according to data compiled by Bloomberg.
Central banks will purchase close to 500 tons this year after becoming net buyers in 2009, according to the producer-funded World Gold Council. Central banks added 254.2 tons to their holdings in the first half, according to the council, as countries from Russia to South Korea added to reserves.
Global Slowdown
Still, the global economic slowdown, driven by the debt crisis in Europe, hurt demand in the second quarter, with consumption declining 7.1 percent, the London-based council said on Aug. 16. Imports by India, last year's biggest buyer, slid 56 percent to 131 tons in the second quarter, the council said.
Sales of American Eagle gold coins by the U.S. Mint dropped 49 percent to 30,500 ounces last month, the lowest level since April. The mint sold 18,000 ounces so far in August, data on its website showed on Aug. 20.
"Do I want to go with Japan, Europe or the U.S., where debt to GDP is over 100 percent?" said Dugan. That "seems crazy because you're going to get loads of these currencies being issued to you. Unfortunately, the reserve currencies that are coming on, like the renminbi, which was a one-way bet for three or four years, has become less of a one-way bet."
Before it's here, it's on the Bloomberg Terminal.
LEARN MORE