Obama Curbs on Coal Pollution Rejected by U.S. Court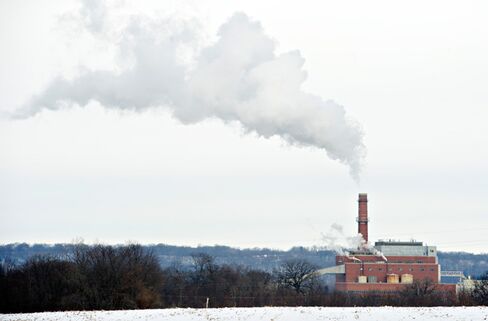 A federal court threw out a U.S. Environmental Protection Agency rule aimed at cutting pollution from coal-fired power plants, dealing a blow to the Obama administration's efforts to curb harmful emissions.
The U.S. Court of Appeals in Washington in a 2-1 ruling today struck down the EPA's cross-state air pollution rule, saying the agency overstepped its legal authority and issued standards that were too strict. The court sided with power companies and mining groups challenging to the measure, which caps emissions in more than two dozen states. The rule had been put on hold by the court in December while it considered the regulation's legality.
"It is not our job to set environmental policy," Circuit Judge Brett Kavanaugh wrote in the 60-page opinion. "Our limited but important role is to independently ensure that the agency stays within the boundaries Congress has set. EPA did not do so here."
The court's decision, which sparked a rally in coal stocks, could leave the EPA with years of work to replace a regulation the agency said would have "dramatic" health benefits for 240 million people, Whitney Stanco, senior energy policy analyst at Guggenheim Securities LLC, said.
The court ordered the agency to continue to enforce a 2005 measure known as the Clean Air Interstate Rule until a viable replacement to the cross-state regulation can be issued.
The EPA is reviewing the decision, and will decide "the appropriate course of action," Alisha Johnson, an agency spokeswoman, said in an e-mail.
Plants' Future
The decision is a rare reprieve for coal-dependent power generators facing the combined threats of increasing federal regulation and low natural-gas prices.
"The court's decision might be a short-term stay of execution for some facilities," said Sam Brothwell, senior analyst covering utilities for Bloomberg Industries in New York. "These older, dirtier facilities will ultimately retire."
Among the power companies challenging the rule were Southern Co., EME Homer City Generation LP, a unit of Edison International, and Energy Future Holdings Corp. units in Texas. The state of Texas, the National Mining Association and the International Brotherhood of Electrical Workers joined in parallel cases, saying the rule would put an undue financial burden on power producers and threaten electricity reliability.
Coal Consumer
American Electric Power Company Inc., the largest U.S. coal consumer, said the air quality goals that the cross-state ruled targeted would be achieved by the 2005 rule that remains in place.
"Air emissions from AEP's coal-fueled power plants are nearly 80 percent less than they were just a decade ago," Pat Hemlepp, a spokesman for Columbus, Ohio-based American Electric said in an e-mail. "We are willing to move forward to make additional emission reductions, but we believe it can be done in a more reasonable way."
The EPA rules, which applied to Texas and 27 eastern states, would have imposed caps on sulfur dioxide, which can lead to acid rain and soot harmful to humans and ecosystems, and nitrogen oxide, a component of ground-level ozone and a main ingredient of smog.
'Long Overdue'
"The court's decision significantly imperils long overdue clean air safeguards for millions of Americans," Vickie Patton, general counsel of Environmental Defense Fund, said in an e-mailed statement. "EDF will immediately seek corrective action to protect the lives of Americans harmed by power plant smokestack pollution."
The EPA argued in court papers that the rule would improve the health of more than 200 million people, saying it had "reasonably projected" which areas of the country should be covered by the regulation.
Lawsuits challenging the rule called it "one of the most costly, burdensome and arbitrary" ever issued under the Clean Air Acts.
Circuit Judge Judith Rogers, who dissented, wrote that in throwing out the rule, the court disregarded the limits Congress has placed on judicial review of challenges to EPA rules.
She said the majority's opinion resulted in "the endorsement of a 'maximum delay' strategy for regulated entities, rewarding states and industry for cloaking their objections throughout years of administrative rulemaking procedures."
The case is EME Homer City Generation LP v. U.S. Environmental Protection Agency, 11-1302, U.S. Court of Appeals for the District of Columbia (Washington).
Before it's here, it's on the Bloomberg Terminal.
LEARN MORE