Russia Invests in Diesel as Putin's Oil Boom Peaks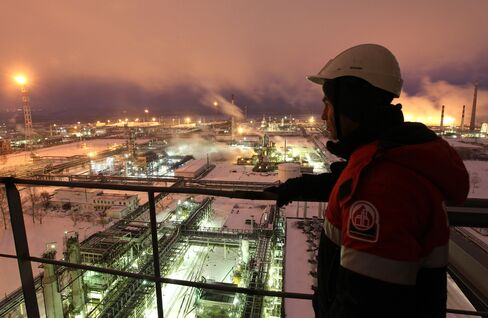 Russia is cementing its status as Europe's foremost diesel supplier as President Vladimir Putin seeks to shore up economic growth with record investment in the refining industry.
The nation will boost exports of premium, low-sulfur diesel by more than 50 percent next year, according to Facts Global Energy Inc., a Singapore-based researcher. Profits for European refiners may drop because of the increase in Russian shipments, JBC Energy GmbH said.
Russia is improving fuels quality to safeguard its Western export market and take advantage of crude output that's risen to a post-Soviet record. As the government tries to allay a slowing pace of economic expansion, investment in refining will rise to 340 billion rubles ($11 billion) next year, up 93 percent on 2012, according to the nation's energy ministry.
"There's pent-up potential in the system and when the Russians switch it on, it will be a big threat to European refiners' margins," Gemma Parker, an analyst at Facts Global Energy in London, said by phone.
Putin, who began his first of three terms as president in 2000, has invested in infrastructure to guarantee access to European consumers without relying on neighboring countries for transit. Projects include a diesel pipeline to the Baltic Sea port of Primorsk that opened in 2008, handling shipments from the country's biggest refineries including TNK-BP's Ryazan facility and OAO Lukoil's Nizhny Novgorod plant.
Baltic Pipeline
Rising production will increase flows through that link, known as Sever, to its 175,000 barrel-a-day capacity by the end of 2012, compared with about 100,000 last year, according to JBC Energy, a Vienna-based researcher. The Primorsk pipeline carries Euro-5 standard fuel, the strictest fuels category that contains no more than 10 parts per million of sulfur and fetches a higher price than other fuels.
OAO Transneft, Russia's oil pipeline monopoly, may expand Sever to 245,000 barrels a day by 2015 and build a second 180,000 barrel-a-day line, dubbed Yug, to the Black Sea port of Novorossiysk by 2017, according to a June corporate magazine.
Russia's crude output rose to a post-Soviet peak of 10.35 million barrels a day last year, Energy Ministry data show, as it vies with Saudi Arabia to be the world's biggest producer. Russia's economy is forecast to grow by 3.7 percent next year, the slowest rate since 2009, data compiled by Bloomberg show.
Russia produced 6.11 million tons of diesel in July, the most in 11 months, according to data e-mailed by the Energy Ministry's CDU-TEK unit today.
Diesel for Europe
While Europe relies on imports to meet some of its diesel needs, the increased Russian supply coincides with stagnating demand in the region as economic growth sputters. European consumption of diesel and gasoil averaged 5.87 million barrels a day in the first five months of the year, the least since 2002, according to the International Energy Agency in Paris.
"By 2014 or 2015, Russian modernization will have a significant impact on European refining as the Russians seek to keep the premium for themselves," Arsenije Dusanic, an analyst at JBC, said by phone on Aug. 16, referring to premium prices for higher-quality fuels.
Diesel in northwest Europe dropped 0.3 percent today to $1,015.75 a metric ton, according to data compiled by Bloomberg.
Low-sulfur diesel exports from Russia will rise to about 290,000 barrels a day next year, surpassing last month's record of 190,000 barrels a day, according to an Aug. 3 report by Facts Global Energy.
Europe may experience a "glut" of diesel by 2016 as imports from Russia rise, Karen Kostanian, a Moscow-based analyst at Bank of America Corp., wrote in an Aug. 9 report.
European Plants Close
At least six European refineries have closed since the start of last year because of overcapacity, including ConocoPhillips' Wilhelmshaven plant in Germany and a U.K. site run by Petroplus Holdings AG, data compiled by Bloomberg show.
Russia's refineries suffered from years of underinvestment after the break-up of the Soviet Union, according to Dusanic, leaving them less flexible than competitors in the types of fuel they produce. The neglect resulted in low yields of premium diesel and gasoline compared with fuel oil, a more-polluting product for shipping and power generation that's used mainly in Asia and the Middle East.
Fuel oil accounted for 38 percent of the Russia's output last year, according to Energy Ministry data. That compares with less than 10 percent in Germany.
A government call for lower gasoline prices last year resulted in reduced supply, which led some retail stations to run out of fuel. Those shortages were followed by a July 8, 2011 warning from Putin, who was then prime minister, that companies might be fined if they put off upgrades, prompting refiners to accelerate work.
Putin Warns
"We reserve the right to take measures, including taking undeserved profit, if companies fail to carry out their obligations on upgrades," Putin said then, in Kirishi, northwestern Russia.
Export duties were also adjusted, starting in October, with the levy raised for fuel oil to stem its production and reduced on diesel to spur higher output and to act as an incentive to make upgrades. The diesel duty was cut to 66 percent of the crude tariff, from 67 percent previously.
Excise duties for domestic sales of high-quality Euro-5 gasoline and diesel were also lowered in July as a further incentive for refiners to manufacture cleaner oil products.
Domestic retail diesel prices have grown at the fastest rate of all oil products this year, reaching 27.99 rubles (88 cents) a liter on Aug. 17, RBC Daily newspaper reported today, citing data from Russian oil research agency Kortes.
Equipment Upgrades
Russia will progressively tighten the permitted sulfur content in diesel from next year. By 2015, fuels lower than Euro-4 quality which has a 50 parts-per-million limit will be prohibited and in 2016 it will fully adopt Euro-5 standards.
The nation's diesel production will increase to 91 million metric tons by 2016, 29 percent more than 2011, if work on refineries is carried out on schedule, Bank of America said.
OAO Gazprom Neft's Omsk refinery, Russia's largest, plans to begin output of the Euro-5 grade in October or November and expects to export the fuel via Transneft's system to Primorsk, according to a company presentation obtained by Bloomberg.
"It's possible that we will convert the pipeline from Omsk to carry 10 ppm by the end of the year, if Gazprom Neft can guarantee enough diesel volumes," Ilya Arkhipov, a spokesman for Transneft's oil products pipeline division, said by phone yesterday.
OAO Rosneft, the nation's biggest refiner that is expanding its Tuapse site on the Black Sea, doubled spending on its plants to 88 billion rubles in the first half of this year, according to a statement. A Rosneft official declined to comment on investment plans when contacted by phone and e-mail on Aug. 10. OAO Slavneft's Yanos refinery, the nation's fifth largest, switched to full production of Euro-5 diesel in July.
"European refiners are getting a reprieve from the full impact of Russian upgrades," Parker of Facts Global said. "That will change by the second half of 2013, when the current wave of upgrades are complete."
Before it's here, it's on the Bloomberg Terminal.
LEARN MORE