Obama Leads Romney in Poll Showing Disdain for Congress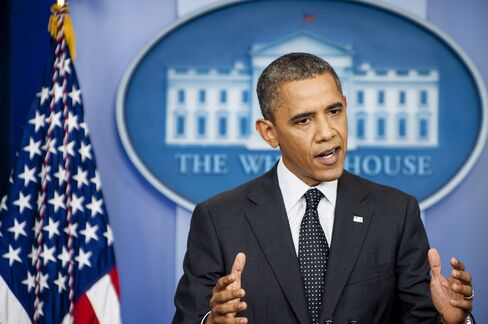 President Barack Obama holds a four-percentage-point lead over Republican challenger Mitt Romney in a Wall Street Journal/NBC News poll that also shows low approval ratings for Congress.
The poll released yesterday showed Obama with 48 percent backing of registered voters, Romney with 44 percent. Obama has never trailed in the survey, holding a six-point lead last month, 49 percent to 43 percent, and advantages of between one and six percentage points during the last 12 months.
A survey released today by NBC News, the Journal and Telemundo found Latino registered voters supporting Obama by 63 percent to 28 percent over Romney. That was a shift from Obama's 67 percent to 23 percent lead last month. Sixty-two percent approved of the job Obama was doing as president, while 32 percent disapproved, virtually unchanged from a month ago.
Latinos helped propel Obama to the White House, as he won 67 percent of their vote in 2008 compared with 31 percent for Republican nominee John McCain, exit polls showed.
In the larger WSJ/NBC survey, voters narrowly disapproved of Obama's performance in office, 49 percent to 48 percent. A year earlier, 51 percent disapproved of his performance -- the highest disapproval percentage in the poll since Obama took office -- while 44 percent approved.
The WSJ/NBC survey released yesterday showed that 48 percent had a positive opinion of Obama, compared with 43 percent with a negative view. Romney was rated positive by 38 percent of voters and negative by 44 percent.
Ryan Impact
Romney's selection of U.S. Representative Paul Ryan of Wisconsin as his running mate had little impact on the race, according to the poll. More than half, 54 percent, said it wouldn't affect their votes, while 22 percent said they were more likely to back Romney and 23 percent said they were less likely.
The survey found 47 percent of voters preferring a Democratic-controlled Congress and 42 percent saying they would rather have the Republicans in charge.
Democrats now control the Senate, albeit with fewer than the 60 votes they need to overcome Republican filibusters, and Republicans control the House of Representatives. By 47 percent to 43 percent, respondents said they'd rather put someone new into office than re-elect their representative.
Just 12 percent approved of the job Congress was doing, and 82 percent disapproved. The last time Congress had an approval rating that low in the poll was in October 2008, a month before Obama captured the White House and Democrats added to their then-majorities in both the Senate and House.
The WSJ/NBC survey of 1,000 registered voters was taken Aug. 16-20 and has a margin of error of plus or minus 3.1 percentage points. The margin of error was plus or minus 5.7 percentage points for the survey of 300 Latino registered voters.
Before it's here, it's on the Bloomberg Terminal.
LEARN MORE