Merkel Allies Signal Greece Concessions Before Samaras Visit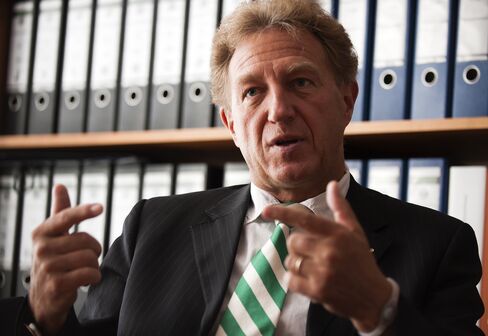 Concessions are possible for Greece so long as Prime Minister Antonis Samaras shows a willingness to meet the main targets set out in his country's bailout program, a senior lawmaker with Chancellor Angela Merkel's party said.
A precedent for program adjustments was made with the first Greek bailout, when the country secured lower interest rates and longer maturities on bilateral loans than those originally set, Norbert Barthle, the Christian Democratic Union's budget spokesman in parliament, said today in a telephone interview.
"Small concessions are feasible provided they are strictly made within the framework of the second aid program," Barthle said. "For instance, the interest and maturity on loans could be adjusted, as in the case of the first aid package for Greece."
Barthle's comments add to signs of an easing in Germany's resistance to granting Greece more room as it struggles to meet the terms laid down by its international creditors in a fifth year of recession. Samaras, whose ruling coalition favors an extension of its fiscal adjustment program by two years, is due to meet with Merkel in Berlin on Aug. 24 before traveling to Paris the next day for talks with President Francois Hollande.
Euro Rises
Global stocks and the euro gained, with the 17-nation single currency rising to six-week highs against the yen and the dollar. It bought $1.2464 at 4:20 p.m. in Berlin, up 1 percent.
Almost three years after the crisis came to light in Greece, the country remains at the heart of the turmoil even as contagion spreads to Italy and Spain, prompting European Central Bank chief Mario Draghi to announce proposals to re-enter the bond market to help lower government borrowing costs. Hollande is due in Berlin on Aug. 23 to discuss the crisis with Merkel as the ECB fleshes out its plans.
Spain's 10-year bond yield fell seven basis points to 6.18 percent after sliding to 6.16 percent yesterday, the lowest since July 2. Italian 10-year yields fell 11 basis points to 5.65 percent. Equivalent German debt yielded 1.55 percent, up 4 basis points.
While Germany won't approve more money for Greece, existing aid payments could be brought forward, Michael Meister, a deputy leader of Merkel's party, said separately.
Frontloading Payments
"Adjustments are conceivable within the financial framework," Meister said, reiterating comments reported earlier today in the Die Welt newspaper. "Bringing payments forward is only possible if there's plausible proof that it won't create new fiscal gaps later." If the International Monetary Fund were to go along with such an approach, "this would be conceivable," he said.
The German Parliament's Budget Committee would be called upon to approve any adjustments to Greece's program rather than a vote going to the full plenary session, Barthle said. That would probably make the concessions easier to pass.
"What's utterly important is the will of the Greeks to fulfil the terms of financial help," Barthle said. "The ball is in the Greeks' court."
Greece's so-called troika of international creditors -- the IMF, the European Commission and the European Central Bank -- returns to Athens early next month. Luxembourg Prime Minister Jean-Claude Juncker, who heads the group of euro area finance ministers, visits Athens tomorrow to meet with Samaras.
Barthle said in a July 25 interview that Greece may need a second debt restructuring to stay in the euro region.
Readying Cuts
Greek Finance Minister Yannis Stournaras said late yesterday that an 11.5 billion-euro ($14.3 billion) package of spending cuts for the next two years is still under consideration by the government and will be ready by the time the troika returns.
Stournaras presented 14 billion euros of cuts to Samaras, Athens-based newspaper Ta Nea reported today, without citing anyone. The package, which includes reductions of between 2 percent and 20 percent to pensions and as much as a 35 percent cut in pay for employees in state-run companies, will be in hammered out talks with the troika by Sept. 14, Ta Nea said.
Barthle's comments on a possible lowering of interest rates on Greek loans were reported earlier today in the Passauer Neue Presse newspaper.
Before it's here, it's on the Bloomberg Terminal.
LEARN MORE