Citadel Urges SEC to Accept Nasdaq Settlement on Facebook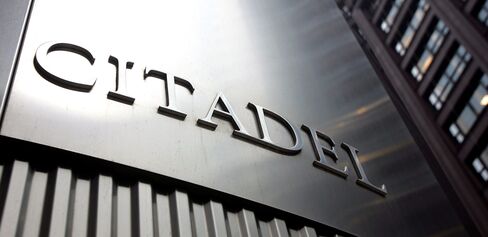 The U.S. Securities and Exchange Commission should approve Nasdaq OMX Group Inc.'s proposal to pay firms $62 million for losses suffered in Facebook Inc.'s public debut, Citadel LLC said.
The Chicago-based hedge fund, whose Citadel Securities executes about 10 percent of U.S. equity volume, told the SEC in a letter yesterday that its Citadel Execution Services unit traded more than $3.8 billion of Facebook stock for customers on May 18. Nasdaq OMX, the second-biggest U.S. equity exchange owner, proposed the compensation pool in July after Facebook's initial public offering was marred by technology breakdowns.
The recommendation brings New York-based Nasdaq OMX a step closer to putting the mishap behind it after the exchange's handling of the offering drew criticism from member firms, competitors and investors. Citadel, run by Ken Griffin, lost as much as $35 million in trading related to the offering, according to a person with knowledge of the firm. Knight Capital Group Inc. lost $35.4 million in Facebook trading.
"It is entirely appropriate for Nasdaq to establish a special accommodation plan to compensate members for certain losses that directly resulted from this event, and for the commission to approve the rule filing," Citadel told the SEC.
Citadel and Knight operate equity wholesaling groups, or brokers that executes orders for individual investors sent by retail securities firms such as Charles Schwab Corp., TD Ameritrade Holding Corp. and Fidelity Investments.
Payment Increase
Nasdaq OMX said last month it would increase its planned payout to brokers that lost money in the public debut of Facebook to $62 million from $40 million in cash and credit. Member firms that accommodated customers for losses stemming from Nasdaq Stock Market's technical malfunctions, which delayed the confirmation of orders submitted to the exchange's opening cross until 1:50 p.m. New York time, will get paid first, it said.
Nasdaq said it made the payment decision despite the "liability protections" for claims of financial loss it possesses as a regulated exchange. The cap on Nasdaq's liability stemming from certain technology errors and malfunctions it causes is $3 million, according to the exchange's rules.
"While the extent of exchange immunity from liability for mishandling orders is an important and complex public policy issue, we submit that any commission consideration of this issue should be addressed at a later time and not stand in the way of Nasdaq's proposal," Citadel said.
Delays, Malfunctions
Delays and malfunctions on the Nasdaq Stock Market were the first signs of trouble in the May 18 Facebook IPO, which prompted lawsuits against the company, its exchange and the underwriters. At yesterday's close of $19.16, the stock was down almost 50 percent from the price set by underwriters.
In May, Nasdaq OMX Chief Executive Officer Robert Greifeld acknowledged "poor design" in software put the opening auction that set the price for the first traded shares into a loop that delayed its completion. The exchange operator submitted its updated payment accommodation plan to the SEC in a filing dated July 23. The public can comment through today and the SEC must approve the plan before it can be implemented.
Among securities firms expected to seek recompense is Knight, which reported on July 18 a $35.4 million loss related to the Facebook IPO. Knight, based in Jersey City, New Jersey, suffered its own unrelated trading malfunction on Aug. 1 that depleted the firm's capital and forced it into a rescue in which six investors bought convertible stock representing more than 70 percent of the company.
UBS Losses
UBS AG, Switzerland's biggest bank, said on July 30 that its second-quarter profit fell 58 percent in part because of losses that exceeded $350 million in the May 18 initial public offering. It promised legal action to get back more than five time as much money as Nasdaq has set aside.
Facebook was sold by underwriters at $38 on May 17. The pricing of the first public transaction, a trade known as the IPO cross, took a half hour longer than Nasdaq OMX planned the next morning. About 30 minutes after that, the market owner reported an issue confirming trades from the opening auction with the brokerages that had placed orders.
Order updates and cancellations totaling 30 million shares were submitted into the auction as a technical issue was being repaired between 11:11 a.m. and 11:30 a.m. New York time, Greifeld told reporters on May 20. About half may involve "some level of dispute," he said.
Disputed Orders
The payment program Nasdaq announced on June 6 covers three kinds of orders placed during the IPO cross: sales priced at $42 or less that weren't executed; purchases priced at $42; and certain types of sell orders that should have participated in the cross and were entered into the market at 1:50 p.m. New York time on the day of the offering, receiving less than $42.
Orders eligible would only include those submitted before 11:30 a.m. that were disadvantaged by Nasdaq's technical error and those in which the member firm was uncertain of the outcome of the trade request. Orders that don't qualify for compensation include "losses that are attributed to execution message delays when in fact an outcome was already certain," Eric Noll, the executive vice president for transaction services at Nasdaq OMX, said in a webcast on June 6.
Nasdaq later added a fourth category: certain orders to buy shares above $42 that received executions in the cross and that had attempted to cancel the requests before 1:50 p.m. The claims in this category will be reduced by 30 percent in calculating the trading loss, Nasdaq said.
Compensation Plan
Firms seeking compensation will have a week after the SEC approves Nasdaq's plan to submit their request, the exchange said in its proposal. The Financial Industry Regulatory Authority will assess the "eligibility and value" of members' claims based on the standards Nasdaq laid out.
Nasdaq will determine how much to pay most investors and traders by comparing their execution price to $40.527, the volume-weighted average price for Facebook from 1:50 p.m. to 2:35 p.m. on May 18. It chose that period because member firms could have liquidated positions then, the exchange told the SEC in July. Losses for orders released into the market at 1:50 p.m. will be compared to the $42 price from the IPO cross.
Triad Securities Corp., a New York-based broker, said Nasdaq should increase its liability for Facebook-related losses and use a benchmark price that reflects trading on May 21. Sixteen of its retail customers, all of whom tried to sell stock at $42, were affected by Nasdaq's malfunctions, the firm told the SEC in a letter dated Aug. 20. Triad received messages that said "reject" in response to some orders, it said.
"We sought to determine the status of these orders from Nasdaq," Triad told the SEC. "It was unreasonable to expect market participants to take action to mitigate damages in response to an undecipherable and unprecedented 'reject' message or no message at all on orders entitled to participate in the Nasdaq cross."
Before it's here, it's on the Bloomberg Terminal.
LEARN MORE