Akin Asks Forgiveness for 'Legitimate Rape' Remarks in TV Ad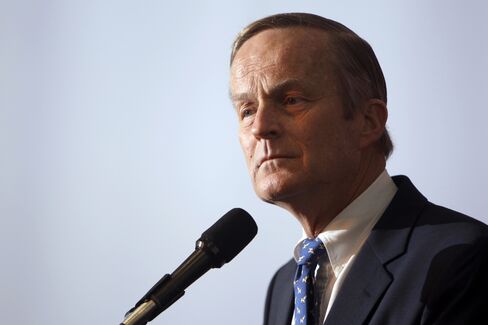 Representative Todd Akin, the Republican Senate candidate in Missouri, has until the end of today to remove his name from the fall ballot. That's what party leaders are advising him to do, following his televised remarks Sunday calling pregnancy rare in the case of "legitimate rape."
Instead, Akin is seeking forgiveness, Bloomberg's Political Capital blog reported today. With a 30-second ad opening with a picture of the congressman and his wife, Akin makes a solo and personal appeal to voters in Missouri: "Rape is an evil act," Akin said before the camera.
"I used the wrong words in the wrong way, and for that I apologize," says Akin, noting that he is the father of two daughters and wants "tough justice" for any "predators," while holding compassion for any victims. He prays for them.
"The fact is, rape can lead to pregnancy," Akin says. "The truth is, rape has many victims."
The mistake he made, he says in closing, "was in the words I said, not in the heart I hold."
The day ahead promises to be as dramatic as the ad Akin is airing. The chairman of the Republican Party has called on him to quit the race. The chairman of Senate campaign fundraising has suggested he consider quitting. The super-PAC airing ads against the Democratic incumbent, Senator Claire McCaskill, is pulling its commercials. The presidential ticket of Mitt Romney and Paul Ryan has made their position known, too.
Romney Interview
Romney, seated with Ryan for an interview on WMUR-TV in Manchester, New Hampshire, yesterday, was asked if Akin should withdraw from the Senate race. Romney said: "He should understand that his words with regards to rape are not words that I can defend, that we can defend, or that we could defend him. That's simply out of the question."
Pressed about whether that means Akin should drop out, Romney said: "I think I've indicated my view sufficiently. I would not be able to defend him in this race."
Akin, in his own interview with a Fox television affiliate in St. Louis on Sunday, had been asked about allowing abortions in cases of rape.
"From what I understand from doctors, that's really rare," said Akin, who has served in the U.S. House since 2001. "If it's a legitimate rape, the female body has ways to try to shut that whole thing down."
He later said he had "misspoke" in that interview.
"This was a very, very serious error," Akin said in another interview on Fox radio yesterday with Mike Huckabee, a former Arkansas governor and 2008 presidential candidate. "The good people of Missouri nominated me, and I'm not a quitter."
Before it's here, it's on the Bloomberg Terminal.
LEARN MORE