Singapore July Exports Rise More Than Estimated on Electronics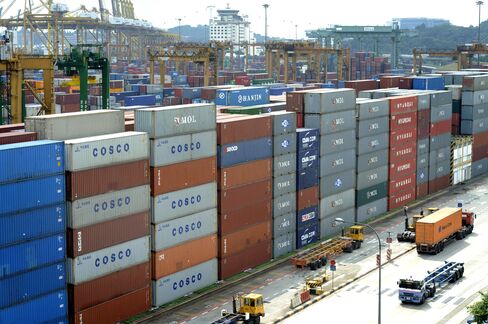 Singapore's exports rose more than economists estimated in July as companies shipped more electronics and petrochemicals and sold more goods to China.
Non-oil domestic exports climbed 5.8 percent from a year earlier, after a revised 6.6 percent increase in June, the trade promotion agency said in a statement today. The median of 14 estimates in a Bloomberg News survey was for a 5 percent gain.
Demand from Asian neighbors is supporting sales of Singapore's goods even as Europe's sovereign debt crisis and an uneven U.S. recovery crimps demand for products made in the island's factories. Singapore expects exports to rise at least 4 percent this year, the trade promotion agency said last week, raising its projection from 3 percent previously.
Exports will pick up "once we see China growth first and U.S. maybe later on towards the end of the year picking up and rebounding," Vincent Conti, a Singapore-based economist at Australia & New Zealand Banking Group Ltd., said before the report.
Singapore's electronics shipments by companies such as Venture Corp. rose 2 percent in July from a year earlier, after climbing 1.6 percent the previous month.
Non-electronics shipments, which include petrochemicals and pharmaceuticals, increased 7.9 percent. Petrochemicals exports gained 11.6 percent, while pharmaceutical shipments advanced 1.3 percent after jumping 24 percent in June.
Singapore's non-oil exports slid a seasonally adjusted 3.6 percent last month from June, when they rose 6.7 percent, today's report showed.
Before it's here, it's on the Bloomberg Terminal.
LEARN MORE