Indonesia Spending Plan Stokes Southeast Asian Growth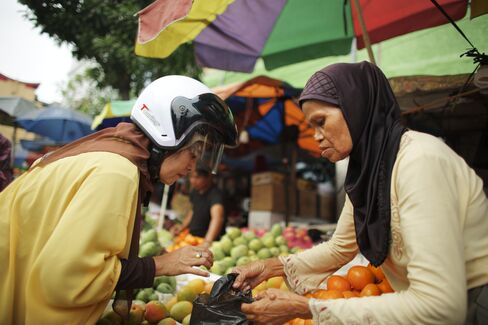 Indonesia plans to increase government capital spending by 15 percent next year as President Susilo Bambang Yudhoyono pledges to boost infrastructure that he says is needed to ensure sustainable growth.
Capital spending will rise to 193.8 trillion rupiah ($20 billion) in 2013, Yudhoyono said in his annual budget address in Jakarta yesterday. The budget deficit may narrow to 1.6 percent of gross domestic product from 2.23 percent, as economic growth is forecast to accelerate to 6.8 percent from an estimated 6.3 percent to 6.5 percent this year, he said.
"We'll raise capital spending to boost infrastructure in order to support domestic connectivity, energy and food and to support the economy," the president said, pledging to maintain the fiscal deficit at a "safe level" and reduce debt.
Yudhoyono, who also said he will give civil servants a raise next year, is increasing spending on roads, seaports and airports as he woos investment to spur Southeast Asia's largest economy. More than a decade after the Asian financial crisis that forced the nation to seek an International Monetary Fund bailout, Fitch Ratings and Moody's Investors Services have raised Indonesia to investment grade and the country's growth is among the fastest in the Group of 20 nations.
The rupiah climbed 0.2 percent to 9,494 a dollar yesterday. Markets are closed as the nation celebrates its 67th independence day today.
Subsidy Spending
Yudhoyono said in a speech to lawmakers earlier yesterday that Indonesia should review its subsidy bill and use the savings to boost the country's infrastructure, calling for fiscal prudence.
Still, the president forecast the government's subsidy spending will expand 18 percent in 2013. He plans to allocate 17.2 trillion rupiah for food and 274.7 trillion rupiah for energy subsidies. Civil servant salaries may rise by an average 7 percent next year, he said.
"The upshot is that infrastructure spending does go up as a share of the budget and relative to GDP, but it remains lower than it could be," said Edward Teather, a Singapore-based economist at UBS AG. "Indonesian government spending on subsidies continues to crimp other spending options."
Gains in the president's economic development program have been undermined by corruption scandals and project delays caused by land disputes. The president signed regulations this month that set a maximum completion time of 583 days for the land acquisition process for public projects.
Too Slow
"When infrastructure projects run it'll reduce unemployment, increase purchasing power and spur growth," Fauzi Ichsan, a senior economist at Standard Chartered Plc in Jakarta, said before the budget speech. "Indonesia needs more spending to boost infrastructure but the problem is the realization of projects are too slow."
Capital spending will be allocated to outlays on power plants and to build 4,431 kilometers (2,753 miles) of roads, 15 new airports and 380 kilometers of railway, said Yudhoyono, who was re-elected in 2009 for a second five-year term.
To contain energy subsidies and make more funds available for spending that will benefit the economy, Yudhoyono proposes adjusting power tariffs automatically every quarter starting in January.
Targeted Subsidies
"We need to increase the efficiency of subsidy costs by adjusting tariffs and maintaining energy consumption, as we realized that in the past the distribution of subsidies does not reach people with low incomes," he said. The government will continue to improve the distribution mechanism of fuel subsidies to make them more targeted and to limit the volume of subsidized fuel gradually, the president said.
Yudhoyono's efforts to contain the budget deficit this year were hindered after Indonesia's lawmakers in March rejected a proposal to increase the price of subsidized fuel.
The budget deficit will shrink to 150.2 trillion rupiah next year, while still giving room to boost the economy, he said. Revenue is estimated at 1,507.7 trillion rupiah, and expenditure at 1,657.9 trillion rupiah. Excise taxes will be raised in 2013 to boost revenue, the government said in a statement today.
Indonesia is setting a bond-sale target of 177.3 trillion rupiah for next year, compared with 159.6 trillion rupiah in 2012, it said today. The government plans to sell global bonds next year, with their tenor and denomination to be dependent on market conditions and foreign exchange risk, it said.
Budget Assumptions
The 2013 debt-to-GDP ratio is targeted at 23 percent, the president said. The budget assumes oil prices of $100 a barrel next year, and an average exchange rate of 9,300 rupiah a dollar, he said. Inflation in 2012 should be no more than 4.8 percent and may reach 4.9 percent next year, Yudhoyono said. The poverty rate may fall to 9.5 percent to 10.5 percent.
"Amid uncertainties in the global economic environment, we are more challenged to maintain our fiscal health," the president said earlier yesterday. "Efforts to improve the quality of government spending need to be continued."
The economy needs to increase investments as exports falter and use its fiscal policy to drive growth, Yudhoyono said. The rupiah has fallen more than 4 percent this year as investors pulled funds from emerging markets on concern the global economy is weakening.
Trade Deficit
Easing exports led to a June trade deficit of $1.32 billion, the widest in at least five years, after overseas sales fell 16.4 percent from a year earlier and imports rose 10.7 percent.
The current-account deficit was $6.9 billion in the three months through June, from a $3.2 billion shortfall the previous quarter, Bank Indonesia said this month. The overall balance of payments deficit was $2.8 billion in the second quarter, it said. Bank Indonesia expects the current-account gap to narrow to 2 percent of GDP in the second half and the balance of payments to return to surplus in the same period.
Still, growth in the $847 billion economy unexpectedly accelerated to 6.37 percent last quarter as rising investments countered declining exports.
Indonesia's foreign and domestic investment rose 28 percent to 148.1 trillion rupiah in the first six months of 2012, the Investment Coordinating Board said in July. That may reach 300 trillion rupiah for the full year, exceeding a previous target of 283 trillion rupiah, M. Chatib Basri, the agency's chairman, said today.
Before it's here, it's on the Bloomberg Terminal.
LEARN MORE