Solyndra Flap Finally Claims a Politician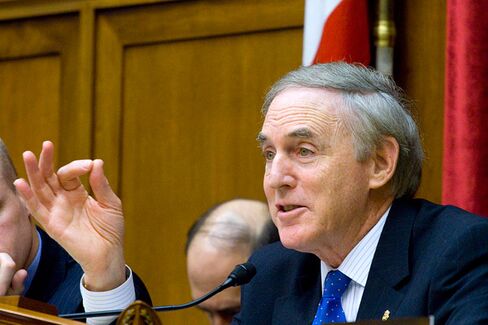 It's an article of faith among Republicans that the failed solar company Solyndra, recipient of a Department of Energy loan guarantee, is a leading example of Obama administration perfidy and a big reason why voters should toss the president out of office. Back in May, Mitt Romney tried to whip up a frenzy by making an unannounced visit to Solyndra's Fremont (Calif.) headquarters (despite having supported a solar-power company as governor of Massachusetts that also went bust). For more than a year the Republican-led House's oversight subcommittee, under the leadership of its chairman, Representative Cliff Stearns (Fla.), has been holding a series of investigative hearings into the company's failure.
Never mind that Solyndra's bankruptcy isn't actually a scandal—plummeting silicon prices killed its business model. Or that House Republicans admit they haven't found evidence of criminal activity. Last night the Solyndra flap finally claimed its first politician. Only it wasn't Barack Obama. It was Cliff Stearns.
To the shock of political experts, Stearns, a 12-term veteran of Congress, lost the Republican primary to a "large-animal veterinarian" and political neophyte named Ted Yoho. Although Solyndra wasn't the only issue in the race, Stearns had become more closely identified with Solyndra than with anything else. Florida Republicans obviously had had enough. And judging by this hilarious television ad, Yoho seems like a fun change of pace:
http://www.youtube.com/embed/HkVG1StqOzQ
Before it's here, it's on the Bloomberg Terminal.
LEARN MORE