Nadal Won't Play U.S. Open Amid Injuries After Missing Olympics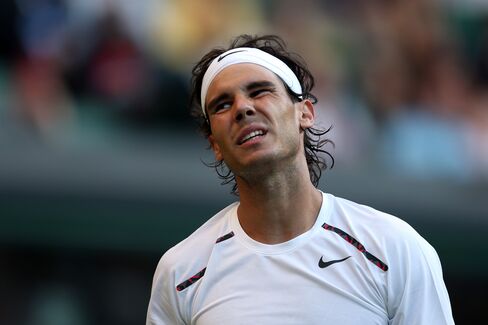 Eleven-time Grand Slam Rafael Nadal won't play in the U.S. Open, skipping the tennis season's final major event because of injuries.
"I am very sad to announce that I am not ready to play the US Open in NY," Nadal, 26, said today in a Twitter post. "Thanks to my fans for their support and specially, the new yorkers."
Tournament Director David Brewer said in a statement that the 2010 champion from Spain "informed us that he will not be ready to compete at the U.S. Open this year and has withdrawn from the tournament."
The U.S. Open begins on Aug. 27 at the National Tennis Center in New York.
Nadal, ranked No. 3 in the world, said on July 4 that he had tendinitis in one of his knees. The announcement came the week after he lost to No. 100-ranked Lukas Rosol in the second round at Wimbledon.
Nadal hasn't played since that loss. On July 19, he said that he wasn't fit enough to defend his Olympic title, calling it "one of the saddest moments of my career."
In June, Nadal, a left-hander, won his record seventh French Open, beating top-seeded Novak Djokovic of Serbia in four sets. Nadal had lost the previous three Grand Slam finals to Djokovic, including the 2011 U.S. Open.
Nadal was last atop the ATP World Tour rankings from June 2010 to June 2011. He beat Djokovic in the 2010 U.S. Open final and also won the Australian Open in 2009 and Wimbledon in 2008 and 2010.