Urlacher Says He'll Be Ready for Opening Game After Knee Surgery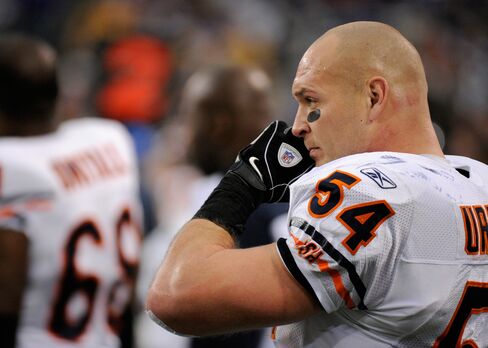 Aug. 14 (Bloomberg) -- Chicago Bears linebacker Brian Urlacher had arthroscopic surgery after experiencing swelling in the knee he injured during his final game last season.
Urlacher, 34, still hopes to be ready for the Bears' season-opening game against the Indianapolis Colts on Sept. 9 after having the arthroscopic debridement procedure on his left knee today, the National Football League team said on its website.
"I'll be ready to play, for sure," Urlacher, an eight-time Pro Bowl selection, told reporters two days ago. "That's really all that matters to me. Preseason games and all these practices, I'd love to be out there, but I'm not going to put myself in jeopardy of missing the first game."
Urlacher hasn't practiced since July 31 after participating in Chicago's first four training-camp sessions. He sat out the Bears' offseason training program while recovering from the injury he sustained in their season-ending win at the Minnesota Vikings on Jan. 1.
To contact the reporter on this story: Mason Levinson in New York at mlevinson@bloomberg.net
To contact the editor responsible for this story: Michael Sillup at msillup@bloomberg.net