Volt Mixes Power-Station Chic, Sweetbread, Brains: Berlin Dining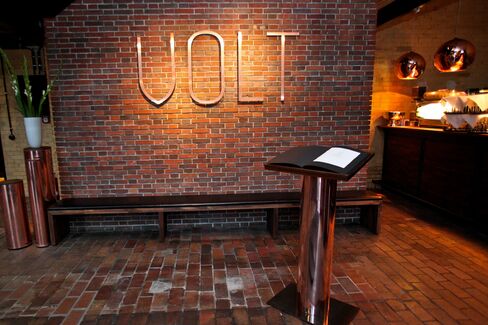 Post-industrial chic is a recurrent theme in Berlin, where disused warehouses and factories tend to morph into hip showrooms for art or cool restaurants.
Volt is one such dining venue, in a former electrical substation built in 1928 on the banks of a canal in the Kreuzberg quarter. The plant, which operated until 1989, reopened 10 years ago as what Germans call "ein Eventlocation" for corporate entertaining. (Need help planning your party? Call an "Eventprofi.")
With Spartan red-brick walls, clanking metal staircases and lofty ceilings, Volt is imposing and funky, rather than cozy. Copper-colored spherical lamps that recall primitive space helmets or 1950s hairdryers add a retro-futuristic touch.
The factory scale of the place presents challenges: Keeping the food warm as it travels from kitchen to table is one, the acoustics are another. A dropped glass at the bar sounds like a car crash at the other end of the restaurant. A big group can dominate the sound space -- and there are frequently large corporate groups holding an "event."
The menu focuses on seasonal, local ingredients and the food is artistically presented and creative. Some dishes are Berlin specialties; others are more exotic. The list is concise, yet there is something for everyone, with a vegetarian section as well as more daring options such as sweetbread and brains.
Quince, Truffles
The four-course menu for 54 euros ($67) is reasonable, though not excellent value. On one visit, it offered pork belly and freshwater shrimps with a small scoop of quince, some tender Irish lamb with truffles, an artistically arranged line of apple sweetmeats including a delicate tube of strudel, and a superb array of unusual German cheeses with fruit loaf.
It wasn't perfect -- my companion's ox filet with elderberry could have been more flavorsome; on another occasion, the sauce that came with the lamb was too salty.
What can push up the cost of dinner is ordering aperitifs: The excellent German sekt they offer is 10 euros a glass; a champagne alternative is 12 euros. The wine list is small, but with enough variety, including some decent Portuguese reds for 40 euros a bottle. Rating: **.
Volt has some way to go to become my favorite restaurant on leafy, canal-side Paul Lincke Ufer, the most elegant part of Kreuzberg. Horvath, with its inviting terrace, is still No. 1 -- and remains among my top three in Berlin.
It had a change of chef in 2010, yet standards have by no means sagged. In fact, newcomer Sebastian Frank managed to earn a Michelin star in the 2012 guide.
Unlike many restaurants that win such accolades, Horvath hasn't raised prices dramatically. A four-course menu is 56 euros; the 12-course tasting menu extravaganza is 114 euros. The cuisine shows Austrian influences and the service is smooth, friendly and low key. Rating: ***.
Bloomberg Questions
Cost? With drinks, Volt costs about 100 euros per head.
Sound level? Can be loud because of the acoustics.
Date place? Yes.
Special features? Power-station chic, hairdryer lamps.
Private room? No.
Will I be back? Yes.
Volt is at Paul Lincke Ufer 21, 10999 Berlin. Information: +30-610-74033 or http://www.restaurant-volt.de.
Horvath is at Paul Lincke Ufer 44a, +30-612-89992 or http://restaurant-horvath.de.
What the Stars Mean
****          Incomparable food, service, ambience.
***           First-class of its kind.
**            Good, reliable.
*             Fair.
0 (no stars)  Poor.
(Catherine Hickley is a writer for Muse, the arts and leisure section of Bloomberg News. Opinions expressed are her own.)
Muse highlights include Mark Beech on rock music and James Russell on architecture.
Before it's here, it's on the Bloomberg Terminal.
LEARN MORE