Vermont Is Fastest-Growing Issuer on Irene Repairs: Muni Credit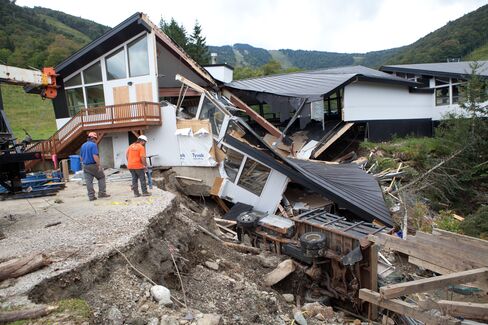 Vermont's worst flooding in 75 years and the lowest borrowing costs in more than four decades are pushing the state and its municipalities to borrow at the fastest pace in the U.S.
Facing a $733 million repair bill from Tropical Storm Irene almost one year ago, Vermont and its local issuers have sold $492 million of municipal bonds this year, according to data compiled by Bloomberg. That's up from $99 million in the same period of 2011.
"The muni market has been pretty friendly toward debt associated with making repairs and replacements and improvements after weather-related events," said John Hallacy, head of municipal research at Bank of America Merrill Lynch in New York. "Part of the issuance was just driven by the need to make repairs quickly."
Irene struck the state on Aug. 28, killing six people and dumping as much as 18 inches of rain. It destroyed 531 miles (854 kilometers) of roads and 34 bridges, and damaged more than 600 historic buildings and 3,500 homes. Irene roared up the East Coast, causing about $15.8 billion in damages, including $4.3 billion in privately insured costs, according to the National Hurricane Center.
Still Visible
The devastation in Vermont is still visible. Late last month, a crew in Wilmington sawed Dot's Restaurant in half, swung the two sections over the Deerfield River with a crane and lowered them into the parking lot. The move will allow builders to lay a new foundation after the river swept over its banks, submerging the restaurant in 5 feet of water.
"People think Irene was a year ago, and we should be done rebuilding," said Sue Minter, a former state lawmaker who was named Vermont's Irene recovery officer in January. "The story, though, when you look below the surface, is that there's an ongoing recovery."
Vermont's year-over-year issuance has increased about five times faster than the total market. States and localities have borrowed $216.3 billion of debt this year through Aug. 3, a 66 percent boost compared with the $130 billion of bonds sold during the same period last year, Bloomberg data show.
Debt of Vermont and its issuers earned 8.71 percent during the 12 months through Aug. 9, beating the 8.68 percent gains for the broader muni market, according to Barclays Plc data.
Bridge Repairs
The state sold $10.8 million of special-obligation bonds backed by fuel-tax revenue on July 31, allowing it to obtain another $51 million in federal matching funds for post-Irene cleanup. The money will be used for the replacement or rehabilitation of bridges in Bennington, Cavendish, Hancock, Hubbardton, Jamaica and Woodford.
A 10-year bond from the sale traded Aug. 6 with an average yield of 1.9 percent, 0.21 percentage point above an index of benchmark municipals with similar maturity, data compiled by Bloomberg show. That yield difference is down from a 0.35 percentage-point spread when the bonds were sold.
Vermont shifted money around to address immediate needs in the wake of the storm. State Treasurer Beth Pearce sent out about $125 million in local school payments two weeks early to help towns cope. She also gave municipalities a three-month deferment on education payments to the state.
'Extremely Attractive'
Investors in the $3.7 trillion muni market have purchased the securities as a haven from concerns that Europe's debt crisis will deepen, driving down interest rates. Yields on 20-year general-obligations dropped to 3.61 percent on July 26, near the 45-year low of 3.6 percent on Jan. 19, according to a Bond Buyer index.
"Their cost of capital is extremely attractive should they need access to capital markets to improve or repair or to expand infrastructure needs," said John Flahive, senior vice president and director of fixed income at BNY Mellon Wealth Management in Boston, which manages $22 billion of munis.
The state sold $69 million of general-obligation bonds March 6 to refinance debt, saving $5.4 million on interest over the life of the bonds, Lisa Helme, director of financial literacy and communication in the state treasurer's office, said in an e-mail. Vermont, the highest-rated state in New England, has a top Aaa ranking from Moody's Investors Service and is rated one step lower by Standard & Poor's, at AA+.
Irene's Challenges
In a June report, Minter put the state's estimated cost of road, bridge, rail and infrastructure repairs at $486.2 million. She said the Federal Highway Administration will pick up about 90 percent of the $163.5 million for fixing roads and bridges. The Federal Emergency Management Administration should cover about 90 percent of the $118.6 million cost of hazard mitigation to minimize damage from future storms, according to the report.
Traditionally, FEMA has covered about 75 percent of such projects. Vermont Governor Peter Shumlin, a Democrat, persuaded President Barack Obama in May to increase the federal share to 90 percent, freeing up another $30 million in FEMA funds.
The storm damage won't have a long-lasting impact on the state's economy or its abilities to repay debt, Flahive said.
"It's been a challenge for them to put it behind them completely," Flahive said. "You still see a lot of scars up there when you drive. It's still pretty amazing the devastation and what it did, but much like any state, they will get through this."
Following are pending sales:
NEW YORK STATE THRUWAY AUTHORITY is set to borrow $550 million of bonds backed by personal-income taxes as soon as next week, Bloomberg data show. Standard & Poor's rates the credit AAA, its highest grade. (Updated Aug. 13)
ENERGY NORTHWEST, which provides electricity to 1.5 million customers in Washington, is set to borrow $777 million of electric-revenue bonds, including taxable debt, as soon as Aug. 16, Bloomberg data show. Proceeds will help finance fuel purchases and capital upgrade, according to bond documents. Standard & Poor's rates the bonds AA-, its fourth-highest grade. (Updated Aug. 13)
CALIFORNIA plans to issue $10 billion of revenue-anticipation notes as soon as soon as this week. The notes are rated MIG 1, Moody's highest short-term grade. (Updated Aug. 13)
Before it's here, it's on the Bloomberg Terminal.
LEARN MORE