U.S. Owns Olympic Pool, Track to Regain Gold Lead From China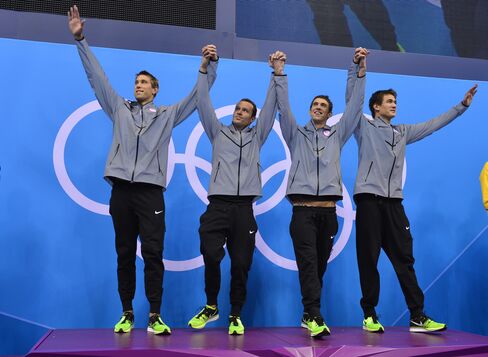 The U.S. beat China at the London Olympics by land, led by triple gold-winning sprinter Allyson Felix, and by water, with swimmer Michael Phelps collecting six medals.
The U.S. finished first with 46 golds and 104 total medals; China was second with 38 golds and 88 overall. Britain was third after its best Olympic performance since 1908 yielded 29 golds and 65 medals in total.
Americans took a games-leading 31 medals in swimming, led by Baltimore native Phelps, compared with 10 for Chinese swimmers. In 47 track and field events, the U.S. won 29 medals to China's six. Felix won gold in the 1,600- and 400-meter relays and the 200-meter sprint.
The U.S. regained the top spot for gold medals after the host nation finished first four years ago in Beijing. The Americans were No. 1 in four consecutive games before 2008. For the London games, the Chinese reined in some sports spending, Marc Ganis, president of Sportscorp Ltd., a consultancy in Chicago, said.
"Sometimes you get into a great run and the U.S. swimming team is just on a high," Ganis said by telephone.
Phelps, at his last Olympics, led the U.S. swimmers who secured 16 gold medals -- four more than in Beijing. His haul, which included four golds, was the most by any athlete at the London games and took his career tally to a record 22 Olympic medals.
Better Funded
The U.S. traditionally leads the gold-medal count because it is better funded: Its Olympic committee is the world's richest, getting 12.75 percent of national television rights income generated by the games, according to Bob Barney, founding director of the International Centre for Olympic Studies in London, Ontario.
Comcast Corp.'s NBC Universal paid $4.38 billion for the rights for four games starting with London.
The Colorado Springs-based U.S. Olympic Committee also benefits from 40 domestic sponsors including Nike Inc. and Kellogg Co. who pay "big bucks," Barney said in an e-mail.
China topped the gold-medal tally in Beijing after spending $4.5 billion on sports in the decade through 2008, building facilities, hiring foreign coaches and paying for athletes to travel abroad. For the London games, China's resources had to drop off, according to Janice Forsyth, director of the Olympic studies center.
"They can't sustain that kind of spending," Forsyth said. "It was only a short-term measure."
Diving Domination
China's best sport in London was diving, in which it won six of eight gold medals. It got one in track and field as 110-meter hurdler Liu Xiang, the 2004 champion, suffered an Achilles tendon injury for a second straight summer games.
The question for China will be whether the nation has the desire to keep challenging for medals supremacy after Beijing, according to David Wallechinsky, a historian of the games and a commentator in London for NBC Radio.
"There is a great mistaken belief that the Chinese communist party was trying to make its place in the world," Wallechinsky, who has visited China regularly since 1978 and attended 15 Olympic games, said in an interview. "They couldn't care less. Their purpose in hosting the Olympics was to impress their own people. In a country where all media is controlled by the government, is it necessary again to impress the Chinese with how wonderful they have done?"
Britain Prospers
Britain prospered before its home crowd after lifting funding to Olympic sports by 19 percent to 313 million pounds ($490 million) in the run-up to the games, according to data from government agency U.K. Sport.
The games host dominated the disciplines it spent the most on: topping the medal count in track cycling and rowing and winning a total of 11 golds in those events. Public spending on those sports in the six years through 2012 was 53 million pounds, the data show.
Chris Hoy won two gold medals in track cycling, taking his overall tally to a British record six Olympic titles.
"They took a few sports and owned them," Ganis said. "It was an extraordinary showing."
Brazil, which will stage the next summer Olympics in Rio de Janeiro, got 17 medals in London, three of them gold. Carlos Villanova, a spokesman for the Rio games, said in an Aug. 10 interview that Brazil will be unable to match Britain's medal count as host in four years' time.
"We'd like a lot more medals, of course," Villanova said. "But the most important thing we can do is develop sport."
Before it's here, it's on the Bloomberg Terminal.
LEARN MORE