Treasuries Rise as Japan GDP Underscores Global Slowdown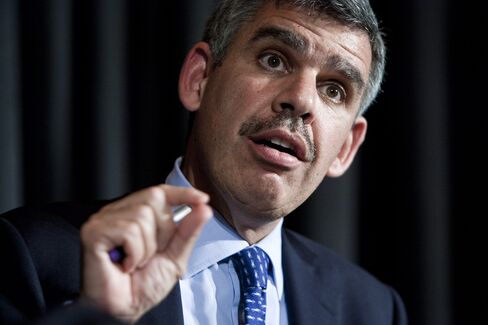 Treasuries rose for a second day as economic growth ebbed in Japan and analysts said Europe will report a contraction, fueling demand for the safest assets.
Mohamed El-Erian at Pacific Investment Management Co., which runs the world's biggest bond fund, said the odds of a worldwide recession are about one-third. U.S. government securities due in a decade and more returned 19 percent in the past year, based on indexes compiled by Bloomberg and the European Federation of Financial Analysts Societies. The gain was the most after Ireland among 144 debt indexes when accounting for changes in bond prices and currencies.
Benchmark 10-year yields declined two basis points, or 0.02 percentage point, to 1.64 percent as of 7:24 a.m. in London, according to Bloomberg Bond Trader data. The price of the 1.625 percent security due in August 2022 advanced 6/32, or $1.88 cents per $1,000 face amount, to 99 27/32.
"The flight to quality and a slowing global economy will push yields down," said Hajime Nagata, who helps oversee the equivalent of $131.7 billion as an investor in Tokyo at Diam Co., a unit of Dai-Ichi Life Insurance Co., Japan's second-biggest life insurer. Diam bought Treasuries last week as the yield climbed to a 10-week high of 1.73 percent, he said.
Japan's 10-year rate slid 1 basis point to 0.785 percent. It has fallen from this month's high of 0.81 percent on Aug. 8.
U.S. and Japanese government securities rose Aug. 10 after China, the world's second-largest economy, reported that its exports gained 1 percent in July from the year before, versus 11.3 percent in June.
Japan GDP
Japan's gross domestic product increased an annualized 1.4 percent in the three months through June 30, compared with a revised 5.5 percent in the first quarter, the Cabinet Office said in Tokyo today. A Bloomberg News survey of economists projected 2.3 percent. GDP in the euro area probably shrank 0.2 percent in the second quarter, another survey showed before the report tomorrow.
"Every data point that comes out tends to confirm the synchronized slowdown," El-Erian said Aug. 10 on Bloomberg Television's "Econ Edge" with Linda Yueh. "This is a sluggish global economy."
Emerging-market local-currency bonds are the "sweet spot" in the debt market, said El-Erian.
Bill Gross, who runs the $270 billion Pimco Total Return Fund, cut holdings of Treasury debt to 33 percent of assets last month from 35 percent in June, according to a report on the Newport Beach, California, company's website. Mortgages declined to 51 percent from 52 percent.
Jobs, Retail
Gross increased holdings of bonds in developed markets outside of the U.S. to 6 percent from 5 percent. Emerging-market bonds were unchanged at 8 percent.
The Fed will purchase $1.5 billion to $2 billion in outright Treasuries with maturities of 24 to 30 years today, according to the Federal Reserve Bank of New York website.
Treasury bears say yields will rise because the U.S. economy is outpacing Japan and Europe.
The U.S. added 163,000 jobs in July, a government report showed Aug. 3, more than the 100,000 projected by analysts.
Sales at U.S. retailers increased 0.3 percent last month, following a 0.5 percent slide in June, according to a Bloomberg survey of economists ahead of the Commerce Department figures tomorrow.
Stocks, Commodities
"The economy will continue to recover," said Hiroki Shimazu, an economist in Tokyo at SMBC Nikko Securities Inc., a unit of Japan's third-largest publicly traded bank by assets. "Equities, commodities and riskier assets will give investors profits, and Treasuries will be one of the worst sectors."
Ten-year yields will increase to 1.74 percent by year-end, according to a Bloomberg survey of financial companies, with the most recent projections given the heaviest weightings. Shimazu predicts 2 percent.
The Treasuries rally began to ebb in the past month, with the index of securities due in 10 years and more falling 2.3 percent.
The MSCI All-Country World Index of stocks handed investors a 4.6 percent gain including reinvested dividends, according to data compiled by Bloomberg. Commodities as measured by the S&P GSCI Index returned 6.1 percent.
Investors seeking a haven from tumbling bond markets in Europe have been willing to accept yields below zero for German bunds due in as long as three years because they were confident in German Chancellor Angela Merkel's pledge that she wouldn't add to the nation's debt to expand bailout programs for weaker neighbors.
Funds managing more than $4 trillion are turning against bunds on concern Germany's costs to bail out the euro zone's most indebted nations will rise.
German Risk
"The risk that Germany will have to issue more debt to finance the bailout is real," said Johannes Jooste, a senior strategist in London at Merrill Lynch Wealth Management, which oversees $1.8 trillion globally and has cut bund holdings since last year. "I'm skeptical of investing in zero-yielding paper. I'm not convinced the current yields are justified."
Fidelity Investments, Carmignac Gestion and Pimco are reducing or eliminating bund holdings. Banks including BNP Paribas SA, Royal Bank of Scotland Group Plc and Barclays Plc have also sold the securities.
The extra yield investors receive for holding two-year Treasuries compared with similar-maturity German bunds was 33 basis points, the most since June 2010.
Before it's here, it's on the Bloomberg Terminal.
LEARN MORE