Stocks End Winning Streak as Commodities Drop: Russia Overnight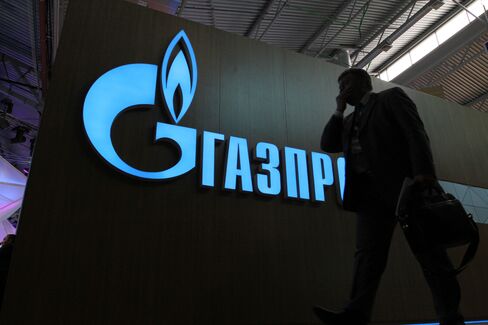 Russian stocks traded in New York fell, ending the longest winning streak in 13 months, as commodities declined, dimming the outlook for the world's largest producer of metals such as nickel and palladium.
The Bloomberg Russia-US Equity Index of the most-traded Russian companies in New York dropped for the first time in seven days, falling 0.4 percent to 94.28. OAO GMK Norilsk Nickel, the world's largest producer of nickel and palladium, declined the most this month and OAO Mechel, Russia's biggest producer of coal for steelmakers, retreated 3.1 percent to a one-week low of $6.88. Futures expiring in September on the dollar-denominated RTS index were little changed.
The Thomson Reuters/Jefferies CRB Index of raw materials fell 0.9 percent to the lowest since Aug. 2 and crude oil sank for a second day in New York yesterday. Russia, home to some of the world's biggest commodities producers, received about half of its 2011 budget revenue from sales of oil and natural gas.
"Investors are selling risky assets, including both commodities and Russia," Andrey Tretelnikov, an analyst at Rye Man & Gor Securities, said by phone from Moscow yesterday. "People want new stimulus measures. The rally is over until then."
U.S. equities moved lower after a report showed Japan's economy grew slower than analysts forecast.
Russia ETF Slumps
The Market Vectors Russia ETF, the biggest U.S.-traded exchange-traded fund that holds Russian shares, fell 0.6 percent to $27.75, dropping for the first time in three days. The RTS Volatility Index, which measures expected swings in the index futures, rose 0.4 percent to 30.78.
Mechel's American depositary receipts settled at a 1 percent discount to the company's Moscow-listed shares, the biggest gap since Aug. 2. The company's Moscow stock was unchanged at 221.50 rubles, or $6.95.
"Because of its mounting debt, Mechel is viewed as a double risk compared with the rest of the market," Tretelnikov said.
Mechel has to repay about $1.4 billion in bonds and loans by the end of the year and $1.9 billion in 2013, according to a June 20 company presentation.
American depositary receipts of Norilsk, Russia's biggest mining company, fell 1.8 percent to $15.80, the most since July 31. The company's Moscow-listed stock retreated 0.3 percent to 5,056 rubles, or $158.67. Ten ADRs equal one common share.
'Oil Means Almost Everything'
OAO Gazprom, the world's largest natural-gas producer, declined for a fourth day, losing 0.2 percent to $9.69. The stock rose 0.8 percent to 155.10 rubles, or $4.87, on the Micex yesterday. One Gazprom ADR is equal to two ordinary shares.
Crude oil for September delivery fell 0.2 percent to $92.73 a barrel on the New York Mercantile Exchange. Prices have fallen 6.2 percent this year.
"Oil means almost everything when it comes to Russia," Igor Nuzhdin, an analyst at Nomos Bank, said phone from Moscow yesterday. "Investors buy Russian equities when they expect no weakening in oil prices, and vice versa. Oil remains a decisive factor for people's decision on whether to buy or sell."
The Standard & Poor's 500 Index slipped 0.1 percent to 1,404.11 yesterday, declining for the first time in seven days and ending the longest streak of gains in 20 months. Japan's gross domestic product increased at a 1.4 percent annual rate in the second quarter, below the 2.3 percent median estimate of economists surveyed by Bloomberg.
Urals crude, Russia's major export blend of oil, retreated 0.4 percent to $113.28 per barrel yesterday, dropping by the most since July 31.
Brent for September settlement climbed 0.6 percent to $113.60 a barrel on the London-based ICE Futures Europe exchange. Brent gained as tension increased in the Middle East. The European benchmark's premium to West Texas Intermediate in New York widened to $20.87 a barrel, a four-month high.
OAO Lukoil, Russia's second-biggest oil producer after OAO Rosneft, added 0.5 percent to $59.19. Lukoil rose 0.7 percent to 1,880.40 rubles, or $59.26, in Moscow yesterday. One ADR equals one Moscow-listed share.
-- With assistance from Moming Zhou in New York Grant Smith in London, Keiko Ujikane in Tokyo, Editors: Marie-France Han, Brendan Walsh
Before it's here, it's on the Bloomberg Terminal.
LEARN MORE