Spotted Pig Chef April Bloomfield to Cook at St John in London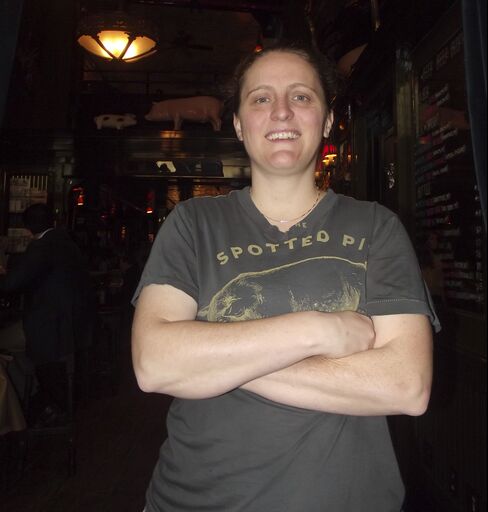 April Bloomfield, the British chef best known for her cooking at the Spotted Pig in New York, is to return to London for a two-day residence at St John Chinatown to mark the U.K. publication of her cookbook.
She will cook alongside Fergus Henderson to serve lunch and dinner on Oct. 30 and Oct. 31, reciprocating the St John chef and owner's regular visits to New York, which are known as "Fergustock," she said in an e-mailed release via Gerber PR.
Bloomfield's book, "A Girl and Her Pig," goes behind the scenes at her New York restaurants, the Spotted Pig, the Breslin and the John Dory and into her home kitchen. It will be published by Canongate on Nov. 1. Reservations for "A Girl and Her Pig at St John Chinatown" open on Sept. 1.
Bloomfield, 38, worked in London at Kensington Place, Bibendum and the Brackenbury before moving to the River Cafe and spending a summer at Chez Panisse in Berkeley, California. She and co-owner Ken Friedman opened the Spotted Pig in 2004.
(Richard Vines is the chief food critic for Muse, the arts and leisure section of Bloomberg News. He is U.K. and Ireland chairman of the World's 50 Best Restaurants awards. Opinions expressed are his own.)
Muse highlights include Scott Reyburn on the art market, Jorg von Uthmann on Paris arts and Elin McCoy on wine.
Before it's here, it's on the Bloomberg Terminal.
LEARN MORE