Peltz Joins Ingersoll Board as Standstill Clause Dropped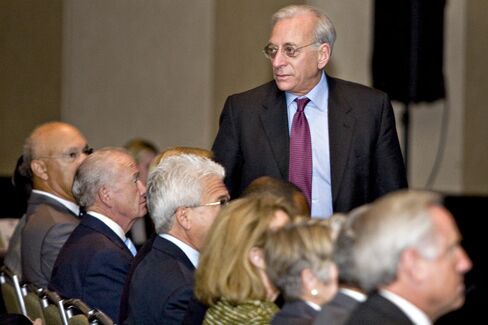 Nelson Peltz, whose Trian Fund Management LP is the fourth-largest investor in Ingersoll-Rand Plc, accepted a board seat after the maker of Trane air conditioners dropped a standstill requirement.
Peltz's appointment gives Ingersoll-Rand 12 directors, 11 of whom are independent, the company said in a statement today. Board membership for the activist investor doesn't include a standstill condition or an agreement regarding proxy contests, Misty Zelent, an Ingersoll spokeswoman, said in an e-mail.
Trian, the biggest investor in fast-food chain Wendy's Co., is known for buying stakes in companies and then pushing them to boost their value by cutting costs or merging. In meetings with directors and management, Trian has proposed changes at Ingersoll-Rand that include dividing the business into three stand-alone public companies, according to an Aug. 6 filing.
"The board and management have gotten to know Nelson and his partners at Trian over the last few months," Zelent said. "Having Nelson on the board will be very helpful as we review our strategic alternatives."
An Ingersoll-Rand breakup would follow in the path of three-way splits announced last year at Tyco International Ltd. and ITT Corp. Swords, Ireland-based Ingersoll-Rand's products include Club Car electric vehicles and Schlage locks in addition to Trane air conditioners.
"I look forward to working closely and constructively with the board and management as Ingersoll-Rand evaluates strategic opportunities to drive growth and shareholder value," Peltz, 70, said in the statement.
Trian's Stake
Trian held shares and options in Ingersoll-Rand equal to about 7.1 percent as of Aug. 3, according to a regulatory filing last week.
Peltz refused Ingersoll-Rand's offer of a board seat in June when the company made it conditional on his agreeing not to seek an extraordinary shareholder meeting before its annual gathering in June 2013, according to a June 20 filing from New York-based Trian.
Ingersoll-Rand fell 0.1 percent to $45.03 at the close in New York. The stock previously climbed 6.6 percent from May 8, the day before New York-based Trian and the California State Teachers' Retirement System jointly disclosed holdings of about 21.9 million shares, or 7.3 percent of outstanding shares at the time.
The company said Aug. 3 that a board review of strategic opportunities should be finished by the end of the year.
That analysis, "including Trian Fund's activism, should continue to keep a fire lit under management, with potential acceleration of shareholder-friendly actions such as returning capital or selective divestitures to be announced before the end of the year," Steven Winoker, a New York-based analyst with Sanford C. Bernstein & Co., said in an Aug. 6 note.
Winoker has an outperform rating on the shares.