FirstGroup Rises as U.K. Prepares West Coast Rail Award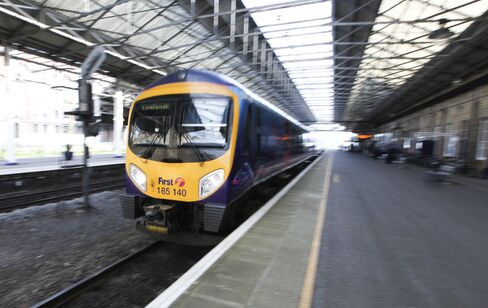 FirstGroup Plc shares rose for the biggest monthly advance in more than three years on speculation that the company will be awarded a contract to run Britain's West Coast rail franchise, which links London with Scotland.
FirstGroup shares climbed 0.2 pence to 256.7 pence, bringing the monthly advance to 14.9 percent, the most since April 2009, when the Aberdeen, Scotland-based company's stock rose by 24.5 percent.
"One of the few reasons for the share price is the assumption that they won the West Coast franchise," Karl Burns, an analyst at Shore Capital Group Ltd. said in a phone interview today. "The reason why everyone is getting so excited about it is because" it would provide "much-needed cash flow."
The West Coast franchise is currently run by U.K. billionaire Richard Branson's Virgin Trains. The other two bidders are French state railway Societe Nationale des Chemins de Fer Francais and Dutch operator NV Nederlandse Spoorwegen. The result of the bidding may be announced tomorrow.
Still, there is " a lot of uncertainty" for investors in FirstGroup, Burns said. "There is a lot of risk on the balance sheet to fill despite the West Coast win" and the company's offer for the franchise "looked very aggressive," he said.
Branson has said that the contract to run the country's premier rail route should be awarded to the company that offers the greatest innovation and highest quality, and not simply to the highest bidder.
Branson said that Virgin Trains is anxious not to lose to an unsustainably high offer, citing its failed pitch for the East Coast route, from which winning bidder National Express Group Plc withdrew after revenue fell during the recession.
Before it's here, it's on the Bloomberg Terminal.
LEARN MORE