Elpida Bondholders Tell Court Micron Buyout Bid Too Cheap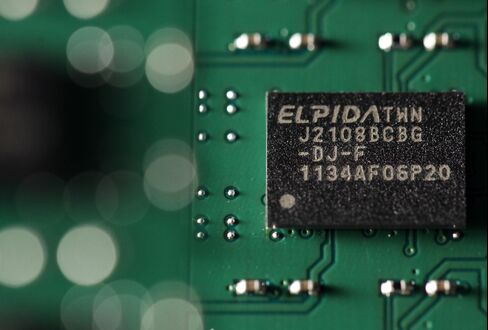 Elpida Memory Inc.'s bondholders told a Tokyo court that Micron Technology Inc.'s takeover offer for the bankrupt Japanese memory-chip maker is too low.
Elpida, which sought bankruptcy protection in February, is worth 300 billion yen ($3.8 billion), compared with Micron's proposed 200-billion yen offer, the bondholders said in a statement today. The group, which represents 20 institutional investors, submitted its version of a revival plan for the chipmaker, which includes offering 30 billion yen in credit, the group said.
It's the second time in two months the bondholders are opposing Micron's proposal to buy Elpida, a combination that would double the Boise, Idaho-based company's share of the global market for dynamic random access memory -- the most widely used memory chips in personal computers. Chip prices have risen 1.1 percent this year after record low prices and supply gluts caused manufacturers to post losses last year.
Elpida declined to comment on the filing. Dan Francisco, a Micron spokesman, didn't immediately return a call or e-mail seeking comment on the bondholders' proposal.
Shares of Micron fell 0.7 percent to $6.72 at the close in New York yesterday, leaving them up 6.8 percent this year.
"The reality of the situation is that it's a pretty difficult memory market and this is the best offer from a rigorous process," Micron Chief Executive Officer Mark Durcan said in a telephone interview yesterday. "We think it's very fair to Elpida shareholders."
Micron Versus Samsung
The total amount of bonds held by the group is 100 billion yen as of today, according to a spokesman for the group who asked not to be identified, citing policy. That represents 72 percent of the 139 billion yen in bonds Elpida defaulted after filing for bankruptcy.
The bondholders group, advised by Alvarez & Marsal and Crosspoint Advisors, is seeking investors other than Micron, it said. They will ask the court to present their revival plan in a creditor vote, which may be held in October, according to the statement.
Micron agreed to buy Elpida in July in a deal that may help Micron vie with industry leader Samsung Electronics Co. while giving it greater control over supply gluts that have caused it to report losses amid falling prices.
Installment Payment
Micron agreed to pay 60 billion yen in cash at the closing of the deal, while the remaining 140 billion yen in future annual installments through 2019 will come from cash flow generated by Micron's payments for chips made by Elpida, according to the July 2 statement.
Elpida sought protection from creditors in February after lower prices of DRAM chips and a stronger yen, which erodes the value of repatriated earnings from overseas, led the company to report a fifth straight quarter of losses.
Micron, the largest U.S. maker of computer memory, won approval from the Tokyo District Court in May to negotiate to buy Elpida's entire business after the Japanese company held two rounds of bidding. The July 2 agreement is subject to approval by the court. Elpida has a deadline to submit its revival plan by Aug. 21.
Bondholders urged the court last month to reject the deal and said they would submit an alternative plan, according to a July 9 filing in U.S. Bankruptcy Court in Wilmington, Delaware.
The companies plan to complete the sale in the first half of 2013.
Before it's here, it's on the Bloomberg Terminal.
LEARN MORE