EBay Rises After Report Says July Sales Increased 28 Percent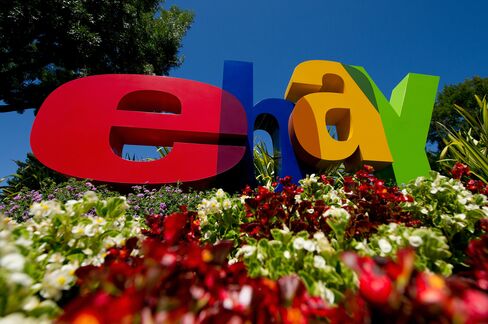 EBay Inc. shares rose 3 percent after ChannelAdvisor Corp. said the online retailer's sales volume increased 28.2 percent in July, led by demand for cars and fixed-price items.
EBay climbed $1.33 to $45.32 at the close in New York. The stock has gained 49 percent this year. ChannelAdvisor said EBay's July growth from a year earlier was the biggest jump since the Web consulting company started tracking the retailer in September 2009.
EBay's sales of fixed-price goods -- those not sold through an auction -- rose 33.1 percent, while EBay Motors posted growth of 36 percent. Chief Executive Officer John Donahoe has been moving away from the company's online-auction roots and pushing instant sales of new items. Such purchases made up 65 percent of total sales volume in the second quarter and increased 13 percent from a year earlier, EBay said on July 18.
"EBay continues to regain momentum with consumers, and is now taking back some market share," said Colin Sebastian, an analyst at Robert W. Baird & Co. in San Francisco. "Improvements to the core website, new merchant partnerships, and an early mover advantage in mobile commerce are all helping to bring the company's mojo back."
EBay's sales through auctions fell 1.1 percent from July 2011, ChannelAdvisor said in a blog posting today. EBay is an investor in ChannelAdvisor, according to the blog.
Amanda Miller, a spokeswoman for San Jose, California-based EBay, declined to comment on the report.
The company's payments unit has joined with Home Depot Inc. to let customers check out with PayPal, traditionally an online service, in physical stores. EBay also is pushing users to shift to smartphones and laptops to buy goods and expects purchase volume over the EBay mobile application to more than double to $10 billion in 2012.
Before it's here, it's on the Bloomberg Terminal.
LEARN MORE