Correlation Breakdown as Proxies for Risk Boost Aussie, Kiwi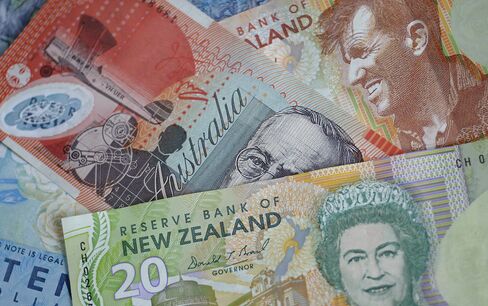 The Australian and New Zealand dollars, this year's best-performing currencies among developed economies, are reducing their links with stocks and commodities as investors search for faster growth and higher interest rates.
The correlation between the currencies and global stocks has fallen from record highs, according to data compiled by Bloomberg, and the relationship to raw material costs is also fading. The so-called Aussie is up 3 percent this year and the kiwi has risen 4.2 percent versus nine peers tracked by the Bloomberg Correlation-Weighted Indexes.
Both countries are loosening their ties to traditional measures of risk as they grow at more than double the average pace of the Group of 10 nations. Pacific Investment Management Co. and Kokusai Asset Management Co. are adding to bond holdings as the Australian and New Zealand central banks concentrate on containing inflation, keeping interest rates at least 2 percentage points higher than in the U.S. and the U.K.
"Everybody is looking for yield everywhere but you are looking for stable governments and good long-term prospects," Axel Merk, president and chief investment officer at Merk Investments LLC, said in an Aug. 6 interview. "There is a sweet spot right now where there are inflationary pressures so the central bank will be reluctant to ease and if anything they have to think about that more than the global growth scenario."
Correlation Breakdown
Merk's $510 million Hard Currency Fund has about 26 percent of its assets in the two currencies, up from about zero a year ago. Mountain View, California-based Merk Investments is one of the 15 largest owners of New Zealand debt among investors that report their holdings, according to data compiled by Bloomberg.
The two currencies have historically risen or fallen along with the prices of the commodities they export, and with investor appetite for volatile assets.
With the Reserve Bank of Australia raising its 2012 growth forecast to 3.5 percent, and New Zealand investing in rebuilding earth-quake damaged Christchurch, both are attracting investors seeking higher returns than they can get in the U.S. and safer assets than emerging markets.
The rolling correlation over 60 days between the Aussie-U.S. dollar pair and the MSCI World Index of stocks was 0.77, down from a record 0.96 on January 18. The kiwi-dollar link to global stocks has fallen to 0.72 from a Jan. 9 record of 0.91. A value of 1 indicates the assets move in unison.
Export Prices
The strength of the Aussie is increasingly driven by reasons other than raw materials as growth slows for exports to China, its largest trading partner. Prices for iron ore delivered to the port of Tianjin have dropped to the lowest level since December 2009, according to Steel Index Ltd., and contracts for coal used to make steel may fall 11 percent to the lowest price in two years, according to a Bloomberg survey of seven analysts and industry officials.
Prices for New Zealand's commodities in world markets declined for six straight months through July, according to an ANZ National Bank Ltd. index. After adjusting for a stronger local currency, prices fell 3.4 percent from May and 16 percent from June last year.
The Aussie and the kiwi, nicknamed for the nation's indigenous flightless bird, are rallying even as currencies of some of the biggest emerging-market commodity exporters falter.
Emerging Markets
The Russian ruble, Brazilian real and Indian rupee, which all have benchmark interest rates higher than the South Pacific nations, were the worst performers last quarter against the dollar of 25 emerging-market currencies tracked by Bloomberg.
Part of the explanation is links to Europe's slowing economy. About 21 percent of Brazil's exports were destined for the European Union in June compared to 8 percent for New Zealand and 5 percent for Australia, data compiled by Bloomberg show. Forty-nine percent of Russia's trade in June was with the EU.
Australia's dollar slipped 0.7 percent to $1.0505 at 12:26 p.m. in London, after rising 0.1 percent last week. The kiwi bought 80.82 U.S. cents, falling 0.6 percent.
The currencies may not be able to withstand a slowdown in China. Imports grew 4.7 percent in July, compared to an estimated 7 percent gain forecast in a Bloomberg News survey. China is the destination for 28 percent of Australia's exports and 14 percent for New Zealand's.
"The real risk we're worried about is the slowdown in China," said Robert Farago, the London-based head of asset allocation at Schroders Private Banking, which manages about $25 billion. "One of the appeals is the yield but if the domestic economy is slowing, yields are more likely to come down than go up."
Rise 'Limited'
Foreign-exchange strategists expect the rise in the Australian dollar to be limited as Prime Minister Julia Gillard struggles to balance a slump in non-mining industries amid the biggest resource-driven boom in a century. The services industry shrank for a sixth straight month, a Commonwealth Bank of Australia and Australian Industry Group survey showed.
The median estimate in a Bloomberg News survey is for the Aussie to trade at $1.01 by year-end. The kiwi will weaken to 79 cents per U.S. dollar a separate survey shows.
New Zealand Prime Minister John Key, a former head of global foreign-exchange at Merrill Lynch & Co., warned against making "one-way bets" on gains in the kiwi in the Aug. 7 interview, saying that the nation's policy makers have scope to cut interest rates.
The currencies may benefit from cash chasing higher returns. To fight the global slowdown, central banks have flooded the world with money.
Central Banks
The European Central Bank has made more than 1 trillion euros ($1.23 trillion) of three-year loans to financial institutions, the Bank of England has a program to buy 375 billion pounds ($588 billion) of bonds, the Bank of Japan has a similar 45 trillion yen ($575 billion) asset-purchase fund. Investors are also betting the Federal Reserve will undertake a third round of asset purchases this year.
Foreign holdings of Australian government bonds rose to a record A$199.8 billion ($211 billion) in March, according to RBA data. International demand for New Zealand's debt pushed foreign holdings to 58 percent in June, from 56.5 percent in December, central bank data show.
New Zealand's bond market is attractive to investors from China and other nations as the economy shows signs of stability and moderate growth, Finance Minister Bill English said in a speech today.
Bond Surge
"I expect Australian bond yields to fall below the recent lows we saw in June and July," said Hideya Kubo, senior manager of the global fixed-income group in Tokyo at Diam, a unit of Dai-Ichi Life Insurance Co., Japan's second-biggest life insurer. "Like the country's bond market, the Australian dollar undoubtedly is a destination for investors wanting to diversify."
Australia's bond market had the third-best returns of 26 sovereign debt markets tracked by Bloomberg in the second-quarter, up from 17th in the first three months of the year. New Zealand's securities surged to sixth from 13th.
New Zealand's fixed-income market has seen inflows more than three-times the weekly average over the past year in the week ended Aug. 3, Bank of New York Mellon client data show.
Rebuilding Christchurch after an earthquake flattened parts of the city last year will bolster inflation and keep the central bank from cutting rates, Merk said. The nation's economy is forecast to grow 2.5 percent this year.
Additional Buyers
Investors are also anticipating that AAA rated Australia will have the highest inflation in the developed world over the next decade, limiting the central bank's scope to cut rates. The gap between the nation's 10-year bond yield and that of the similar maturity note tied to inflation, at 2.57 percentage points, is the highest among advanced economies.
Even as RBA Governor Glenn Stevens said the exchange rate "remained high," the central bank last week left the overnight lending rate at 3.5 percent. The rising currency has kept core inflation within its target range of 2 percent to 3 percent as higher retail sales, housing prices and home-loan approvals show the nation is weathering the global slowdown.
Cash is flowing in. Kokusai's Global Sovereign Open fund boosted its holdings of Australia's government bonds by 5.4 percentage points to 7 percent of total assets at the end of June from a year earlier, according to a statement on the website of Asia's largest mutual fund. It also started investing in New Zealand's sovereign debt in February, citing the nation's high credit ratings and healthy economic outlook.
Futures Traders
Pimco's Global Investors funds increased holdings of New Zealand government bonds by 22 percent and Australian sovereign debt by 10 percent.
Inflows have prompted futures traders to increase bets by 82,056 contracts that the Australian dollar will rally against the greenback after wagers reached a more than three-year low of 12,579 in June, according to Commodity Futures Trading Data. Long bets for the kiwi have surged 14,244 wagers to 17,808 contracts since the June low.
"With Aussie and kiwi, you still have relatively good yield for a G-10 currency," Jose Wynne, head of North America foreign-exchange research for Barclays Plc's investment banking unit in New York, said in an Aug. 9 interview. "Portfolio managers and central banks will continue to look to these currencies as the new safe havens."
Before it's here, it's on the Bloomberg Terminal.
LEARN MORE