'Fierce Five' Gymnasts Face Hurdle in Landing Nickname Trademark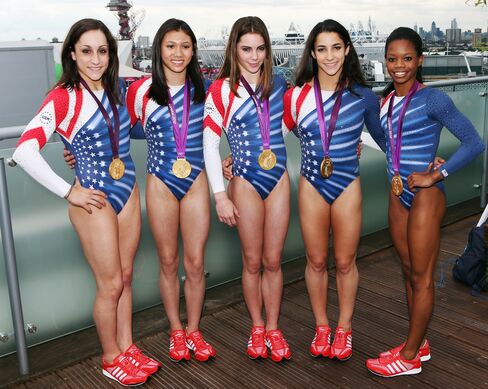 USA Gymnastics is preparing a trademark filing for the term "Fierce Five," which was attached to the gold medal-winning women's gymnastics team at the London Olympics, spokeswoman Luan Peszek said in an e-mail.
NBC announcers during the games repeatedly referred to the team as the "Fab Five," which previously was used to describe the University of Michigan's basketball draft class of 1991 that included Jalen Rose, Chris Webber and Juwan Howard. Rose was granted a trademark for the term last year.
Peszek has said the team, including Gabby Douglas, the first black gymnast to win the all-around, preferred Fierce Five to Fab Five.
A California man, Paolo Mazza, filed for a "Fierce Five" trademark on Aug. 8, according to the U.S. Patent and Trademark Office website. No attorney was listed on the filing, which provided only a post-office box in Millbrae, California, as an address. There is no telephone listing available.
A Paolo Mazza with the same post-office box in February applied to trademark the term "lin-sational." A number of puns, including "lin-sanity," were spawned by the success of National Basketball Association player Jeremy Lin, who has moved to trademark anything associated with his name.
Darren Heitner, a sports and entertainment lawyer with Wolfe Law Miami in Florida, said Mazza's application has little chance of being approved.
"Many pronouncements were made that the girls have no interest in Fab Five and instead plan to use the Fierce Five designation for commercial purposes," Heitner said in a telephone interview. "The USPTO will look at this person's history, note that he also filed a similar application with Jeremy Lin, and quickly recognize that this person is nothing more than a squatter."
Dreamworks Drop
The "Fierce Five" term was trademarked by DreamWorks Animation and abandoned in 2009.
Douglas and her Olympic teammates will make a base salary of more than $100,000 each for participating in the 40-city Kellogg's Tour of Gymnastics Champions that begins Sept. 8 in San Jose, California, and ends Nov. 18 in Brooklyn, New York.
Douglas already has an endorsement agreement with Kellogg Co., which put the gymnast on the cover of its cornflakes box.
Before it's here, it's on the Bloomberg Terminal.
LEARN MORE